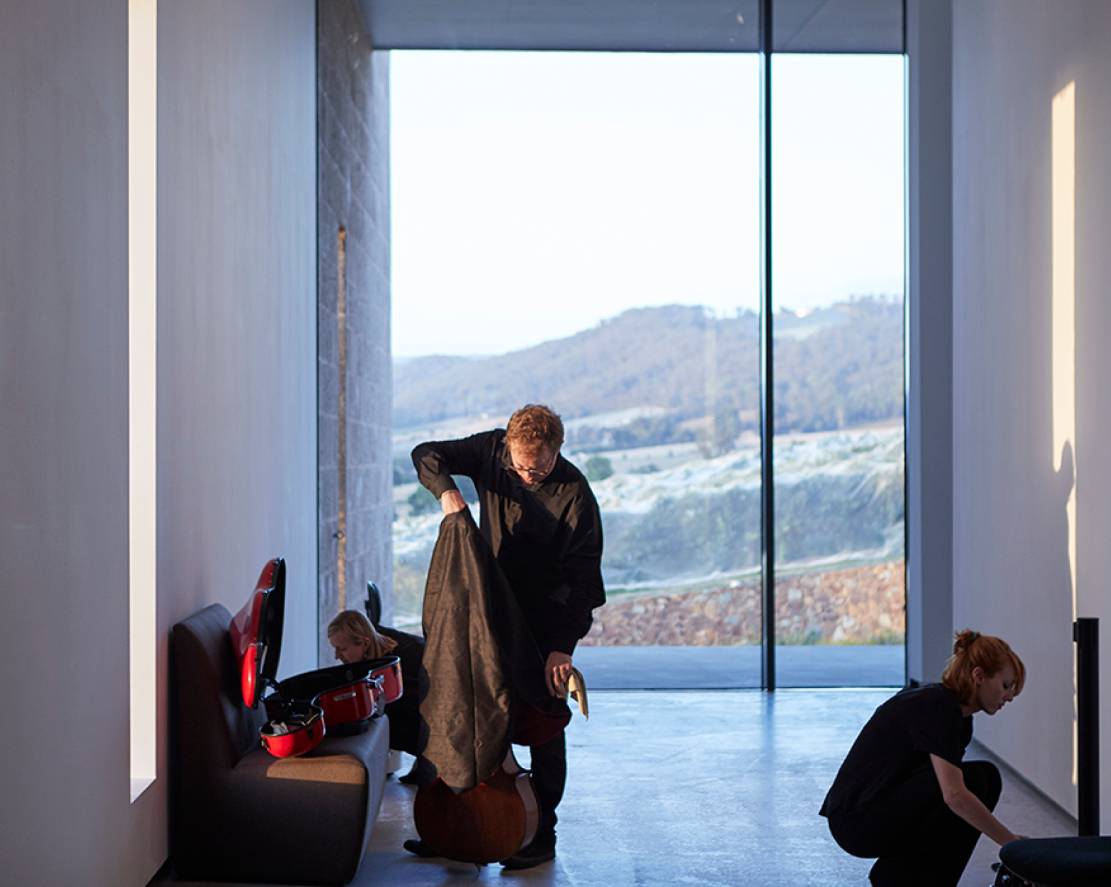 TarraWarra Festival
19 - 20 March 2022
Victoria
TarraWarra Estate
Sat 19 Mar, 12:30pm
Sat 19 Mar, 6:00pm
Sun 20 Mar, 11:00am
Sun 20 Mar, 2:30pm
We are excited to return to the TarraWarra Museum of Art for a weekend of music, art, wine and some of the most breathtaking views in Victoria's Yarra Valley.
Festival packages include three concerts plus refreshments and entry to an intimate ACO workshop. Packages include refreshments.
PROGRAM
Beethoven in South America (Saturday 19 March at 12.30pm)
BEETHOVEN (arr. strings) String Quartet in C minor, Op.18, No.4: I. Allegro ma non tanto
GABRIELA LENA FRANK Leyendas – An Andean Walkabout: Selections
OSVALDO GOLIJOV Tenebrae
BEETHOVEN (arr. Tognetti) Violin Sonata in A major, Op.47 "Bridgetower"
Baroque and Beyond (Saturday 19 March at 6pm)
HANDEL Concerto Grosso in D major, Op.6, No.5
BACH (arr. strings) Three-Part Invention No.4 in D minor, BWV790
BACH (arr. Tognetti) Sonata for Solo Violin No.2 in D minor, BWV1004: Chaconne (abridged)
STRAVINSKY Apollon musagète: X. Apotheosis
HASSLER Finnish Hymn: "Oi rakkain Jeesukseni"
BACH St Matthew Passion, BWV244: "Erbarme dich" (transcribed for viola and strings)
RESPIGHI Ancient Airs and Dances: Suite III
BACH Violin Concerto in A minor, BWV1041
ARVO PÄRT Collage on B-A-C-H: I. Toccata (Preciso)
ARVO PÄRT Fratres
Workshop (Sunday 20 March at 11am)
During this open workshop, a string quartet of students from Australian National Academy of Music (ANAM) will explore Mendelssohn's Octet with a quartet from the ACO.
Mendelssohn, Britten, Sculthorpe (Sunday 20 March at 2.30pm)
FELIX MENDELSSOHN Octet in E-flat major, Op.20: I. Allegro moderato, ma con fuoco*
BRITTEN Variations on a Theme of Frank Bridge, Op.10: Selections
HOLLY HARRISON Black Ice (world premiere)**
VIEUXTEMPS Capriccio
JOHN LUTHER ADAMS (arr. strings) The Wind in High Places: II. Maclaren Summit
SCULTHORPE Sonata for Strings No.1
* Featuring musicians from ANAM
** Commissioned by the Australian Chamber Orchestra


DAVID NOONAN AT TARRAWARRA MUSEUM OF ART
TarraWarra Museum of Art presents a major new exhibition of the work of Australian artist David Noonan, bringing together recent collages, two new tapestries along with significant loans from private and public collections, a new film and a major new commissioned installation. Curated by Victoria Lynn, the Museum's Director.
Curated in close collaboration with the artist, this exhibition has been developed in tandem with two major new pieces which will be featured in the show: a twelve-part sculptural installation and a major new film. As such, the exhibition will not be a survey, so much as an interplay of images that amplify and echo each other within the spaces of TarraWarra Museum of Art.

TarraWarra Museum of Art is the only venue for this exhibition.
CURRENT CONDITIONS OF ENTRY
All visitors aged 16 years and over must have received both doses of a COVID-19 vaccine and will be asked to provide proof of vaccination upon entry, or a medical exemption with ID, in line with the Chief Health Officer's directions. Please read TarraWarra Museum of Art's current conditions of entry and COVID-Safe procedures here.
MAJOR EXHIBTION PARTNER
The Balnaves Foundation