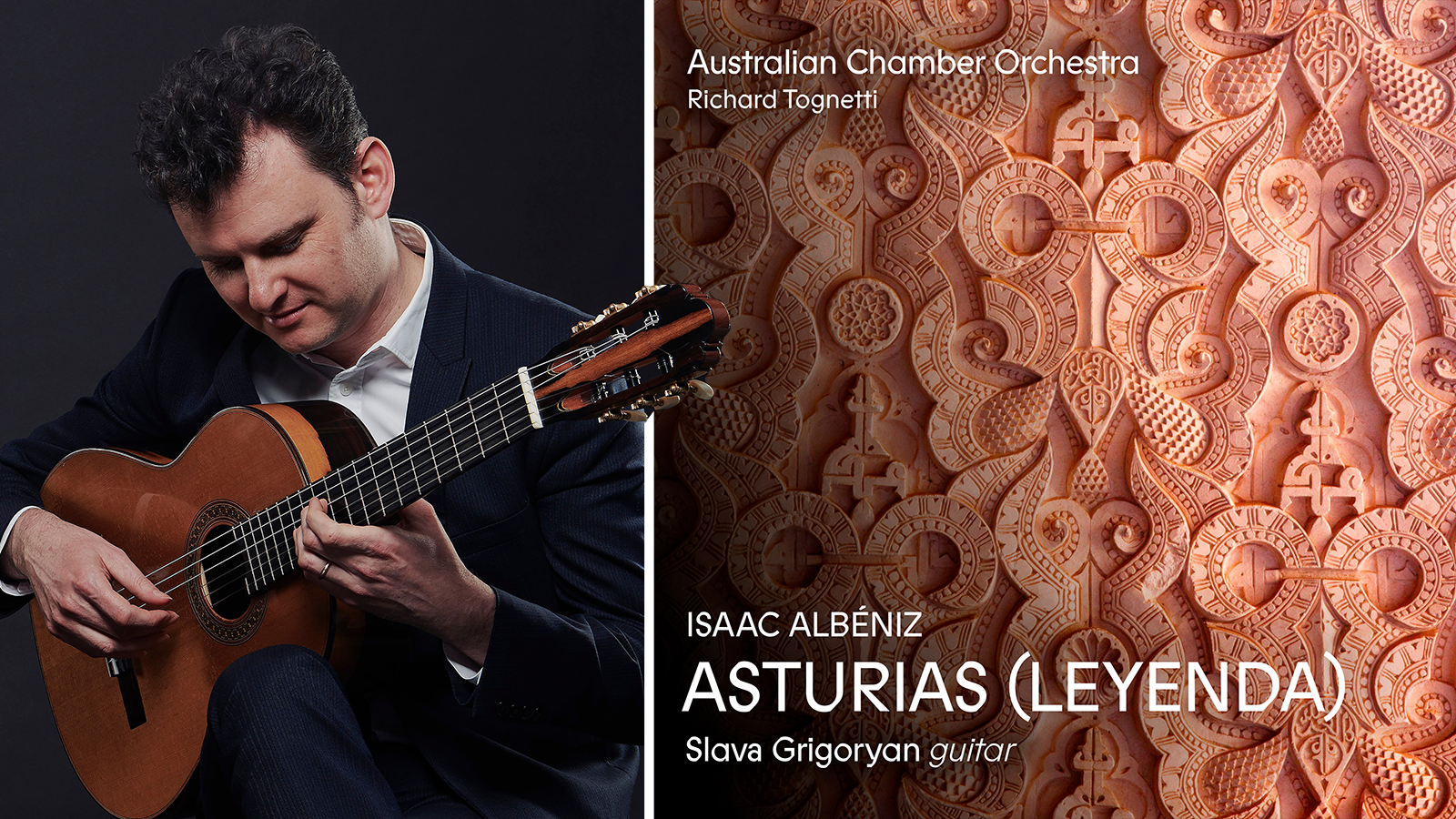 Australian Chamber Orchestra releases Albéniz with Slava Grigoryan
ACO's latest recording on ABC Classic is out now.
The Australian Chamber Orchestra brings its trademark passion and virtuosity to the music of Isaac Albéniz (1860–1909) in this recording of Asturias (Leyenda), featuring brilliant Australian guitarist Slava Grigoryan.
Asturias (Leyenda) has been described as 'pure Andalusian flamenco' – and yet it was originally written for the piano, not the guitar. This new version for guitar and string orchestra from the Australian Chamber Orchestra returns the iconic work to the instrument it was designed to invoke, while also using the orchestral colours to heighten the evocative power of the music.
With the world premiere live performances of this arrangement, originally scheduled for 2021, cancelled due to COVID, the ACO seized the moment to make this studio recording, which ABC Classic is delighted to now make available across digital platforms to music lovers around the world.
Slava Grigoryan is an acknowledged master of the guitar on the world stage. Since his first tour, aged just 18, with Paco Peña and Leo Kottke, he has appeared as a recital soloist, festival guest and with orchestras including the London Philharmonic Orchestra, Royal Scottish National Orchestra, Hallé Orchestra, Dresden Radio Orchestra and Israel Symphony Orchestra, as well as all the major Australian orchestras. Slava has released over 30 solo and collaborative albums – four of which have won ARIA Awards – spanning a vast range of musical genres.
The Australian Chamber Orchestra lives and breathes music, making waves around the world for its explosive performances and brave interpretations. Steeped in history but always looking to the future, ACO programs embrace celebrated classics alongside new commissions, and adventurous cross-artform collaborations. Led by Artistic Director Richard Tognetti since 1990, the ACO performs more than 100 concerts each year. Whether performing in Manhattan, New York, or Wollongong, NSW, the ACO is unwavering in its commitment to creating transformative musical experiences.
RECORDING INFO
ISAAC ALBÉNIZ Asturias (Leyenda) 7'52
Arranged for guitar and string orchestra by the Australian Chamber Orchestra
Slava Grigoryan, guitar
Australian Chamber Orchestra
Richard Tognetti, Artistic Director & Lead Violin
Click here to stream Isaac Albéniz: Asturias (Leyenda) performed by Slaba Grigoryan and the ACO now.