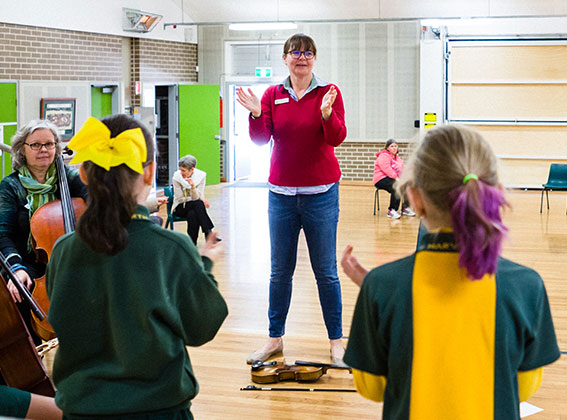 We are excited to announce that our
ACO Foundations
program will continue at St Marys North Public School in 2019, following fantastic results in its pilot year.
WATCH: ACO FOUNDATIONS PROGRAM
Click the tile above to watch a video that explores the impact of our ACO Foundations pilot program.
Designed by leading instrumental teacher Frances Firth in collaboration with the ACO, the ACO Foundations program provides students at under-resourced schools with free instrumental and classroom music lessons with the aim of not only giving them access to quality music education, but also improving their cognitive, emotional and behavioural development.
Throughout its pilot year, the ACO Foundations program provided twenty Year 1 students at St Marys North Public School with a violin or cello alongside weekly lessons with a specialist instrumental teacher, daily classroom practice sessions supported by digital resources made by the ACO, and regular visits from ACO musicians, who practice with the children and inspire their development.
The ACO Foundations program is evaluated by award-winning educator and researcher Dr Anita Collins and academics from The School of Economics at the University of Sydney.
"Providing young children with opportunities to learn a musical instrument has been proven in numerous worldwide studies to significantly improve their emotional, physical, social and cognitive development," said Dr Collins.
"The ACO Foundations program seeks to improve the learning outcomes of students in underserved public schools such as St Marys North Public School (...) providing them with the opportunity to learn a musical instrument at a critical time in their development."
The flow-through results for the students in the program have been dramatic. According to the classroom teacher involved in the Foundations program, "The students are thinking faster, taking more risks in their learning and managing themselves so much better after one year in the ACO Foundations program"
Lisa Parrello, the Principal of St Marys North Public School, is thrilled with the results. "It has improved their executive functioning, their working memory, their self-regulation. What we've seen in this little group of Year 1 students is that we now have a group of students who are attending school in far higher numbers than the rest of the school population. If a principal from another school came to me and asked if it was worth implementing the ACO Foundations Program, I would say 'YES', 100 times over."
The continuation of our ACO Foundations program is made possible through the generosity of our donors, whose support of the ACO's Learning & Engagement programs allows us to begin and continue this important work. If you would like to support the program, please consider making a donation via the link below.