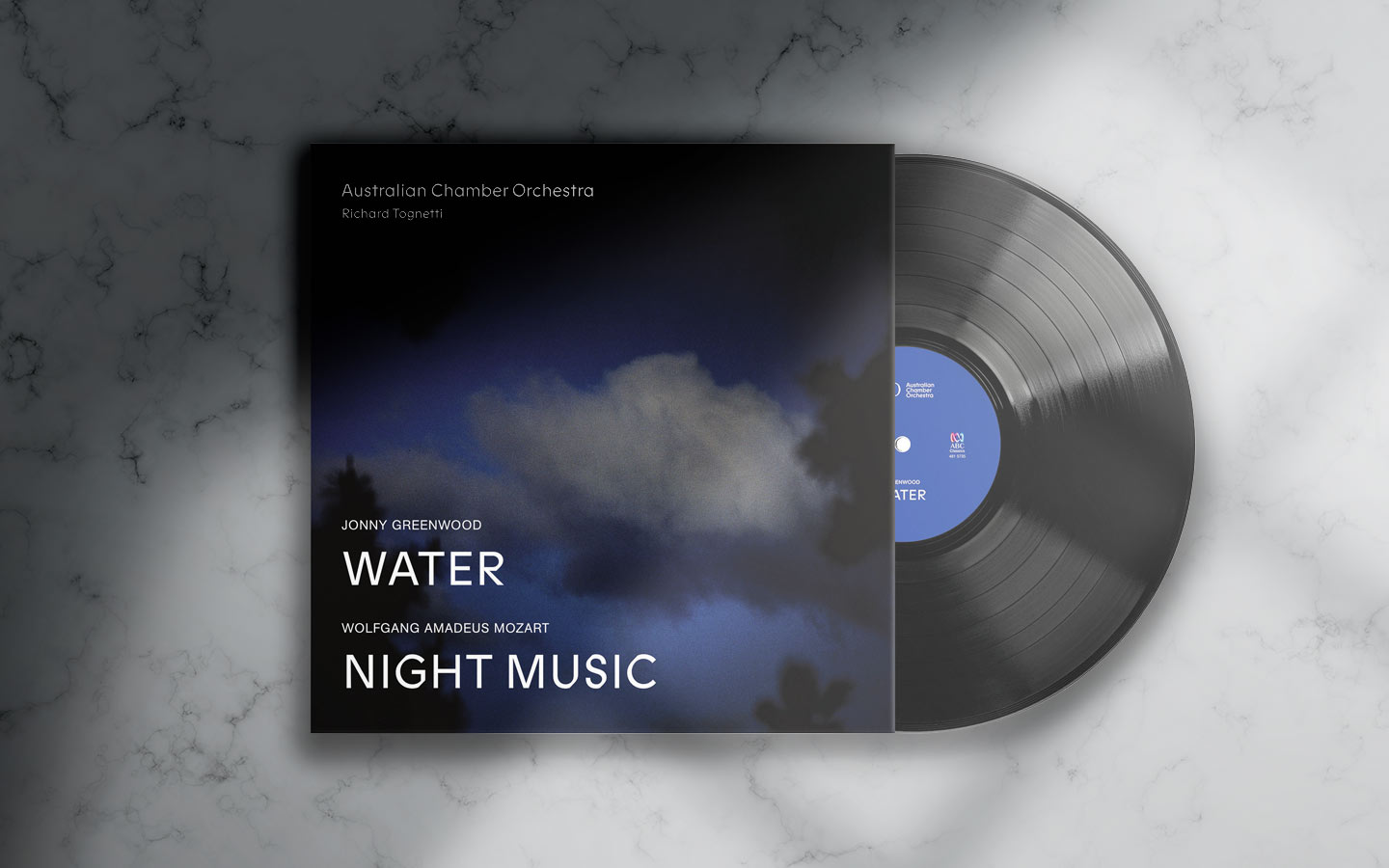 Water / Night Music
The first Australian classical vinyl released in 20 years.
In association with ABC Classics, we are pleased to present the first Australian-produced classical vinyl for two decades, featuring the world-premiere recording of Water by Radiohead guitarist Jonny Greenwood.
Water was written following Greenwood's stint as our Composer in Residence in 2012. Its inspiration is Philip Larkin's poem of the same name, which alludes to a glass of water 'where any-angled light would congregate endlessly'. Scored for strings, flutes, keyboard, piano and two Indian tanpura, it takes the form of a continuous 15-minute movement.
Premiered as part of the ACO's UK tour in 2014, Water was an instant success, hailed for its ear-opening musical colours. It is presented here in a live recording from the Sydney Opera House.
The LP format inspired the pairing with Mozart's ubiquitous Eine kleine Nachtmusik. 'We have chosen an outrageous combination of works that you would never consider pairing unless it were on an LP,' says Richard Tognetti. 'So consider this a curated, deliberate juxtaposition … The notion of surprise is paramount in offering these wildly contrasting works. But 'a little night music' is exactly what Jonny's piece is. It's something I would suggest you play once the sun sets, for its hypnotic drone-like structure presents something that really works best as daylight fades away…'
The resurgence of vinyl has been well documented. Giving both a superb aural experience and a satisfying tactile engagement, it has been for many a welcome response to our increasingly digital-focused world. The large-format cover is also an artistic opportunity and for this release Australian photographer, ACO artistic collaborator and music devotee Bill Henson generously provided one of his most evocative works.
Water / Night Music is available to stream and purchase via the link below.