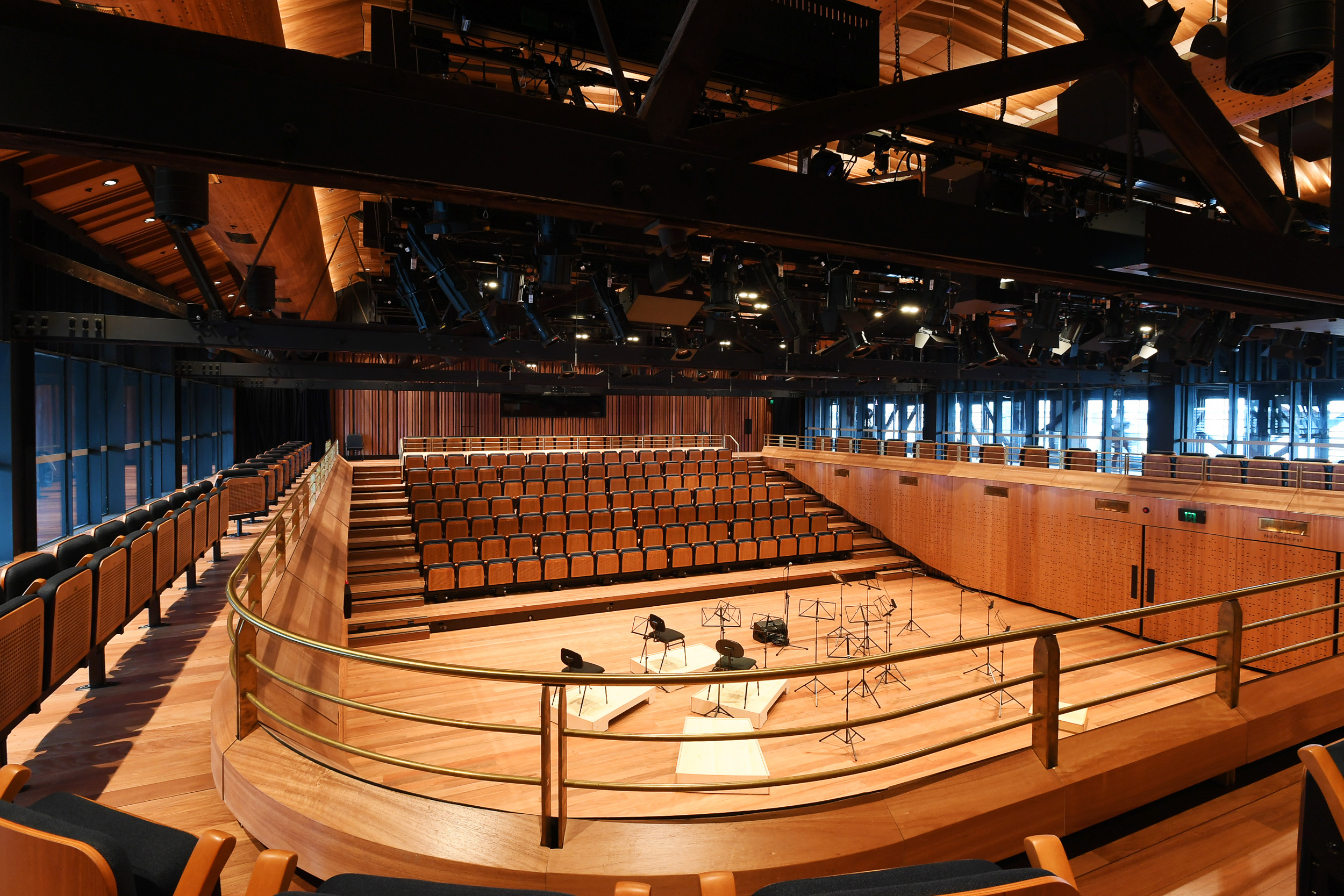 Duty Technical Manager
We're looking for casual duty technical managers to work at the ACO's new Pier 2/3 home.
Introduction
The ACO is one of Australia's most dynamic and highly regarded performing arts organisations. We are looking for casual technicians to join our team.

ABOUT THE ACO

Led by its charismatic Artistic Director, Richard Tognetti, the Australian Chamber Orchestra is renowned world-wide for its inspired and courageous programming and unrivalled performances. The ACO collaborates with an extraordinary range of artists including the world's leading performers, cinematographers, writers, and visual artists. In early 2022, the ACO moved to its new, purpose-built home on Pier 2/3 in Sydney's Walsh Bay Arts Precinct, which includes a 275 seat Performance Space, Rehearsal Room, Media Suite, and Event Space - an exciting new home for performance, presentation, community engagement and collaborative opportunities.


ABOUT THE POSITION
The ACO's move to Pier 2/3 will transform the ACO on many levels after operating more than 20 years underground at their Circular Quay base. The Duty Technical Manager is responsible for overseeing a team of technicians and delivering services to the highest possible standards, whilst ensuring that the working environment and technical elements of a show adhere to WHS legislation.

This role represents an incredible opportunity to work in the ACO's new home. The key venues in the ACO tenancy are:

Performance Space (c. 400m2): "The Neilson" with Control Room: a flexible space of 275 seats, including balcony, able to be configured to a flat floor with a retractable seating bank. Designed for classical, other acoustic and amplified music performances, rehearsals, recordings, talks, film screenings and other events. Provisioned with rigging for DMX controlled architectural, platform and production lighting, sound recording, projector and screen and sound systems (including installed d&b loudspeaker system, microphone winches, Yamaha AFC4 active architecture system with spatial audio support for cinematic audio playback).

Rehearsal Room (c. 100m2): a flexible space for music rehearsals, workshops, recordings, masterclasses, talks and presentations (for up to 80 people). Provisioned with rigging for DMX controlled lighting and sound recording, installed d&b loudspeaker system, microphone winches, as well as projector and screen.

Event Space (c. 120m2): with commercial kitchen and bar: a flexible space accommodating up to 230 people that can be used for a range of events and functions in different formats. Provisioned with architectural lighting and overhead rigging for DMX controlled production lighting, an installed d&b loudspeaker system and projection infrastructure.

Media Suite (c. 20m2): a multi-role ergonomic workspace for recording control, broadcast control and presentation, as well as audio and video post-production. Provisioned with professional studio monitors for critical listening, wall mounted LCD panels and console mounted LCD screens providing access to video links to ACO spaces, display playback of video assets for post-production work, as well as hardware and software for audio recording and production and live streaming.

In addition, there is a Shared Foyer with other Pier 2/3 tenants (Bell Shakespeare and Australian Theatre for Young People).
TERMS

These are casual positions based at Pier 2/3 in the Walsh Bay Arts Precinct, Sydney.

The Duty Technical Manager will be required to work across weekdays, evenings and on weekends in line with ACO's operational needs and in consultation with the Technical and Facilities Manager.

Due to the nature of this position, the successful applicant will also need to successfully complete a Working with Children Check.
POSITION REQUIREMENTS
The successful applicants will meet the following position requirements:

Required Skills & Experience:
• Demonstrated experience at production and/or technical management level within an arts company, a multi artform venue or on large scale productions;
• Knowledge and practical experience of all relevant WHS legislation and safety systems in a performance venue;
• Knowledge and experience of current rigging and work at height practices, flying systems and staging;
• Demonstrated ability to respond to technical specifications;
• Demonstrated experience using and operating audio and lighting consoles in live performances;
• Demonstrated proficiency in using computers and computer software
• Excellent people and management skills, including experience in successfully building strong relationships with staff and stakeholders;
• Effective and efficient delivery of event plans;
• Highly competent written and spoken communication skills with excellent attention to detail;
• Capacity for swift and effective decision making under pressure.

Advantageous Qualifications & Experience:
• Knowledge and experience of current rigging and work at height practices, flying systems and staging;
• Qualifications in Test & Tag, First Aid, Yellow Card
• Experience of working with a variety of touring companies and corporate clients;
• Musical literacy and or familiarity with orchestral and chamber music repertoire; and
• Experience in working with performing arts venues.

Attitudes:
• A passion for working within a dynamic performing arts organisation;
• Interest in music;
• A kind team player who does not compromise on personal responsibility;
• Enthusiasm, initiative, self-motivation and self-discipline; and
• A willingness to work flexible hours.

ACO CULTURE
• From the stage to behind the scenes, our team is a passionate, dedicated and diverse family;
• We never stop looking for ways to bring something new to what we do and every day we inspire audiences and each other with our ambition, enthusiasm and openness;
• We recognise that everyone brings something unique to our team and that it's our collective experience, skills and spirit that connects us as one; and
• Our workplace is flexible and family friendly, with training and professional development opportunities provided.

Don't miss out on this exciting opportunity to join our team. To apply, please download the position description and forward your CV and an accompanying cover letter outlining your relevant skills and experience in relation to the requirements for the role to [email protected].

Download position description here.

Any queries about the position, please contact Claire Diment, HR Manager at [email protected].

DIVERSITY & INCLUSION
The ACO is committed to equity and inclusion and welcomes applications from Aboriginal and Torres Strait Islander people, people from culturally and linguistically diverse backgrounds, people with a disability, mature age workers, and lesbian, gay, bisexual, transgender, queer and intersex (LGBTQI+) people.

The ACO is committed to making reasonable adjustments to provide a supportive and barrier-free workplace. If you require any adjustments before or during the selection process, please email our HR Manager at [email protected].