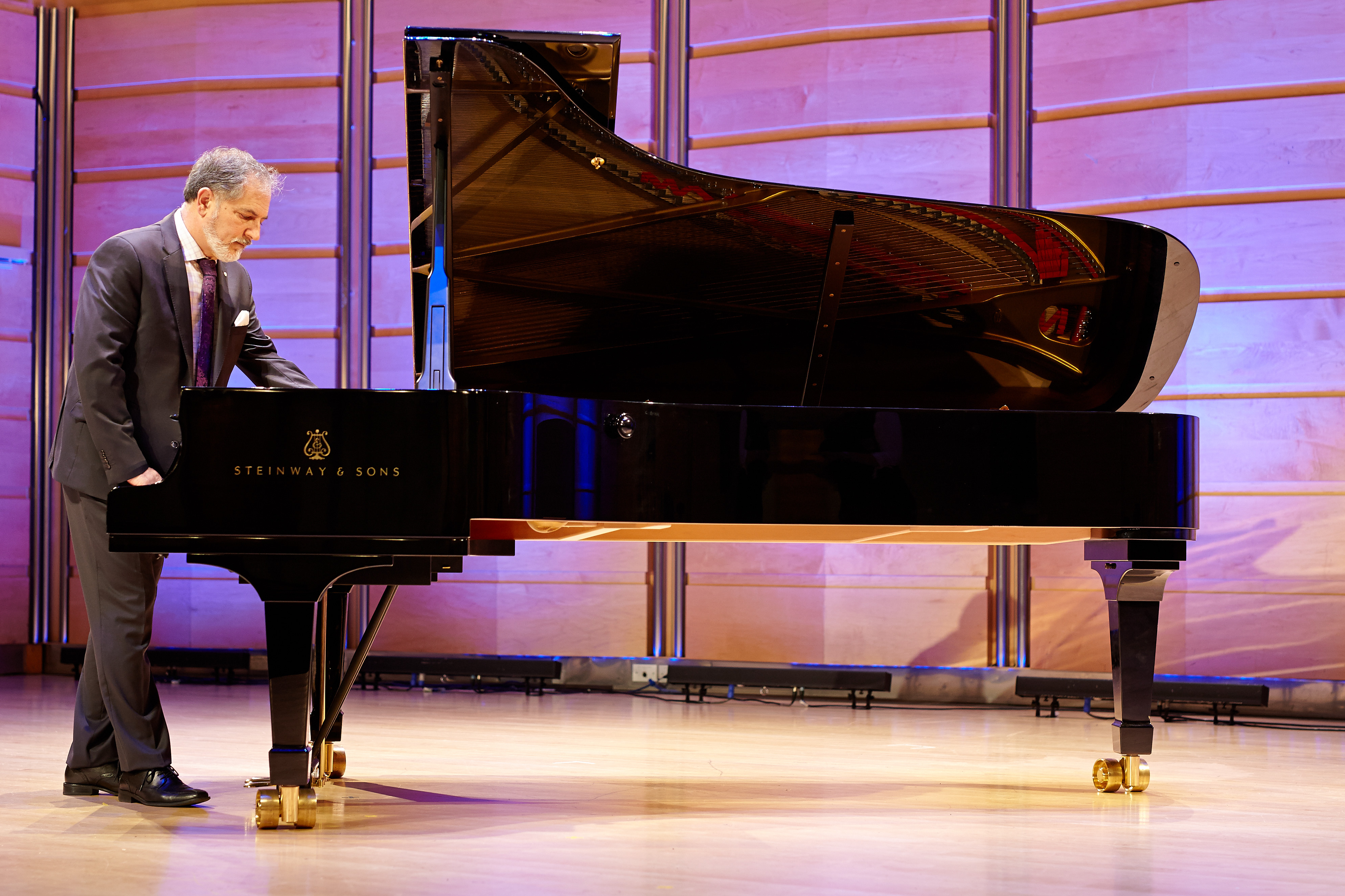 In conversation with Ara Vartoukian OAM
We recently caught up with Ara Vartoukian OAM, to discuss his long-standing relationship with the ACO and his love of music.
Ara is Director of Theme & Variations Piano Services and was honoured with an Order of Australia for his services to music in 2016. In 2020, Theme and Variations celebrate 35 years in business.
Tell us about your personal connection to music? Where did it all start?
Music has always been a constant influence that has been with me since I was a child. My mother was a violin player and my father loved opera, so music was all around.
I started piano lessons at an early age and was always fascinated with the mechanics of a piano. Much to my parent's dismay, I would often pull sections of the piano apart and put them back together again.
I remember when our piano tuner Mr Turner would come to tune our piano. I would pretend to be sick so I could stay home from school and see how he tuned our piano. These are funny and fond memories.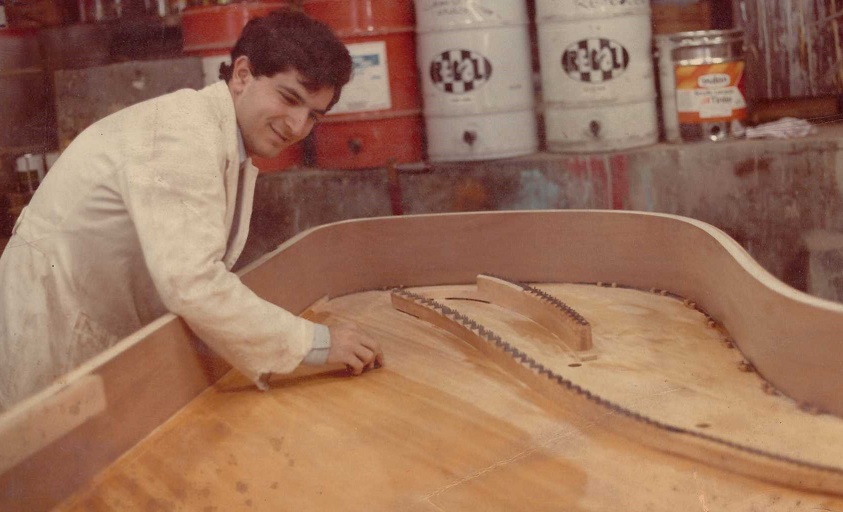 And you ended up at the Sydney Conservatorium of Music, correct?
I studied piano up until AMEB grade 8 and when I finished high school, I was accepted into the Piano Tuning and Technology Course at the Sydney Conservatorium of Music.
Little did I know that I would show a talent for this study and later become Head of the Piano Tuning School at the Conservatorium of Music. Throughout my life music has always been a constant companion, in the form of learning, playing, conducting and getting to know many people along the way.
Do you favour a particular style or genre?
I was involved with the Komitas Choir for the Armenian Cultural Society as a young adult. I conducted the choir diligently for almost 30 years. My Armenian heritage allowed me to discover the world of the composer Gomidas and his sacred and secular music.
I also have a fondness of the classical romantic period which is where the piano developed into the instrument we know today.
So where did Theme & Variations begin?
After five years at the Sydney Conservatorium of Music as Head of the Piano Tuning school , I established Theme & Variations in April 1985. We couldn't initially decide on a name, so we had a brainstorming session by placing about 100 possible names on a board and slowly eliminating them!
We first started in a small shop in Artarmon as purely a service and restoration operation. We were constantly being asked about pianos for sale, so we eventually decided to have a few pre-owned instruments on the floor to assist our customer's needs.
The 1980's was a boom time for piano sales, and as more customers came in looking for pianos to purchase that part of our business started to grow. We were approached to take on several new piano agencies.
What did that growth mean for Theme & Variations?
This was a completely new world for us, but we managed to develop a niche market by sticking with our core ideas on service and quality of instruments.
As we grew our team, we were offered the opportunity to take on the agency for Steinway & Sons in NSW and later in QLD which we continued and enhanced until 2015. This was prior to Steinway & Sons centralising their distribution channels across Australia instead of individual states and agents.
Since we started the company, we have always supported music students. In 2012 we officially formed the Theme & Variations Foundation, which provides funding and support to eligible students.
Today, we continue to support the music community and music lovers with a full-service offering. We service Australian concert halls in collaboration with our arts partners and provide tuning services to the wider community at home and in the education space.
We also continue to restore and repair pianos on behalf of our customers and sell a select range of pianos targeted to our customer's needs. Our technical expertise and experience remains at the centre of what we do.
How did you become involved with the ACO?
ACO founder John Painter was Director at the Conservatorium of Music whilst I was on staff. Through our connection, Theme & Variations initially became involved by providing piano tuning services to the Orchestra.
I also knew Richard Tognetti from my days at the Con, and this further propelled and embedded our involvement and partnership with the ACO. We continue to provide support in the provision of pianos and technical services across various concert series and ACO rehearsal spaces.
When we started working together the ACO was much smaller. I like to think that we have grown together side by side throughout the years as players within the Australian arts community
Why is the partnership meaningful for T&V?
Our long-standing partnership reflects our standard of excellence. We have a mutual connection and passion to bring music into people lives.
Working with an artist during a pre-selection tune before a concert is an important task, especially to allow the artist to feel comfortable and connected to a venue piano that they have perhaps never played before.
We pride ourselves on providing musicians and arts establishments the very best level of service and quality.
You're an avid supporters of the arts. Tell us about an interesting collaboration you've worked on over the years.
In 2007 we collaborated with the Queensland Music Festival to present the world's first Indigenous Australian Steinway & Sons grand piano.
Australian visual artist Judy Watson was commissioned to design this incredible Indigenous Art Case. Judy Watson is a descendant of the Waanyi people of north-east Queensland. We provided a Steinway & Sons Model A-188 grand piano for the project. The work was titled ochre & blood, mother of pearl, and had a strong connection with Judy's ancestry and Queensland.
The black and white piano keys became a metaphor for our Australian history. The stunning native seashells surrounding the piano sang of the inland sea fossilised within the ground, and the inscriptions and fingerprints on the keys were painted with ochre.
The piano was the centrepiece at the festival and was played by Paul Grobovski at sunrise in the remote Queensland town of Winton. The artcase also bears carvings of bone forms and fossils related to animals and dinosaurs that one sees when visiting Winton.
Today this very special piano lives at the Theme & Variations showroom waiting for the perfect buyer to give it a perfect home—hopefully one that will enjoy frequent visitors so this fascinating story can continue to be told for many generations to come.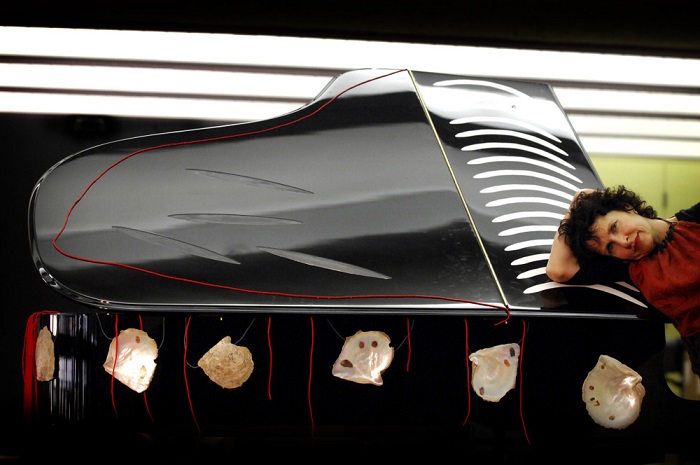 Find out more about Theme & Variations Piano Services on their website.