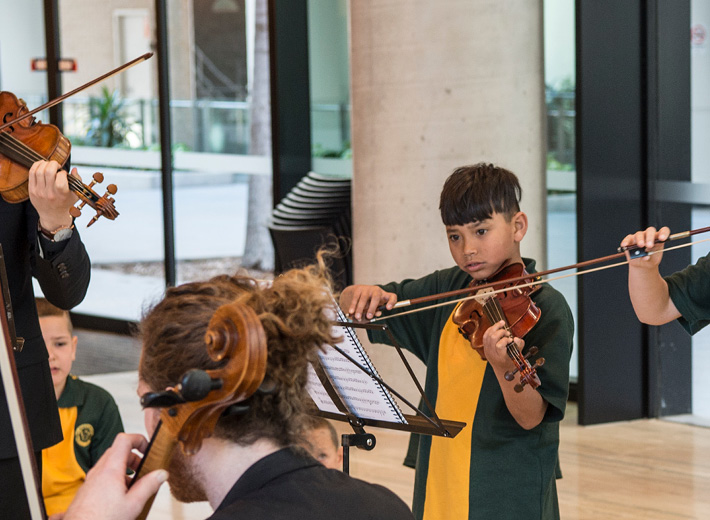 ACO BNP Paribas Pathway Scholarship
The Australian Chamber Orchestra and BNP Paribas are delighted to announce the two recipients of the inaugural ACO BNP Paribas Pathway Scholarship: 12-year-old Ethan Schempp and 16-year-old Aurora Beale.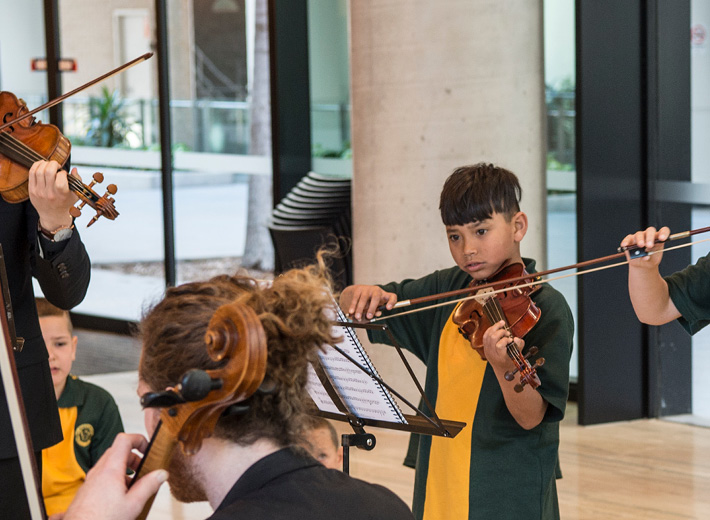 ACO BNP Paribas Pathway Scholarship recipient Ethan Schempp (right) participating in ACO Foundations in 2019
The Pathway Scholarship was created by the ACO with the support of BNP Paribas to make music and artistic development opportunities more accessible for school-aged musicians from diverse backgrounds, in particular First Nations young people.
The Pathway Scholarship is tailored to each recipient and includes support to cover activities such as private music lessons, participation in a local youth orchestra program, musical instrument assistance and access to coaching from ACO musicians.
Ethan is currently studying at Nepean CAPA High School and began learning violin in Year 4 through the ACO Foundations Program at St Marys North Primary School in Sydney.
"I am really happy to be chosen for the Pathway Scholarship," said Ethan. "Music is a way to express myself and my feelings as well as a way I unwind. This scholarship will help me to learn more about the violin and viola."
Aurora is currently studying at Bellingen High School in regional NSW and is a member of the Bellingen Youth Orchestra. She began playing the violin in primary school before switching to the viola in Year 7.
"I am very excited about this scholarship," said Aurora. "Receiving this scholarship has made me think that perhaps I could pursue a career in music with all the support around me."
Providing artistic development opportunities for young musicians from diverse range of backgrounds is an important priority for both the ACO and BNP Paribas.
"BNP Paribas is thrilled to welcome Ethan and Aurora as the first recipients of the ACO BNP Paribas Pathway Scholarship," said BNP Paribas CEO Karine Delvallée. "We believe that artistic creation is vital to our society – it nurtures us to better understand the world around us, provides shared experiences, all while challenging our beliefs, opening our minds and developing our creativity. This scholarship provides an accessible pathway to specialist string training and development and is aligned to our values of diversity and access for all.
"BNP Paribas is proud to be supporting and growing the next generation of Australian musicians, and look forward to continuing our support for Ethan and Aurora – we cannot wait to hear them perform."