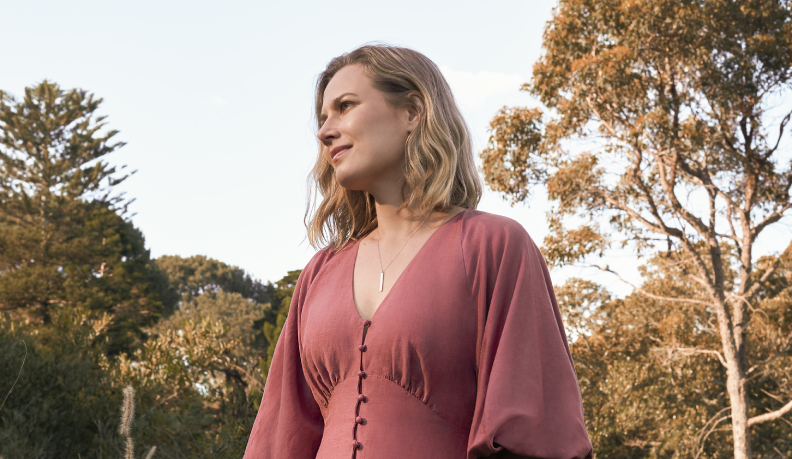 Interview with Principal Violin Satu Vänskä
We sat down with Principal Violin Satu Vänskä to talk Ysaÿe, moving to Australia, and what's getting her through lockdown.
What piece have you selected for your HomeCast, and what instrument are you performing it on?
I'm performing Eugène Ysaÿe's Sonata No.3 "Ballade" on the 1726 'Belgiorno' Stradivarius violin. It's a real violinist's piece; it's a work that most violinists play in their student years, but I never ended up learning it, so I figured that now, being home in the middle of a pandemic, was as good a time as any!
Can you tell us about the artwork featured in your HomeCast?
This is a work by Bill Henson that I got about ten years ago from one of his exhibitions in Melbourne. What I love about this artwork, and Bill's art in general, is the physicality of it. He makes the human body into a sculpture; the figure almost looks like marble. It makes an interesting juxtaposition with what I'm doing on the violin.
How did you get your start with the ACO?
I heard about the ACO for the very first time from my friend [pianist and composer] Dejan Lazić. We were living in Munich at the same time, and he'd already performed with the ACO on a few occasions and told me, "You should consider a job with that Orchestra – you'd like it." Shortly afterwards, a position opened up for 'Assistant Leader', so I applied and did my audition in Bregenz in Austria when the ACO was there on tour. They invited me to come out to Australia in early 2004, and I never left!
Coming out to Australia from Europe was like arriving to a new frontier; a place where music, especially 'classical' music, was not so institutionalized. And I loved the idea of being on the other side of the world. But, for me, what was the most important thing was the quality and calibre of the ACO.
You were born in Japan and lived in multiple European countries before moving to Australia. Where is the first place you'd like to travel to once Australia opens its borders?
I'd love to go back to Japan. Having said that, I don't know when Japan will let us in, so I will likely end up travelling to Europe first. But it's my dream to return to Japan.
What are you reading/watching/listening to in lockdown?
Richard [Tognetti] and I just finished the entire eight seasons of [French murder mystery series] Spiral on SBS, and I'm now moving onto the lighter French television with Call My Agent! on Netflix. I've found I'm only watching things that aren't in English – as we aren't able to travel this is my way of keeping in touch with other languages and cultures.
I'm reading Thomas Mann's Magic Mountain which is keeping my brain very engaged. And listening to lots of music, and making lots of music. Richard and I are very lucky that we have each other; it's so rewarding when you can bounce ideas off each other and you can go a million miles further if you're with someone else. I don't take that for granted at all.