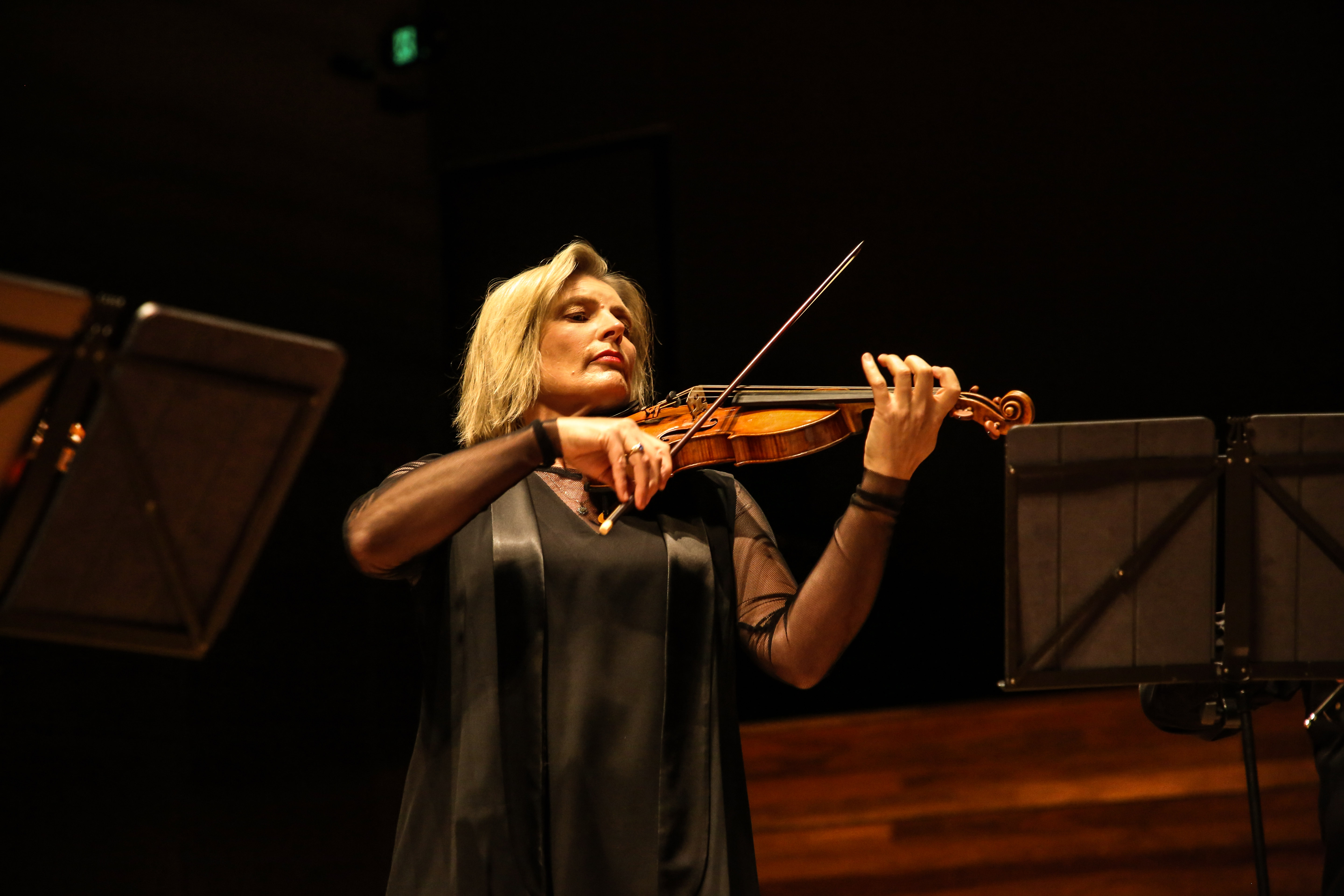 Helena Rathbone ACO Up Close
ACO Principal Violin Helena Rathbone reflects on hopeful beginnings and poignant endings in her personal ACO Up Close recital.
Beginnings and Endings
When I was asked to choose a program for my recital, I knew immediately that I would have to include the Elgar Sonata. Not only because I love the piece which, strangely, is still not played terribly often, but also because I feel an affinity with Elgar's musical language, having grown up in England. I am sure that not being able to travel freely and visit family and friends on the other side of the world over the past two years has strengthened the need to go back to my roots and play this quintessentially English music.
Some 29 years ago, I sent, by snail mail, a first-round audition cassette tape from Banff, Canada (where I was studying at the time) to the ACO and was subsequently invited to Australia to play with the Orchestra for a trial period. On this cassette tape was my performance of the Debussy Sonata that I had recorded a few months previously, with my friend Charles, at the Guildhall when we were studying there. As a result, this Sonata represented a new beginning for me all those years ago when I flew to Sydney for the first time – much like Pier 2/3 is an exciting new chapter for the ACO now.
While contrasting in musical style, these two sonatas have some commonalities. Both were written near the end of the First World War – the Debussy in 1917, and the Elgar a year later – and feature moments of mournful yearning and staunch nationalism during what must have been such difficult times. Despite the war and both composers' ill health, these sonatas also show brightness and optimism and are full of passion.
The Debussy has wonderful gypsy-like passages and the Elgar features glorious melodies. Debussy was already suffering with the cancer that would prematurely end his life in 1918 and this sonata was the last piece he wrote. He performed the premiere with Gaston Poulet in May 1917 in what was to be his last-ever public performance. In the summer of 1918, Elgar was recuperating from an illness at 'Brinkwells', a rented cottage in Sussex. It was here that he wrote his major chamber works, including this violin sonata, and a few months later in the Spring of 2019, his mighty cello concerto. These proved to be his last works of note before his death in 1934.
We begin the recital with Clara Schumann's Three Romances. These exquisite little gems were written in 1853, when Clara was 34. They are sadly amongst the last few pieces of hers published, as she gave up composing her own music to concentrate on her very successful performing career, championing the music of composers such as her husband, Robert Schumann, Brahms and Mendelssohn (as well as looking after her seven children!). These pieces hold an especially dear place in my heart as they were included in the music that my mother and I listened to together in 2020 when she was in palliative care in hospital in London. We shared a love for these gentle romantic works.
I am so happy to be sharing this stage and music with the wonderful Stefan Cassomenos, in our first violin and piano recital together.
Click here to book tickets to ACO Up Close: Helena Rathbone at Hanson Dyer Hall, Ian Potter Southbank Centre on Tuesday 20 September, 7,30pm. Click here to view venue location and information.