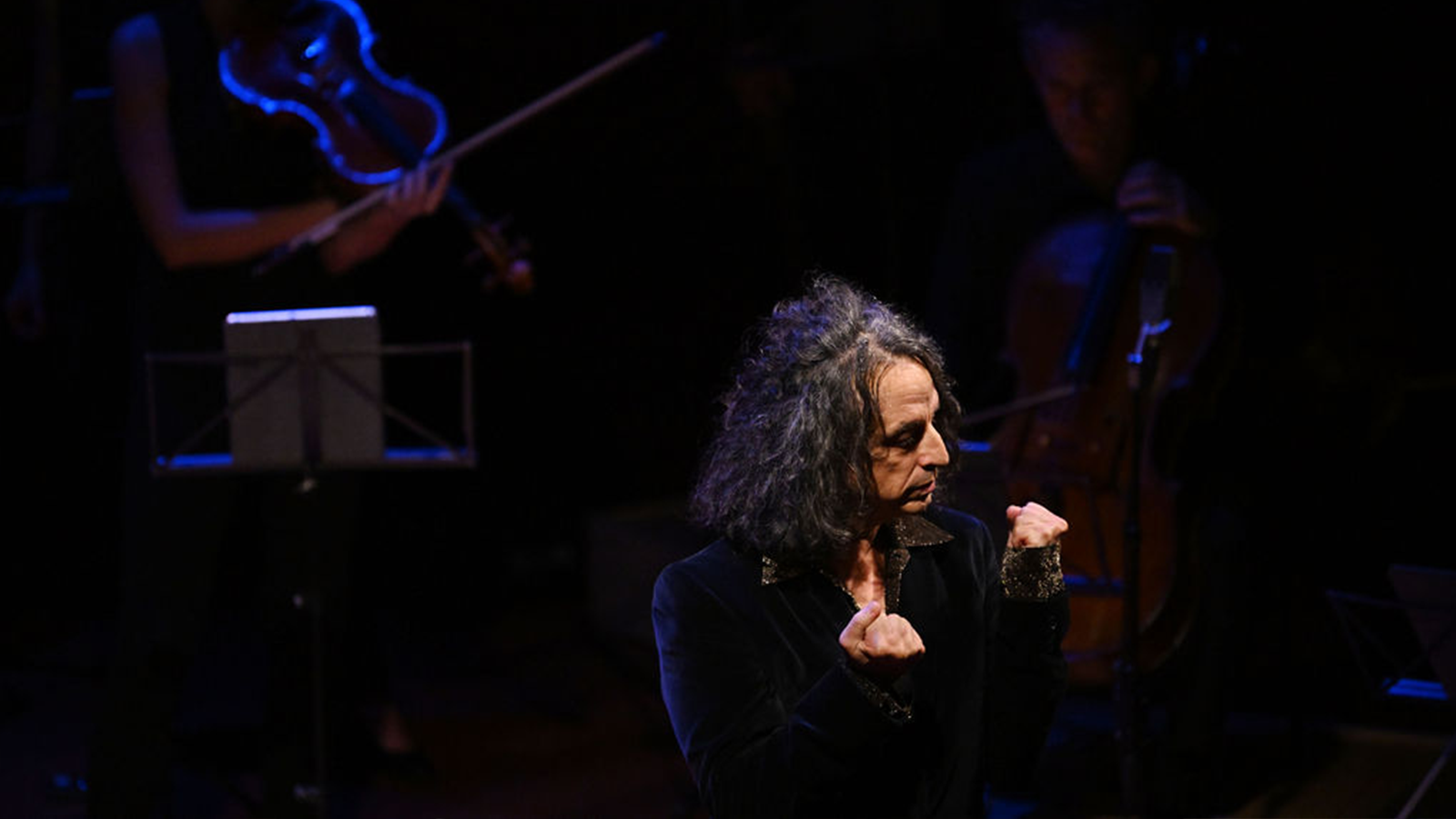 Interview: Paul Capsis and Francis Greep
The Australian actor catches up with The Song Company's General Manager & Associate Artistic Director ahead of their performance of 'Dry My Tears' at Pier 2/3.
"Francis has encouraged my voice to emerge as myself, truly expressed and I am loving the challenge," actor Paul Capsis says. He is speaking with The Song Company's General Manager & Associate Artistic Director, Francis Greep, ahead of their performance of Close-up - Dry My Tears at Pier 2/3. "With two shows under our belt, the response has already been amazing and many are commenting on the change in how I sing. All Positive," Capsis says.
Dry My Tears sees the legendary Australian performer making his debut with The Song Company. It's an intimate recital co-created with Greep, inspired by the dark underworld of Kurt Weill, and featuring music by him, as well as Richard Rogers, Elton John and Billie Joel, before your tears are dried and you can smile once more in jazz and ragtime songs by Melody Gardot and Johnny Mercer.
"The project came about after Paul and I collaborated on a performance work called Skin Deep, part of the Mardi Gras Festival in 2021," Greep explains. "I had long been an admirer of Paul's work, having seen him in countless musicals, plays and cabaret performances.
"In Skin Deep, he walked up from the audience at the end of what was a fairly full-on experience, and started singing 'Imagine' by John Lennon. In this song, acoustic and simple, I could hear so many vocal colours that I wanted to explore further."
"It was a truly remarkable experience because in that show I was to emerge from outside and into the theatre dressed simply in black and sing an acoustic version of 'Imagine' with Francis playing the grand piano," Capsis says. "It was the highlight of 2021 for me; the experience touched me deeply."
Greep and Capsis knew we wanted to begin in with Kurt Weill, but where to go from there took a bit longer to work out.
"We listened to and sang through a huge amount of songs, keeping many on the "possible" list until the idea of a very personal story, of love gained, love falling apart and ultimately finding strength through self-knowledge and experience, began to take shape," Greep says.
"Performing everything completely acoustic, is not something I am familiar doing, especially a full repertoire," Capsis confides. "Soon after we started selecting songs Francis had me sing in French and German and he has completely changed how I vocalise.
"At first the task seemed rather daunting however, soon I realised that I liked singing acoustic, rather than hiding behind my characters, my channelling, my sequins and gaudy makeup. I feel with the guidance and synergy of Francis, I am finally able to grow and mature as a singer, as me, fully realised and for that I am grateful and excited."
Dry My Tears is as part of The Song Company's Close-Up series. "The series is about giving wonderful vocal artists an opportunity to create a program uniquely suited to them, stripped back and unplugged," Greep says. "Dry My Tears is a first for Paul – incredibly it's his first-ever entirely acoustic program. That means there's nowhere to hide, it's just him, me and the piano."
Click here to book The Song Company's Close-up: Dry My Tears with Paul Capsis, 21-23 July at Pier 2/3.