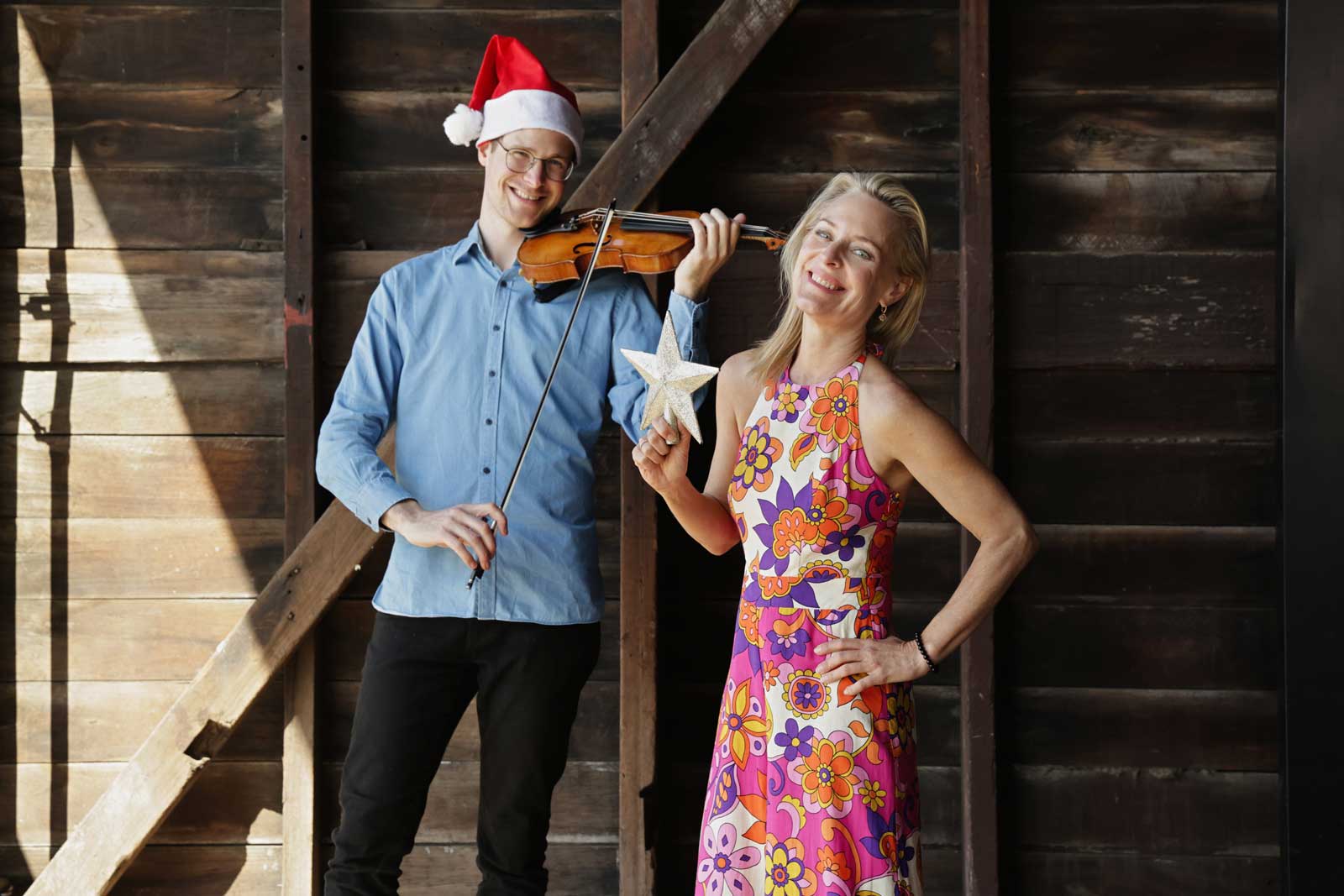 Rachael Beck on the joy of Christmas
Actor and singer Rachael Beck has been sharing her favourite things about Christmas, ahead of starring in our new ACO Families show Dear Santa.
"My favourite Christmas song is O Holy Night. It's so special to me that I would never sing it, because I think I could never do it justice! Every time I hear it, everything in me stops and listens, it's just so gorgeous."
Rachael Beck is the Australian Chamber Orchestra's resident Christmas song aficionado this festive season – because she's joining us for our newest ACO Families production, Dear Santa (17-22 December).
Rachael, who is known for her roles in musical theatre – including playing Truly Scrumptious in the national tour of Chitty Chitty Bang Bang; Sally Bowles in IMG's Cabaret, directed by Sam Mendes, and her award-winning turn as Belle opposite Hugh Jackman in Beauty and the Beast – and playing Lisa Parker in Home & Away, will star as Santa's helper.
She will perform popular Christmas songs as she collects letters to Santa from around the world and organises hundreds of presents accordingly.
As she looks forward to rehearsals for Dear Santa starting at ACO Pier 2/3, Rachael lets us in on what she loves most about Christmas.
"At Christmas me and my family all gather together, so it's very special each year. I might be flying from wherever it is, my dad might come from Bali, and I might not have seen the family for quite sometime, because I've been on tour.
"We all go up to my mum's place in Alstonville, which is near Ballina. We used to wake up and have champagne and Midori, but then Mum realised that everyone would be asleep by ten o'clock – AM that is! So we've decided not to do that anymore," Rachael laughs.
"I like to go for a walk. Then people start arriving, and hugging, and we all have a really great time – and lots of food!"
Christmas isn't Christmas without too much food. What's the Beck household's Christmas meal of choice?
"Definitely involving seafood," Rachael shares. "We have some great seafood on the north coast of New South Wales. So prawns and fish... And lots of salads, I'm a salad person. I don't mind a white Christmas either."
Playing from 17–22 December at the ACO's harbourside home in Pier 2/3 in Sydney's Walsh Bay Arts Precinct, Dear Santa is written and directed by award-winning theatre director Tim McGarry and will feature traditional Christmas songs like Have Yourself a Merry Little Christmas and Jingle Bells alongside original music composed by Jessica Wells. It's guaranteed to be a nostalgic singalong for the whole family.
We ask Rachael which Christmas memory makes her feel most nostalgic.
"Getting up really early and putting up these beautiful little tents for my two daughters, one blue one and one pink one," she reflects. "Some people were hiding inside so when the girls went in to see their presents, they had a big surprise. It was beautiful."
Centred around hilarious, moving and uplifting letters to Santa from children everywhere, Dear Santa includes a special message from Santa for ACO audiences young and older alike. And following the show, children will be invited to write their own letter to Santa and post it in his special ACO Pier 2/3 mailbox.
So what will Rachael be asking for this Christmas?
"I'd really like some Lululemon workout trousers," she laughs.
"It's a lucky dip for me really. My two daughters are 13 and 15, and you could get anything from them. I'm just grateful for anything I get for Christmas."
Dear Santa plays from 17 to 22 December at ACO Pier 2/3 in Sydney's Walsh Bay Arts Precinct. Click here to book tickets now.