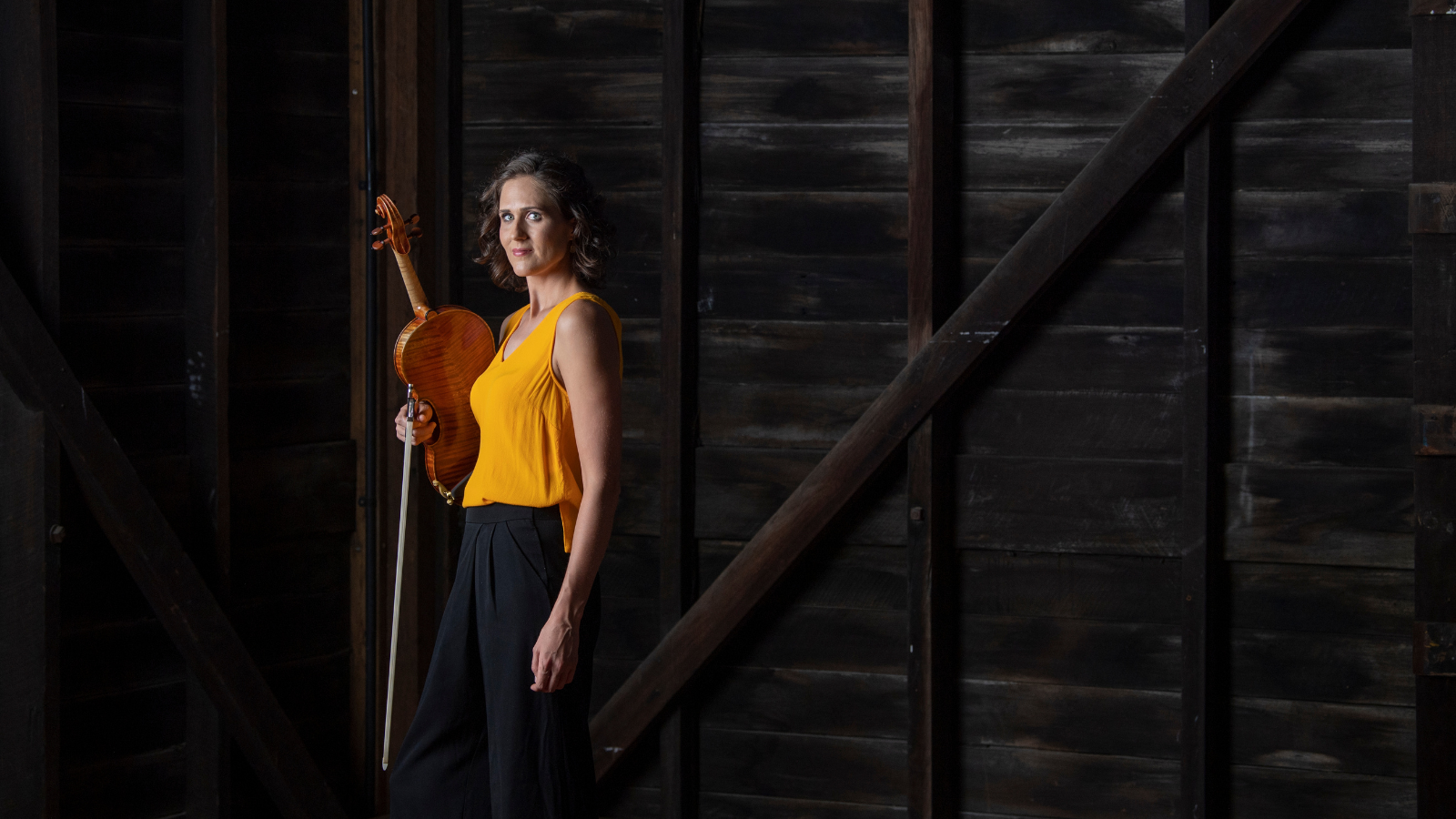 On the Side: Stefanie Farrands
ACO Musicians tell us about their other loves.
"I choose to spend my savings commissioning new music."
ACO Principal Viola, Stefanie Farrands
I think everyone should be collaborating with composers, it's an essential part of being a musician. We are so lucky to be able to have composers in the flesh all around us, and I think musicians need to be more proactive with commissioning works.
We work enough with the handicap of being unable to ask composers questions about their pieces. We use as many sources as we can to create an authentic and meaningful performance, but we are missing the direct link. So it's a mistake in my eyes not to be learning and collaborating with composers who we can actually have a coffee with!
I think it's also important to remember that we are all musicians first and foremost. It just so happens that I express that through my viola. The more we can break the divide between instrumentalists and composers, the better.
I was lucky enough to have my first concerto written for me when I had just swapped to the Viola at age 16. Since then I've been fortunate to have composers write for me regularly through the help of the Freedman Fellowship and supportive orchestras. I also choose to spend my savings commissioning new music. And I'm just very lucky that every composer I have approached has said yes!
How does commissioning work?
It can be a long time between the initial idea and premiere performance when it comes to commissioning. The middle part is the most magical. Sometimes composers have strict protocols to adhere to, and sometimes they have much more freedom. I love giving composers the reigns and pushing them to take risks and challenge me. Lots of trialing and error-ing happens too, and I like being involved as much as I can in all of the stages.
There is something both wonderful and scary about translating these fresh dots on paper into new sounds. I don't think we ever get to truly 'know' a piece - even after the first (or fiftieth!) performance. The collaborative process should always be evolving and changing.
The worst thing that can happen is for a piece to have a premiere and then be forgotten about. I'm very wary of this and concerned that if it's new music, people only want to see premieres because it ticks the boxes. Premieres are easy, but getting something performed for a second time is much harder.
My philosophy is simple: good music should be played.
Music for the viola
I care so much about new music being written for the viola. It is such a versatile instrument, and it has the capability for so many complex colours and sounds. We need to look after it. And we need to look after our composers too. Firsthand knowledge from a composer is such a treat and allows us to interpret a
work with the rawest information on hand. That helps create authenticity within a piece.
For a long time, composers were always writing music that reflected the times they were living in. Their music was circling within the community. Today we have such a vast amount of repertoire to play over centuries and it demands a lot from us. It's important however, to be as present as we can and react to the times we are living in too. Part of this is giving life to music written during our lifetime, and part of the role of an audience is to appreciate this too. I think it's dangerous for our industry if we aren't living in the now and being proactive with other artists and the community.
I'm worried that our world come become a museum piece if we don't.
Personally, I also just learn so much. It pushes me to explore sounds, ask questions and think outside the box. The end result though, is not about me. It's about the composer. My job is to get inside their sound world and speak their language. I've commissioned works for many different combinations depending on the composer and what I find artistically exciting at the time.
There might even be a new work for Viola and Bass Trombone on the cooker...Wild, I know! I love playing alongside musicians I admire and the same goes of course
for composers. There are no parameters.
Working with Australian composers
I love supporting and collaborating with Australia-based composers because I am also based in Australia. I can knock on their door and ask them questions, and it's important to recognise and cherish the artists you are close to. I've definitely commissioned and premiered works from further afield though, and there are amazing composers across the seas.
The piece I am premiering in my ACO Up Close recital in Sydney (ACO Pier 2/3, 9 Oct) and Melbourne (Hanson Dyer Hall, 11 Oct) was given to me as a gift from my family. It's written by Garth Knox, an Irish composer who was violist of the Arditti Quartet. Hybrid artists who are both composers and performers are exciting to work with, because they know both worlds. Garth knows the instrument, so his writing is very idiomatic for the viola. I'm grateful to Garth for writing this wonderful piece for me and trusting this piece with a violist other than himself!
I'm most interested by a composer because of what and how they write, rather than where they were born. I admire musicians for how they express themselves rather than what instrument they play. You don't need to go further afield for quality, quality is simply found where quality is!
Highlights in the works I've commissioned recently include Mother Tongue, composed by Yitzhak Yedid for 2 Violas, and Garth Knox's Still for solo viola, which I just mentioned.

Australian composer Holly Harrison wrote a wonderful Viola Concertino called Hotwire for me and the Tasmanian Symphony Orchestra, which was premiered in 2019 (watch us speaking about it in the video above). It's a pocket rocket and full of bluegrass and exciting sounds. It was a pleasure to work with her on it.
Where would I start with commissioning music?
If you want to start commissioning new music, dive right in and take a risk. Listen to as many composers as possible and see who you might be inspired by.
Composers need artists who WANT to play their music. I love looking back at what instigated composers to write pieces in the past. Often it was because they were inspired by one particular performer. They have stood the test of time, and it exists simply because of one collaboration.
Ask as many questions as possible and get inside the mind of the composer. It always helps to have a performance in mind which might fit the piece too. Put everything you can into the piece and help it to come alive.