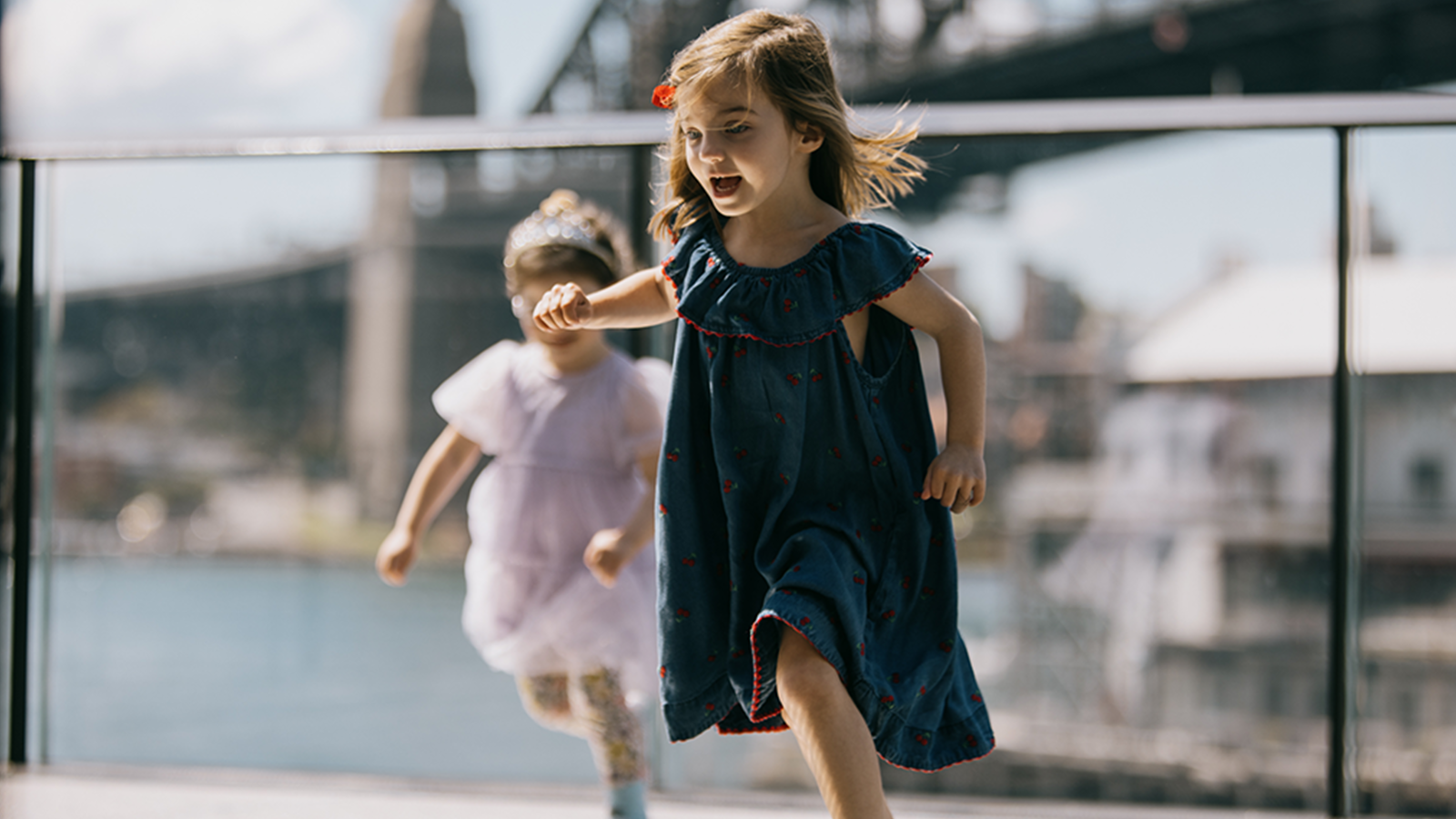 Enjoy a day out on Sydney Harbour with ACO Families
Our guide to making the most of your visit to our Pier 2/3 home, in Sydney's Walsh Bay Arts Precinct.
Two suggested itineraries for your visit to our Pier 2/3 home for an ACO Family Show.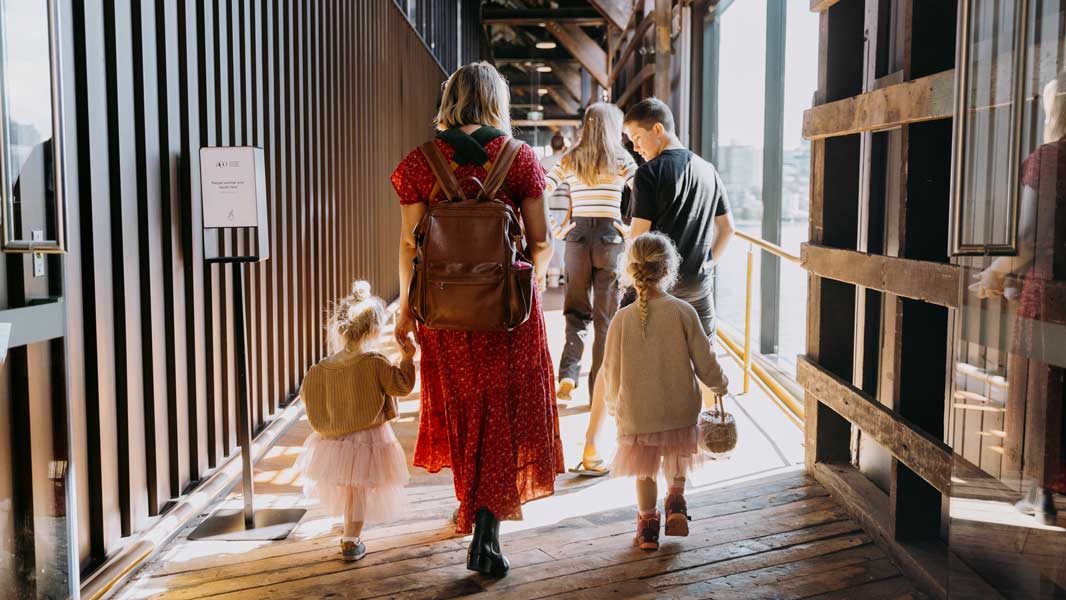 ITINERARY #1 | 1 – 1.5 hours
ACO Family Show + Pier 2/3 foyer activities

All ACO Families shows are 30 to 40-minutes in length, which includes the chance to meet our friendly musicians at the end of the performance.
Book The Princess, The Pea (And The Brave Escapee)
To get to us in Walsh Bay Arts Precinct, you can take a 15-minute, hopefully sunny, walk from Circular Quay or Wynyard train stations. In the case of rain, or tired legs, you can catch the 324 or 325 bus from Town Hall or Wynyard stations and it will drop you off right in front of Pier 2/3 on Hickson Road. There is also the 311 bus which stops further up Hickson Road in front of Pier 7/8.
If you're driving, there is limited on-street parking is available on Hickson Road, plus two Wilson Carparks nearby. More details for your transport planning can be found here and the below map shows the recommended route to ACO Pier 2/3.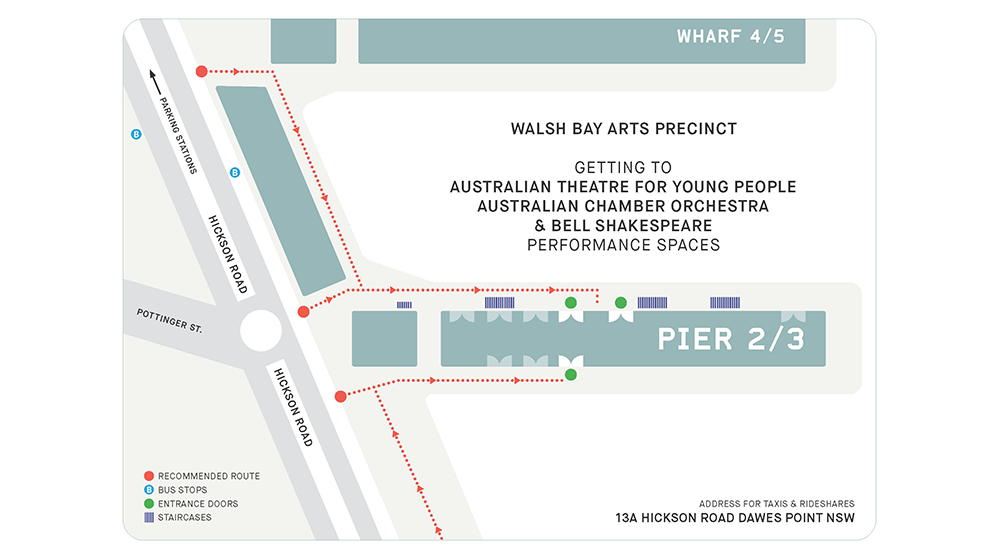 With a flexible seating arrangement (you can opt to sit in our seating or on the floor), our Neilson concert hall is for everyone. If you have any access requirements, concerns, or questions, please contact our Box Office team, or speak to our ushers for assistance on the day.
Before and after the show, you will have the opportunity to join us in our beautiful architecturally-designed foyer space for fun activities, including the perfect Harbour Bridge backdrop for family photos and craft tables with creative play activities made just for you.
We recommend packing a few snacks to keep little ones content. Alternatively, our bar-turned-café will be open and operating an hour before the show, selling snacks-a-plenty - as well as some much-needed coffee for mum and dad!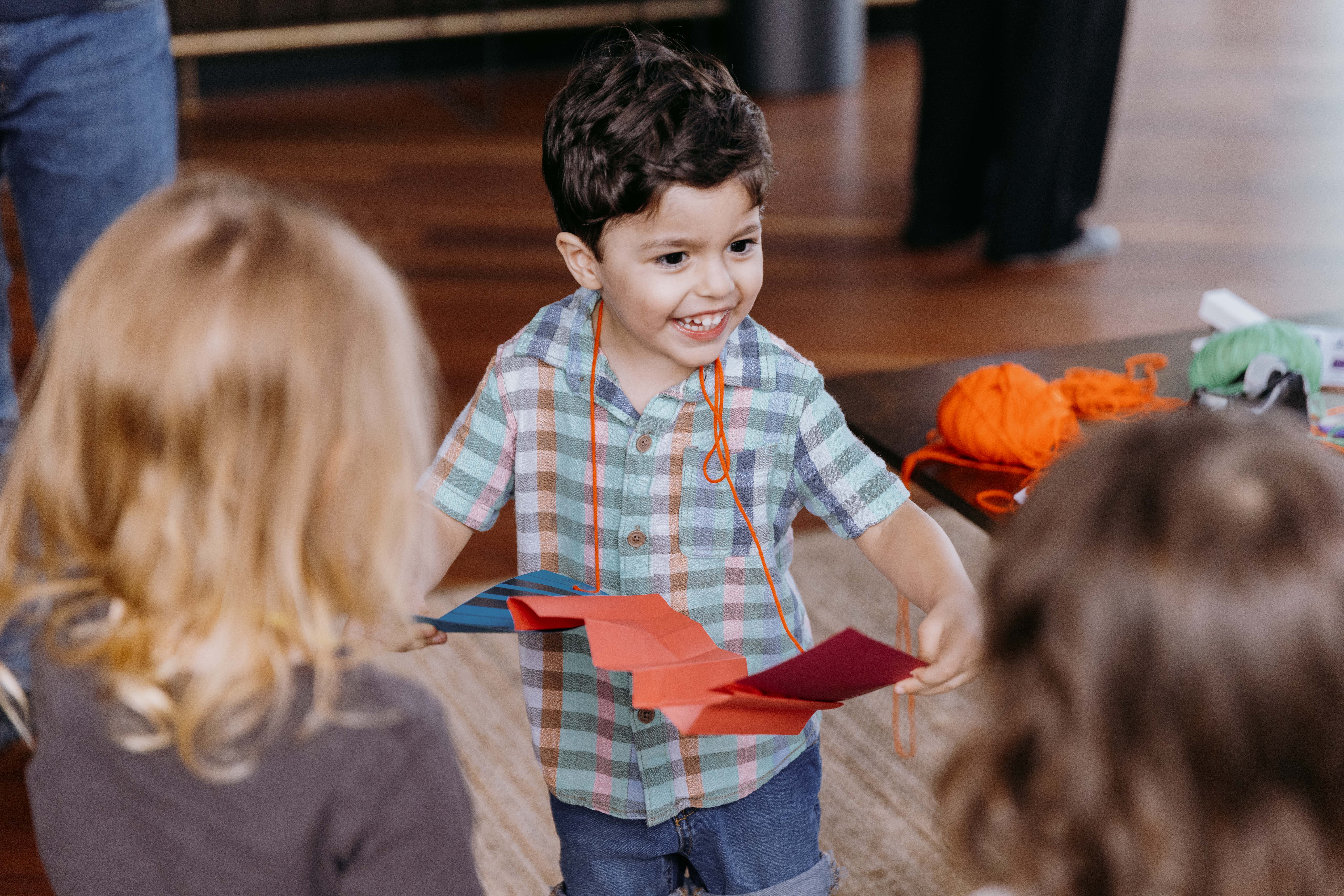 Once you've snacked and settled, you can enjoy our stunning harbourside views from outdoor gantries, and stow things away in our pram parking space. Our bathrooms are equipped with changing tables and there is water available at the bar to keep little visitors hydrated.
If you arrive early enough, and the sun is out, the Pier provides the perfect morning stroll to warm up little legs before they settle in for a fun and energy-filled concert.
The doors to the theatre will open half-an-hour before the performance starts. Just show your tickets at the door and our helpful ushers will assist you to find a cosy spot to sit.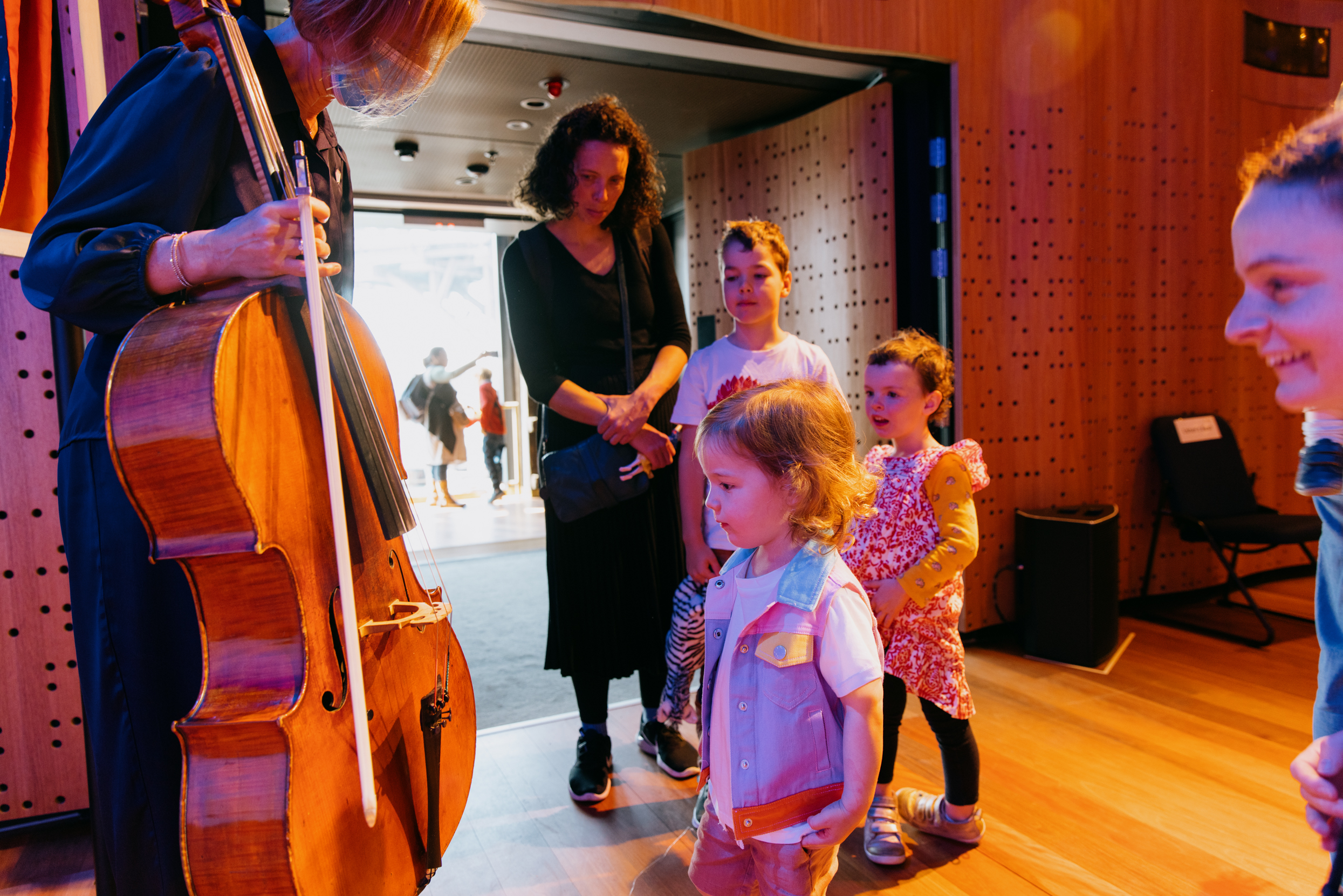 ITINERARY #2 | 2 – 3 hours+

ACO Family Show + Sydney Harbour day out
Experiencing an ACO Family Show at our Pier 2/3 home will fill a good hour or so (see itinerary above). If you want to extend the experience, and make the most of a visit to Sydney's magnificent harbour, we have some recommendations for nearby family activities to help you really make a day of it.
We are very lucky to be less than a 10-minute walk from the glorious Barangaroo Reserve, here on the Gadigal Land of the Eora Nation. You could pack a picnic and break out the picnic blanket for a grassy outdoor lunch with panoramic harbour views and a good space to run around.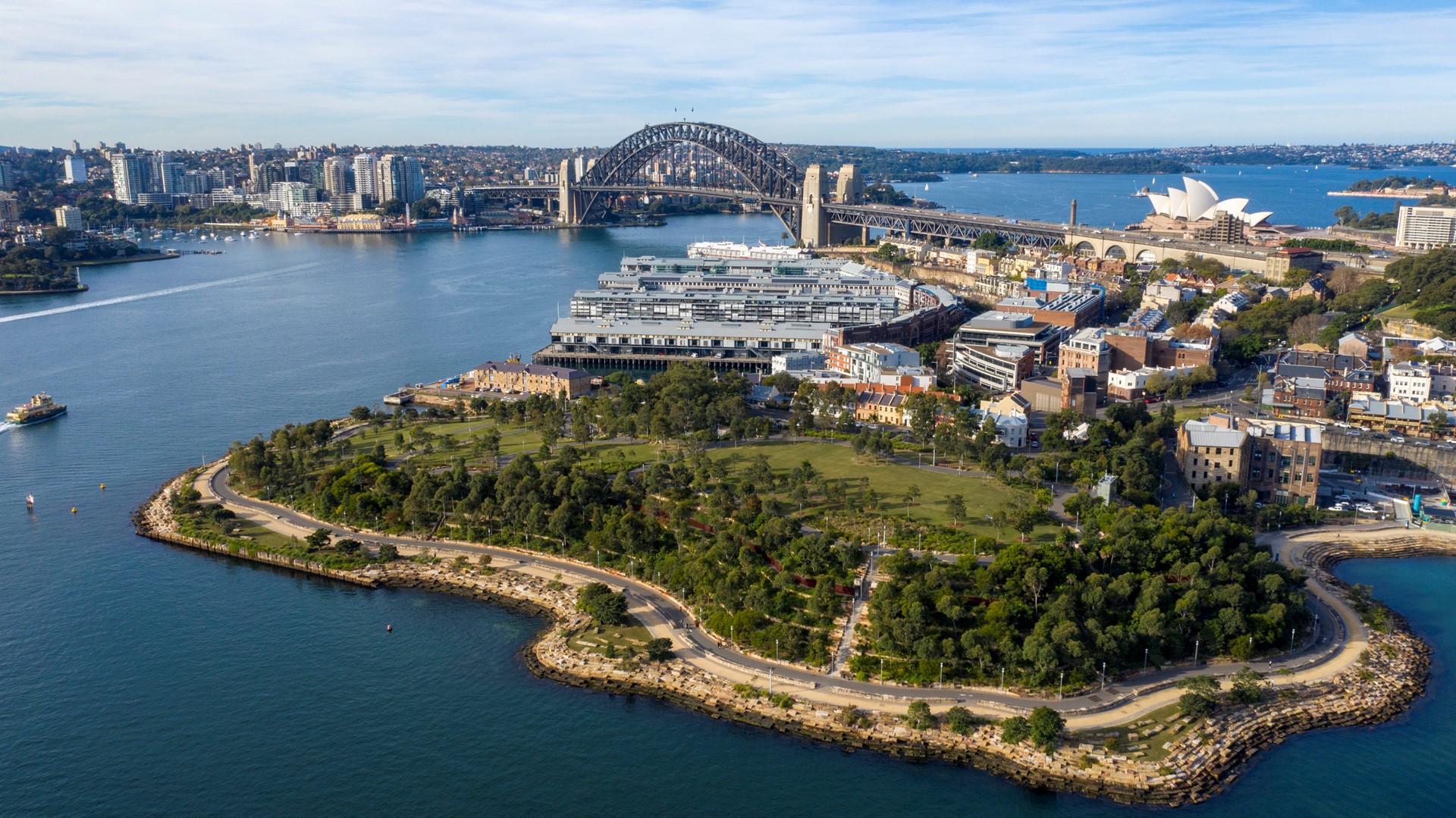 We're also close to The Rocks, home to Sydney's oldest streets. A walk through the area allows you to really feel the history of the place, and there are plenty of shops and cafes to pass the time and keep you refreshed.
The Museum of Contemporary Art is located on the edge of The Rocks, and it hosts workshops and activities all year round, as well as the nearby Rocks Discovery Museum, which uncovers fascinating stories and histories bound to entertain and educate.
Back up at the State Library of New South Wales, which is about a 20-minute walk away from ACO Pier 2/3 on Macquarie Street, a great space to explore the works of some of Australia's favourite children's book illustrators and authors.
For a complete change of pace, why not venture across the water to Luna Park, a fun day out for all! You can get there on an exciting ferry ride from Circular Quay, 15 minutes away from Pier 2/3.
Click here to discover and book the ACO Families shows taking place at ACO Pier 2/3 in 2023.