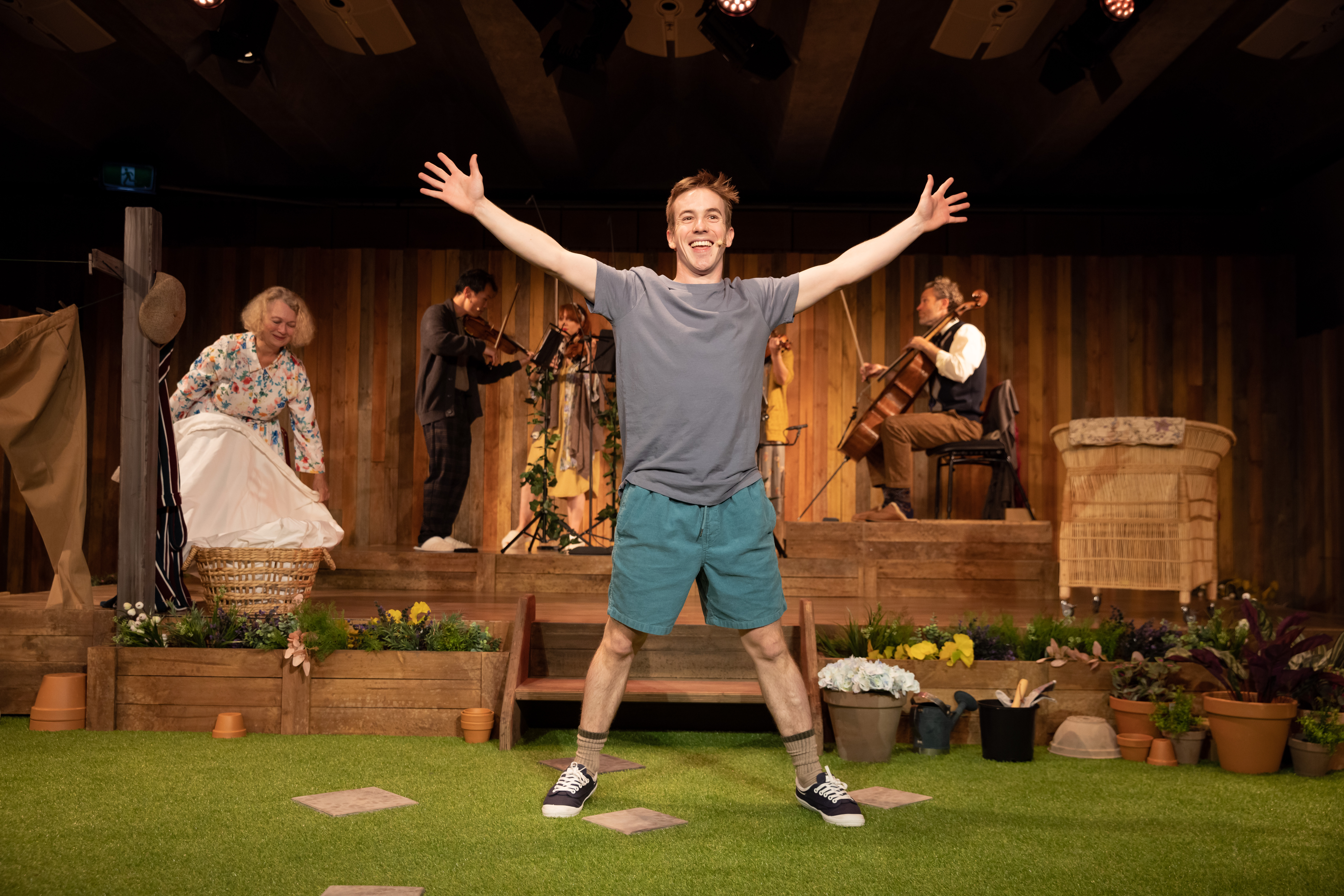 The joy of Wilfrid Gordon McDonald Partridge as theatre
"If even one child leaves with a grin on their face, I know I've done something truly amazing." The actors and musicians behind our award-winning show share their experiences of bringing Mem Fox's beloved book to life.
Joshua Reckless, actor (Wilfrid)
How does it feel to be returning to your role of Wilfrid for the 2023 National tour?

It's so exciting to be back in Wilfrid's shoes again. It feels like coming home, but that home is touring around Australia! I'm so grateful to ACO for the chance to come back to Wilfrid's back yard and work with such amazing artists and creatives. This show is boundless fun and I will be having a blast every performance.
As a musical theatre performer, talk to us about what it is like to work on a collaboration with classical musicians of this calibre.

To work on any show with a top tier orchestra or quartet is breathtaking already, but to be working on this piece with these absolutely phenomenal musicians is nothing short of a dream. The craft and skill of these artists give me chills every time they touch their bows to strings.
In musical theatre, music is the audience's window into the souls of the characters. It's almost (and sometimes is) spiritual. Working with this team allows me to experience that on a daily basis. You can feel the love and care and strength of these musicians when they play. I'm grateful every day to hear them.
This is your first national tour. What are you most excited about?

'What am I not excited about?' is probably an easier question! I've travelled intestate for work a lot, but this is a whole new world. I'm especially excited to explore the cities and towns we're touring to with the company. There are so many places I've never been and experiences I've yet to have! That and having my own apartment are probably the things that stand out to me the most.


How does it feel to bring this show to children and families across Australia?

This piece is full of heart, the story still tears me up to this day. To share such a gorgeous show with the next generation of Australians and their families is such a gift, and I'm reminded every performance how special it is to have their attention.
As a kid I have vivid memories of shows I saw that excited and astonished me, and those shows taught me so much and gave me so many things that I cherish to this day. If even one child leaves with a grin on their face and a pep in their step, I know I've done something truly amazing!
If even one child leaves with a grin on their face and a pep in their step, I know I've done something truly amazing!

Joshua Reckless, actor (Wilfrid Gordon McDonald Partridge)
Madeleine Jevons, violin
How does it feel to be joining the cast of Wilfrid Gordon McDonald Partridge for the 2023 national tour?
I'm always thrilled to be asked to join Australian Chamber Orchestra projects, and after experiencing the joy of so many kids last year on the There's a Sea in my Bedroom tour, I was excited to do another family show. Representing the ACO on these tours is really special, and I'm very lucky to collaborate with the show's creators, tour with some of my favourite people and make new connections.
I love touring, going to my favourite places in each city and catching up with friends, but I love regional touring and meeting local communities the most. Being part of a touring group where we get to make connections with new audiences is the best.
You're a professional classical musician. What's it like stepping into the world of children's theatre with a show like this?
I love entering the world of children's theatre; some of my favourite audiences ever have been kids. The energy and wonder in the room is just unmatched, and it's a real honour to give these musical experiences to young people.
As a 2015 ACO Emerging Artist, you're coming home to play with us. What was your experience of being part of that program, and how has it impacted your career?
Being an ACO Emerging Artist (EA) was a dream come true, I really couldn't believe it - it was a perfect bridge between study at the Australian National Academy of Music (ANAM) and the professional world.
Speaking truthfully, though, I suffered heavily from imposter syndrome in my EA year, despite having some of the most wonderful experiences and concerts with incredible people. Moving through the EA program - with the kindness and patience of my mentor Mark - I learned to start trusting myself and the people around me on stage, and my playing improved exponentially in the years that followed playing with the ACO Collective and my quartet as I moved into a more fully fledged freelance career.
What is your favourite thing about this show?
I love watching Annie [Byron – who plays Miss Nancy] and I love that I met Annie - having the opportunity to work closely with a woman who has lived more life than me is such a gift. I really enjoy playing the music itself, Paul Stanhope's score for this show is a lot of fun and has so much character, there is a lot to play around with so it's been fun to perform!
I also really enjoyed playing first violin for this show - it's a nice part to play and I enjoyed taking on a leadership role. I love hearing the children laugh and interact with the show - it brings the whole thing to life and is endlessly inspiring.
Janet Anderson, violin
How does it feel to be joining the cast of Wilfrid for the national tour?
It is such a great privilege to be a part of the tour: to be working with such amazing calibre of musicians, actors, stage and production crew is a wonderful experience.
Children's theatre is a delightful art form which brings happiness to both performers and audience alike. It is a lot of fun to be a part of and to see the kids in the audience sit so attentively, taking in all the details of the story and the music - it's truly a magical thing.
Like Madeleine, you were an ACO Emerging Artist – what has your experience of participating in that program been?
Being a part of the ACO Emerging Artist program has been undoubtedly one of the highlights of my career. To be mentored by the amazing ACO musicians and work them closely in a number of collaborative programs is an exceptional experience - a great insight into the pinnacle of string playing and music making!
What is your favourite thing about Wilfrid?
What I love about Wilfrid Gordon McDonald Partridge is that it speaks to young and old. Whilst the story deals with the devastating topic of dementia, the production delivers it in such a way that is very approachable for both children and adults alike.
The production beautifully brings the book to life and Paul Stanhope's music lies at the centre of the work, highlighting the emotional journeys of the characters: buoyant, exciting, comforting and nostalgic.
Also - I also absolutely love getting to wear comfy slippers on stage!
Anna Healey, ACO Producer (Learning & Engagement)
What is your favourite thing about working on Wilfrid Gordon McDonald Partridge?
There is so much to love about this show. It is such a beautiful story of intergenerational friendship. It sets a wonderful picture of the importance of friends, empathy and the sharing of stories.
It is so rare to see shows created for children that combine live music and performance – and you almost never get to see this calibre of classical musicians working in dedicated programs for children. The audience truly do not know how lucky they are!
Producing this show allows me to work with exceptional creatives and artists and bring the joy of theatre and music to children across the country, some for their very first theatre experience.
Can you describe how you felt when you first saw the show come to life on stage?
Emotional and relieved! So much goes into preparing for a tour of this size. It has been over a year in the making.
To have the house lights go down and the performance begin, hear the laughter and applause from the audience, and watch them experience the show for the first time is so gratifying. I spend a lot of my time in the shows watching the faces of the audience and how they react. It is beautiful to see children's faces light up and absorb everything that is happening in front of them.

What do you hope that audiences will take away from this production?
For me, the most important theme in the show is that of friendship, and how important it is for our young people to have friends from all generations in life, to help them learn and develop, and how in turn children can brighten and bring joy to the lives of our elders.
I want people to feel touched, warm and content when they leave this production. To marvel in the amazing talents of our performers and be dazzled by the exceptional Score, beautiful script and delightful staging by Paul Stanhope and Sandra Eldridge. I also hope it starts a lifelong connection to the arts and particularly classical music.

Are there any audience members' reactions from the show you might be willing to share?
There is a scene where our Wilfrid does some very funny Charlie Chaplin like physical comedy that the children just adore – sometimes, you cannot hear the score over the laughter! My favourite thing that happens in the show though, is when characters ask questions within the script, and gorgeous little people in the audience yell out the most unexpected things to answer.
It is also incredibly touching to watch adults react to the work – memory loss/dementia is something that has touched so many people's lives, so there is quite emotional reactions from our adult audience members.


What has it been like being on the road with the cast and crew?
It is such a fantastic group of people we have assembled for this show. Some have toured with our children's productions before, but for others it is their first time on the road with the ACO.
I love being able to get to know different artists and creatives and spend time learning about them and their lives. I wish I could spend longer on the road with them all, however we excitingly need to develop our next ACO Families show, The Princess, The Pea (and The Brave Escapee), which will premiere in September 2023.

It is only with philanthropic support that we can continue engaging with young people through music to make a lasting impact for future generations.
Click here to make a tax-deductible donation to the ACO. By donating today, you can help ensure the future of programs like our Learning & Engagement program.
With your support, we can continue to inspire and enrich more lives through music.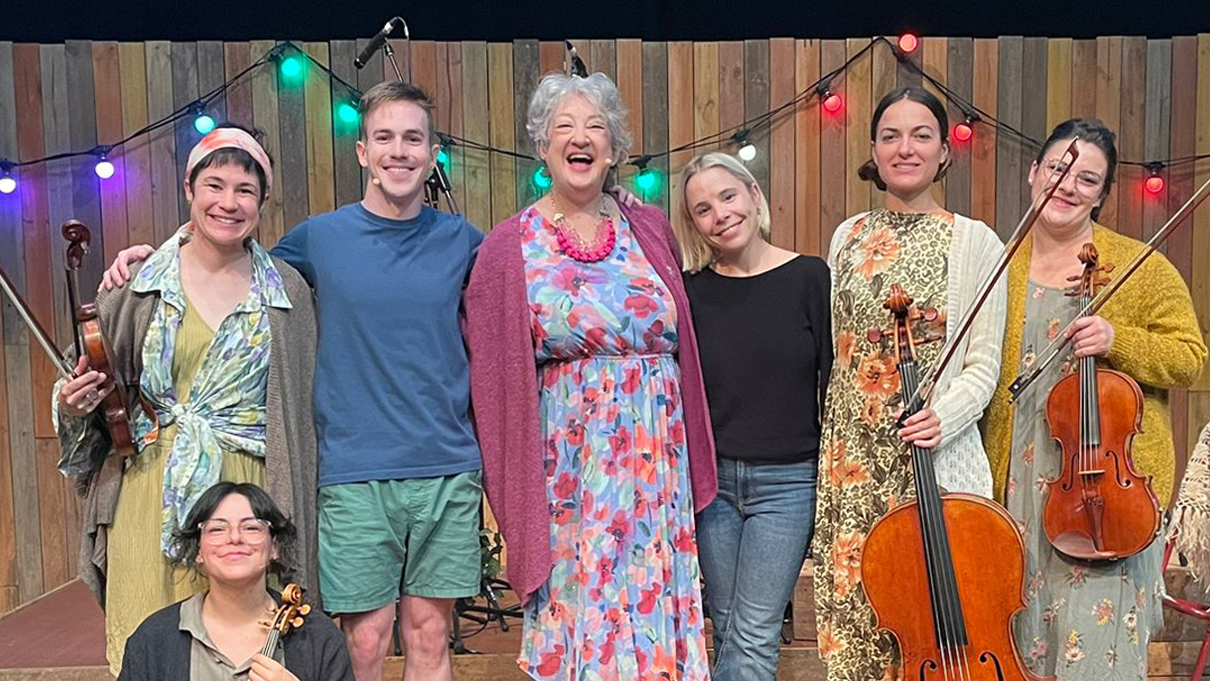 Wilfrid Gordon McDonald Partridge cast and crew.
Wilfrid Gordon McDonald Partridge actor, Joshua Reckless finds our name up in lights.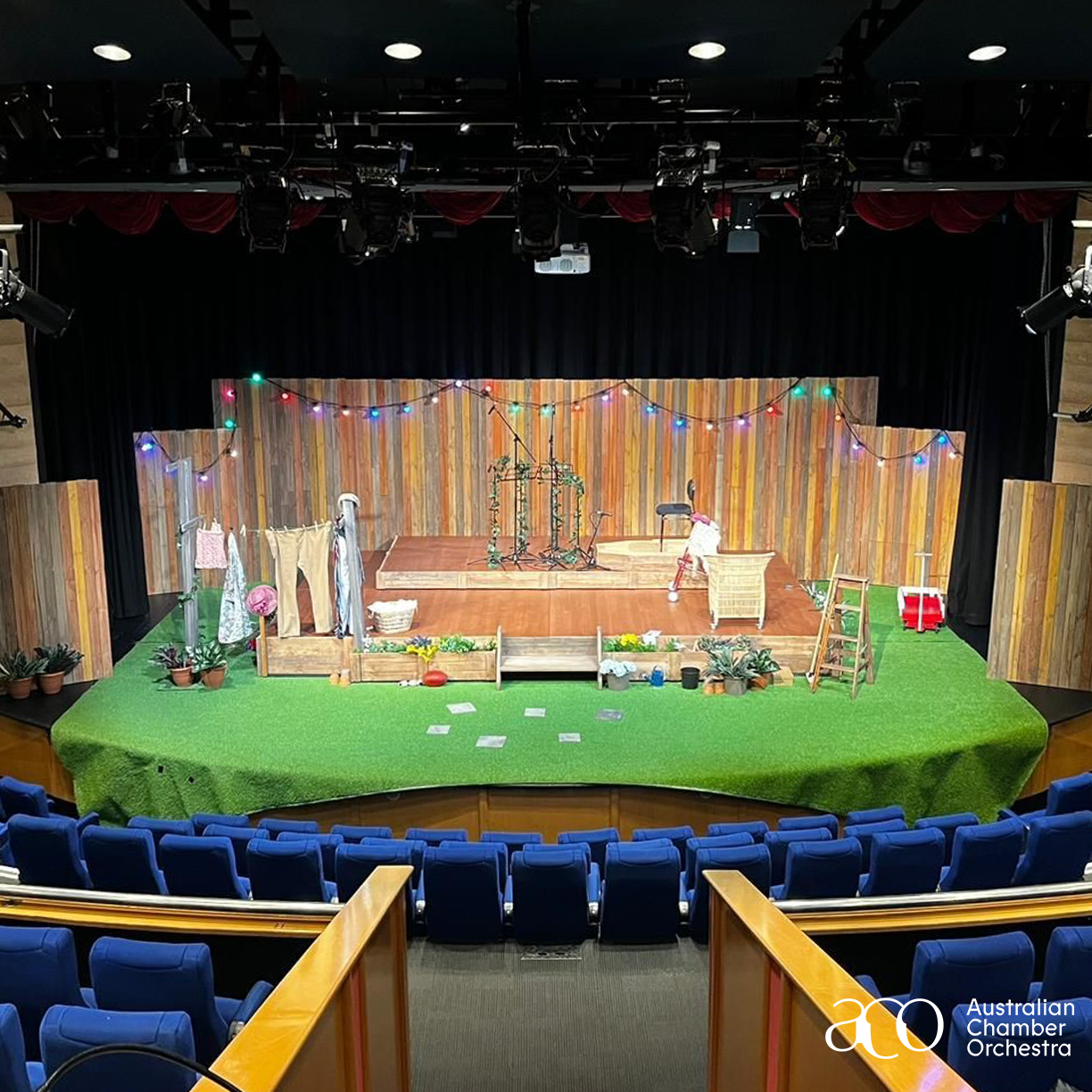 The stage is set in Colac, Victoria.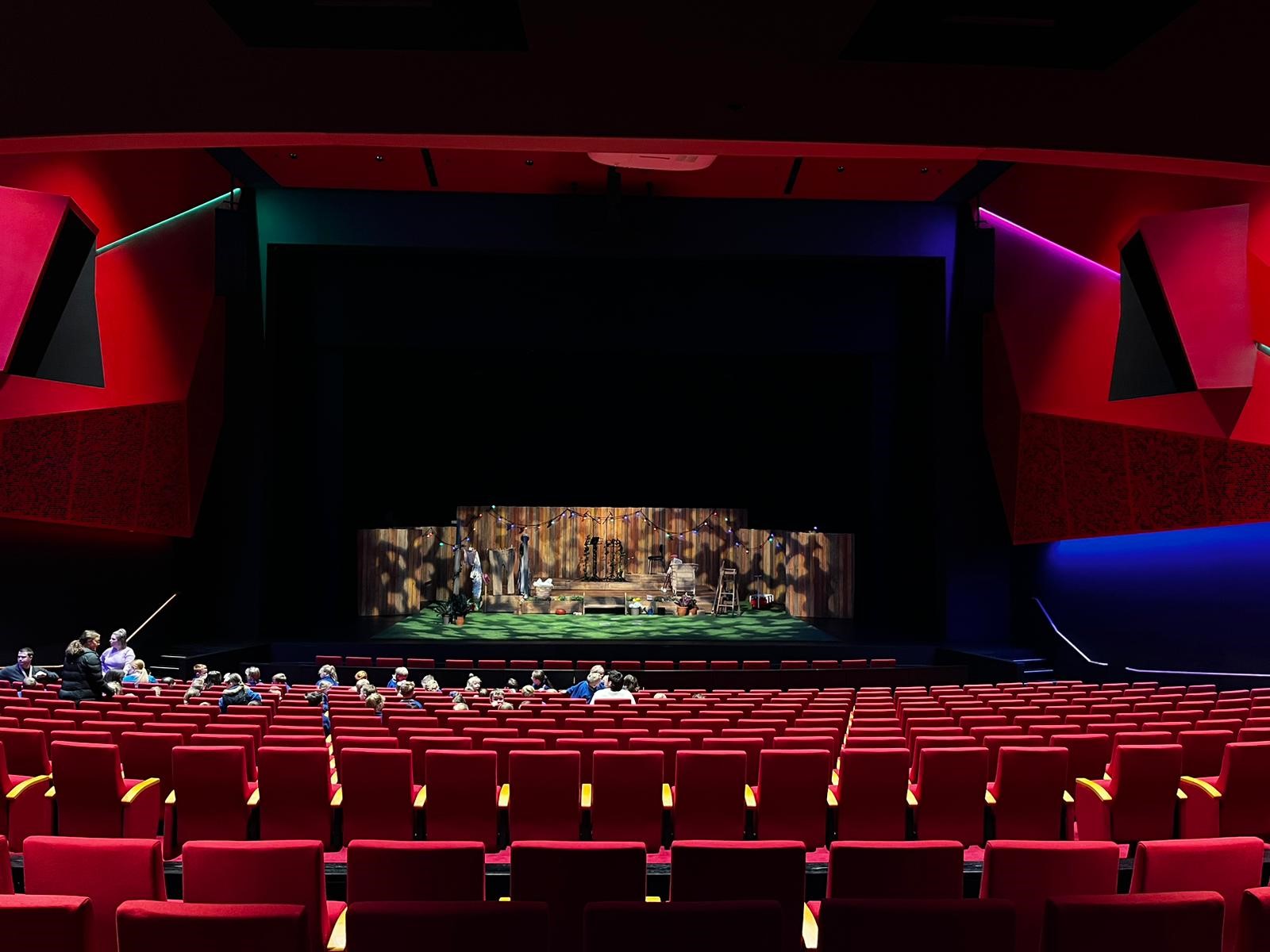 We're seeing some beautiful theatres.