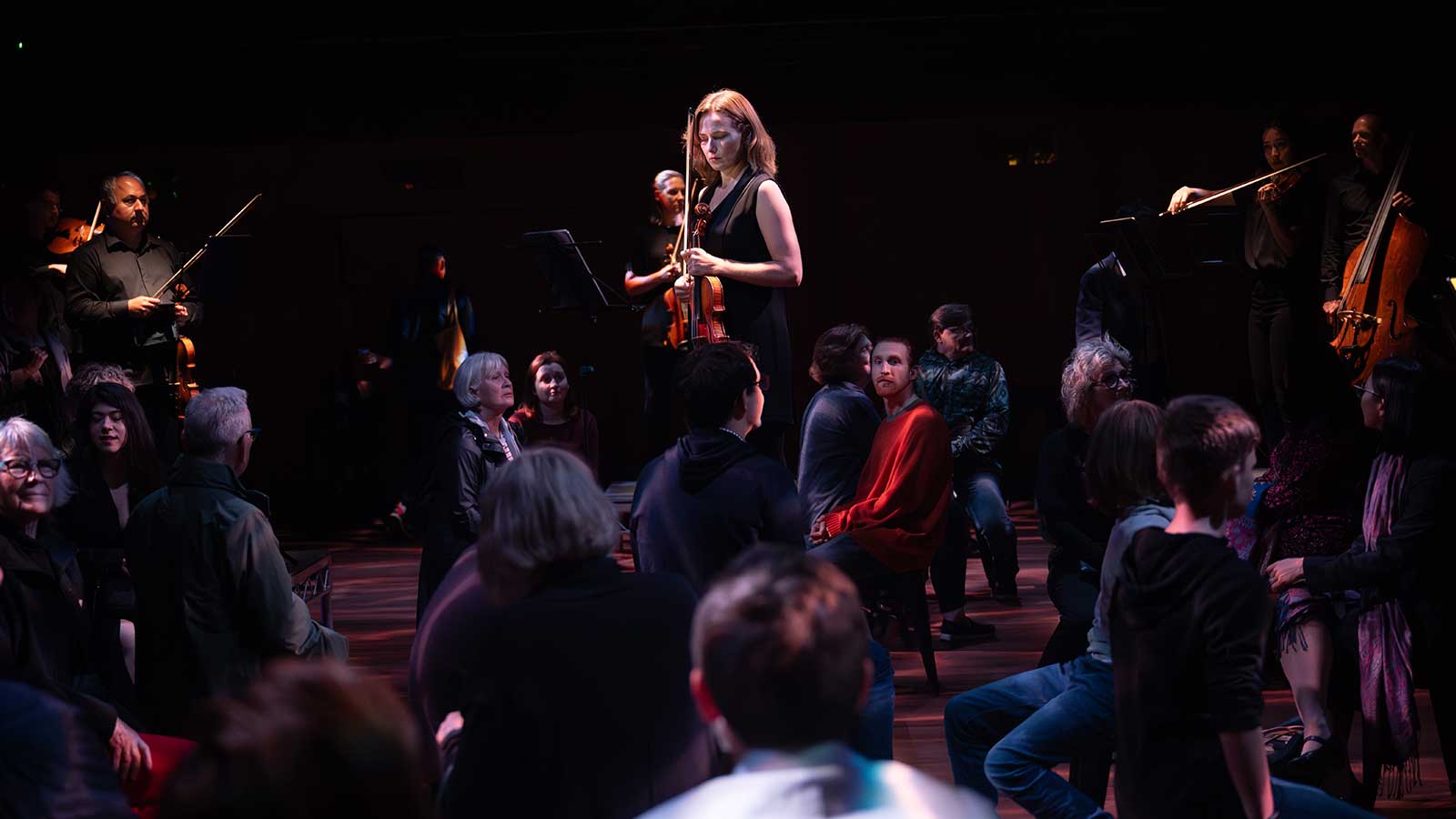 ACO Total Immersion: 'I feel totally privileged to have been there'
Our musicians and audience members reflect on a unique and powerfully moving experience at ACO Pier 2/3.
On the final weekend of October, as the nights were drawing out and the low sun lingering longer, we opened the doors of ACO Pier 2/3 to a brand new festival experience.
ACO Total Immersion invited small, exclusive groups to experience the Australian Chamber Orchestra – and our friends at The Song Company – from a totally new and unique perspective: that is, sat within the ensembles.
In our custom-built concert hall, The Neilson, a dark room was punctuated by spotlights on ACO musicians who were spread out, and standing on plinths, surrounded by scattered chairs. We sat awed beneath and beside them as they performed Shostakovich's captivating Chamber Symphony, Piazzolla's heart-wrenching Oblivion and George Walker's exquisite Lyric for Strings.
We were led through backstage areas to The Studio, an intimate space with views of Sydney Harbour Bridge, and an ACO string quartet whose every member was in a different corner of the room, poised to play Beethoven. An audience seated on cushions basked in their sublime sound.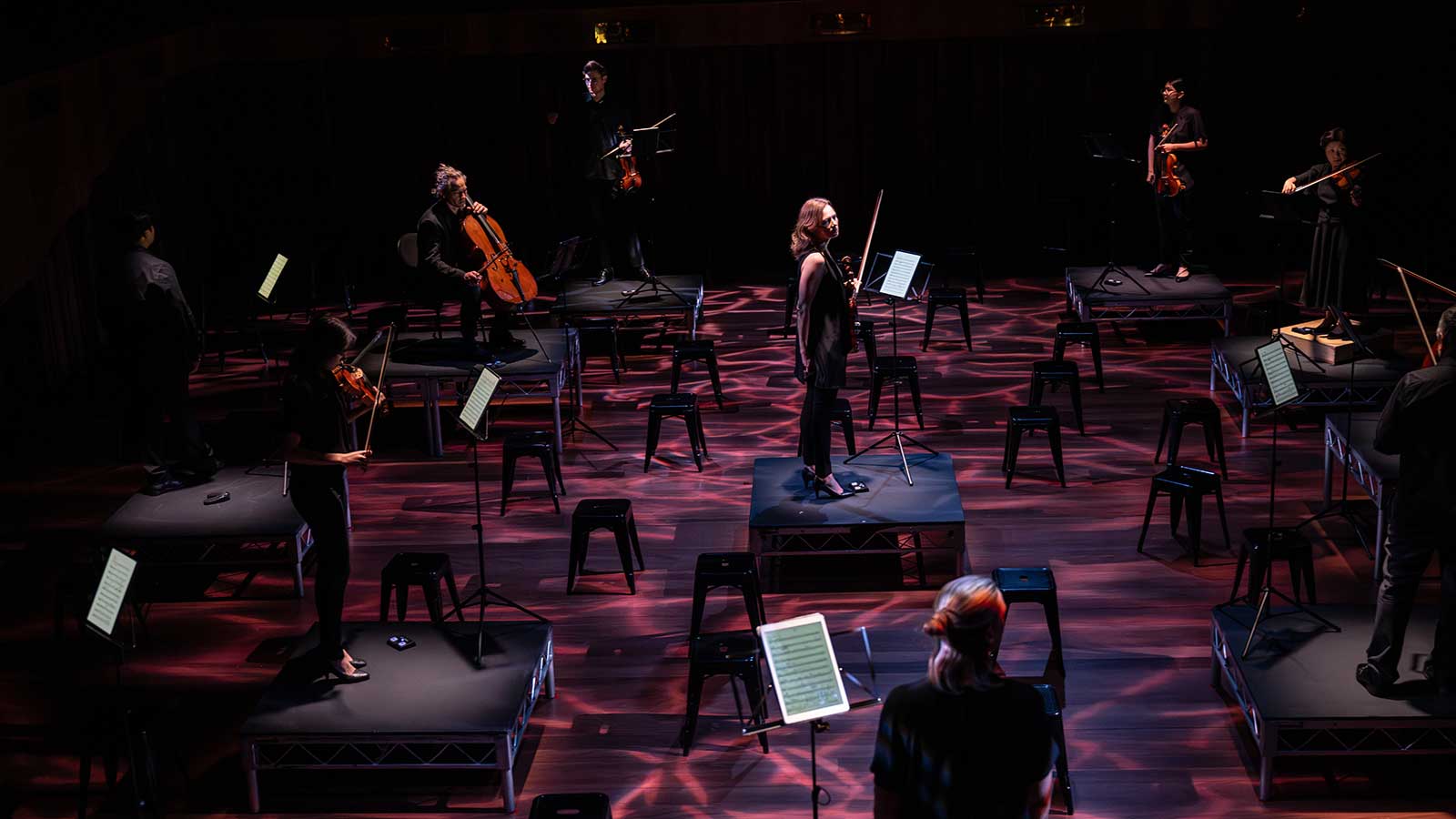 The finale was a performance of ancient and contemporary choral works by The Song Company, who for Total Immersion took up residence in ACO Pier 2/3's entertainment space, The Belgiorno Room, with its stunning views out across Sydney Harbour.
"It's about the discovery of that unbelievably beautiful new space... A door opens and you don't know where you're going – you go through and it's a small space… it's a bit mysterious, you walk in and there are these musicians all around you playing – they're behind you, they're in front of you…," staging director Nigel Jamieson said of his concept, speaking to The Saturday Paper before the premiere of Total Immersion.
"It invites a certain kind of surrender which you don't get in the safety of the stalls where you're behind a thousand people delineated in rows."
That it truly did. Here's what our audience and musicians experienced on the night.
"One of the most special and magical experiences in my lifelong love of music."

ACO Audience Member
What was it like having the audience so close?
"It was a markedly different experience being surrounded by the audience with the orchestra spread throughout the Neilson," ACO Cello Julian Thompson says. "Audience members close to me almost jumped at times when I played particularly loud passages."
"Total Immersion was a unique opportunity to hear classical music the way it was intended to be heard; up close and personal, just a few inches separating the performer and listener," ACO Principal Cello Timo-Veikko Valve says. "Recreating that feeling of togetherness in a big concert hall is very hard.
"In The Studio at ACO Pier 2/3, we performed one of the most profound musical statements ever created, Beethoven's 'Heiliger Dankgesang' from his String Quartet Op.132. Some audience members described the experience of really being able to be in the music as cathartic. For us performers, the emotional response of the audience really became an important part of each performance, and we were all immersed in that moment in time, together."
That reaction from the audience was striking to ACO Principal Violin Helena Rathbone too: "The audience were extremely responsive and at moments, you could hear a pin drop," Helena says. "It is always a satisfying experience as a player, to feel that the audience is really feeling the music and going on the journey of the piece with you. It was lovely to see such wide range of ages in the audience too."
"It was an undeniably interesting experience," ACO Principal Violin Satu Vänskä agrees. "Whilst we as players felt perhaps more exposed, the audience was also exposed to us. The energy with the audience sitting between us made the whole experience."

Julian was grateful for the response from the concert-goers sitting close to them: "The audience was genuinely moved and certainly some tears were shed. It was really lovely to be able to receive and acknowledge the audience members' appreciation so directly as they left the performance space; the nod of the head, a smile, hands held together in thanks."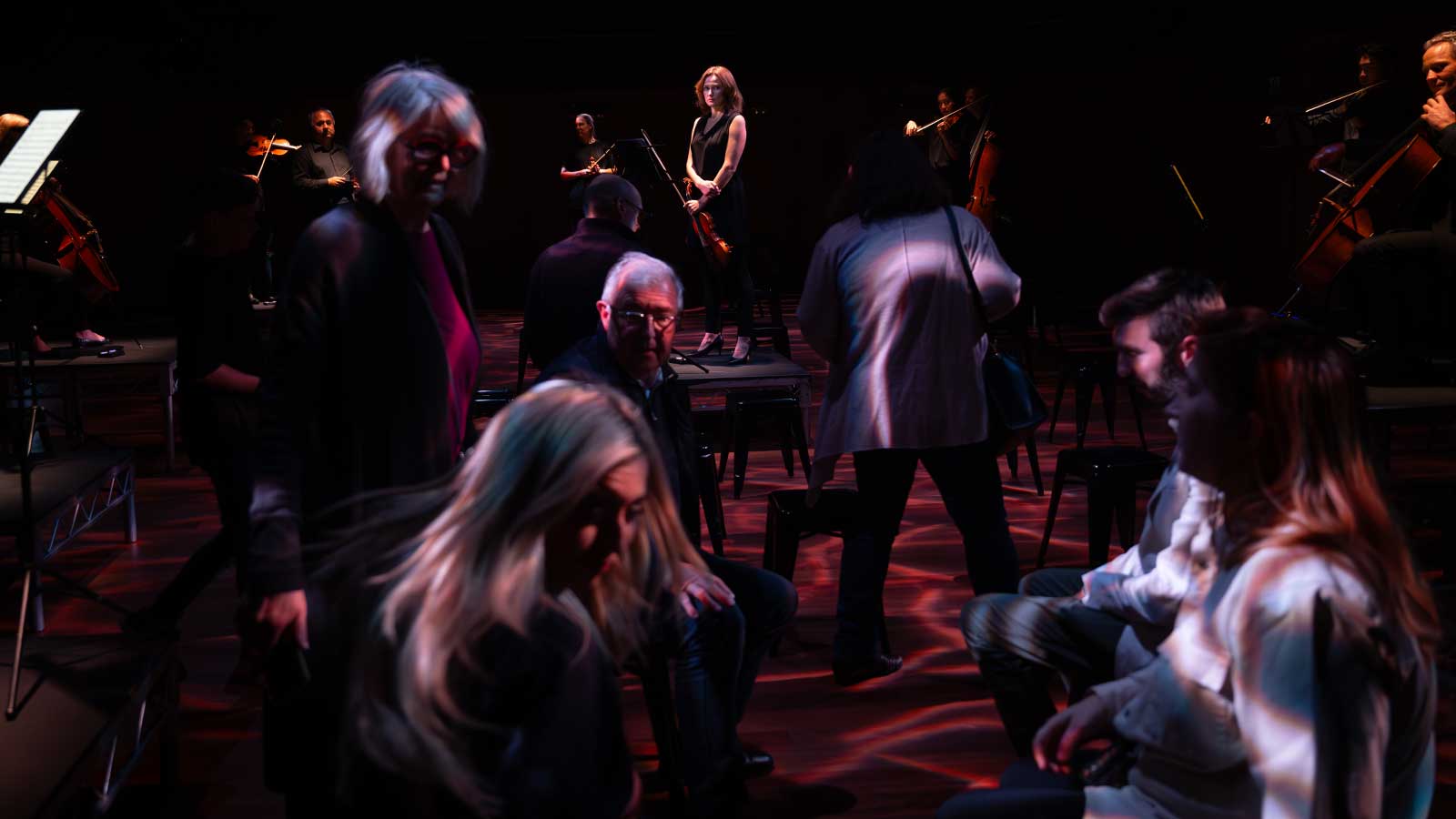 What was it like performing spread out around the room?
"Of course, having the musicians spread throughout the Neilson created a unique set of issues," Julian admits. "Sound moves relatively slowly so sonic latency can be a problem, but we solve this by relying more on visual cues."
"Fine details such as the preparation of a bow change, the placing of a finger onto the string, the small intake of breath prior to the beginning of a phrase and the initiation of vibrato on any given note all help us to synchronise our playing and perform as one large instrument."
Satu, who led the performance in The Neilson, rose to the challenge the immersive ensemble created too:
"The sonic challenge of not hearing others from your own group was at first something to get used to," she says, "It was as if you were playing all on your own with the others somewhere in a distance without being able to make the judgement on whether it's all on-time and blending. We got used to it pretty quickly, though, and found a way to be free and spontaneous despite the challenge."
Helena summarises the experience beautifully: "It is always wonderful as a musician to discover new ways of giving concerts and this was an enjoyable experience for me. Playing one of the most extraordinary movements of the quartet repertoire many times was a treat for the players and I hope the audience too."
"With the audience so close, we can play much more intimately which for the particular piece of late Beethoven that we were playing as a quartet, was very satisfying musically. We always 'sense' the audience and atmosphere in a hall so an audience sitting right next to us heightens those senses tremendously."
"The audience were extremely responsive and at moments, you could hear a pin drop."

ACO Principal Violin Helena Rathbone
What was the experience like for concert-goers?
"I imagine that the sonic experience would have been quite different if, as an audience member, one was seated close to the double bass or cello or closer to a violin or viola," Julian says. "The experience must have been remarkable, sound coming at you from all directions, truly immersed within it; like being surrounded by eleven of the most beautiful wooden speakers ever conceived."
If you were sitting close to a cellist, the cello line sang out; a violin player may be in your eye line, but the double bass dominating your hearing from a few steps behind you.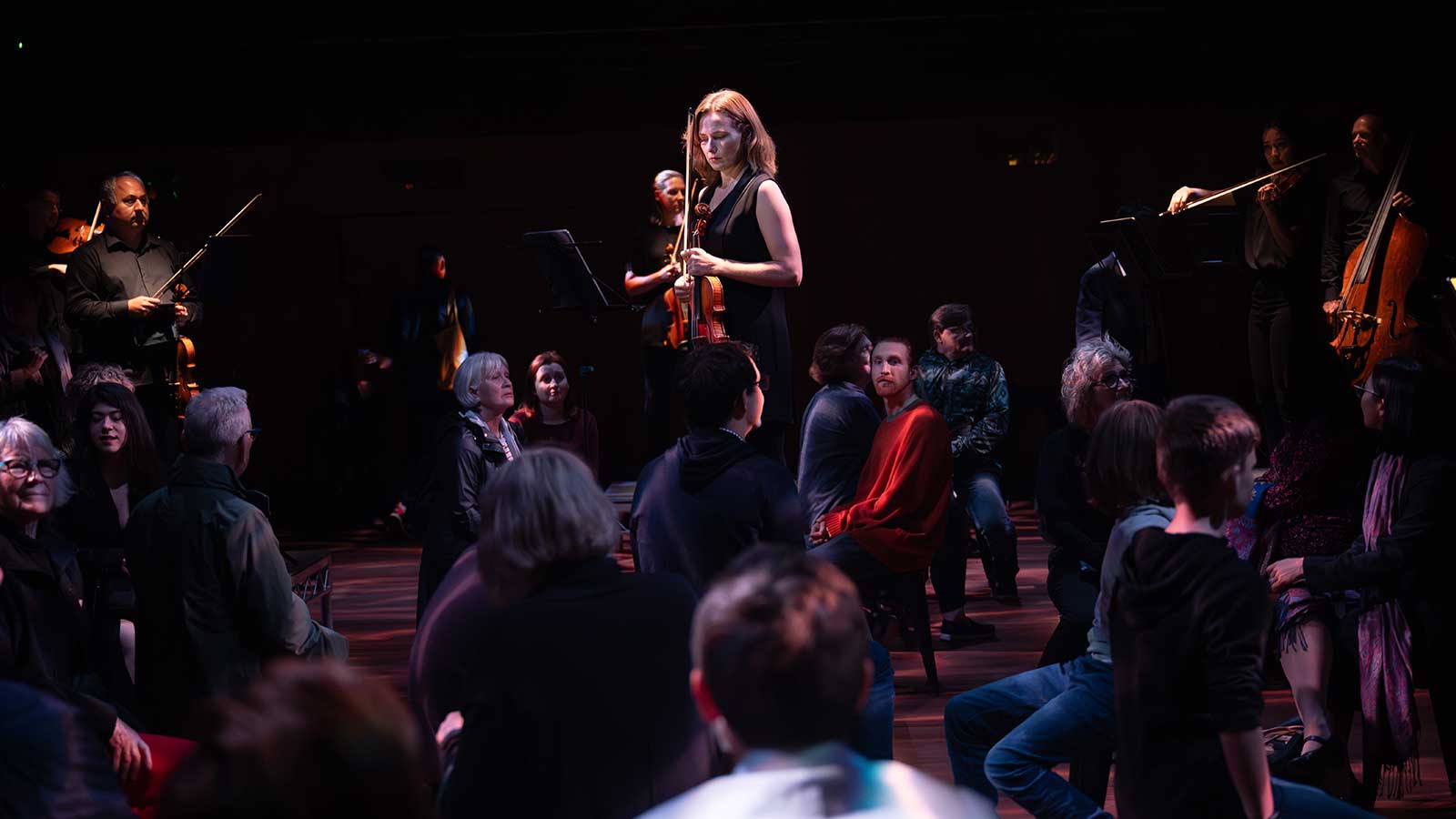 One audience member shared, "One of the most special and magical experiences in my lifelong love of music. Thank you ACO for your ongoing creativity and opportunities to engage with music and musicians," while another said: "This was absolutely phenomenal."
"I cried, I laughed. It was perfect," another said, sharing also that "it was an incredibly regulating and transformative experience for me as an autistic person."
Yet other guests noted the sense of anticipation in the foyer, the opportunity to discover our venue, the variety of music in the program. "The distance you managed to create between performers and audience meant there was still a sense of formality, and definitely of theatricality - the opportunity to stand or sit, the lighting, the ushering between spaces, The Song Company drifting off into the distance at the end."
A big thank you to everyone who joined us.