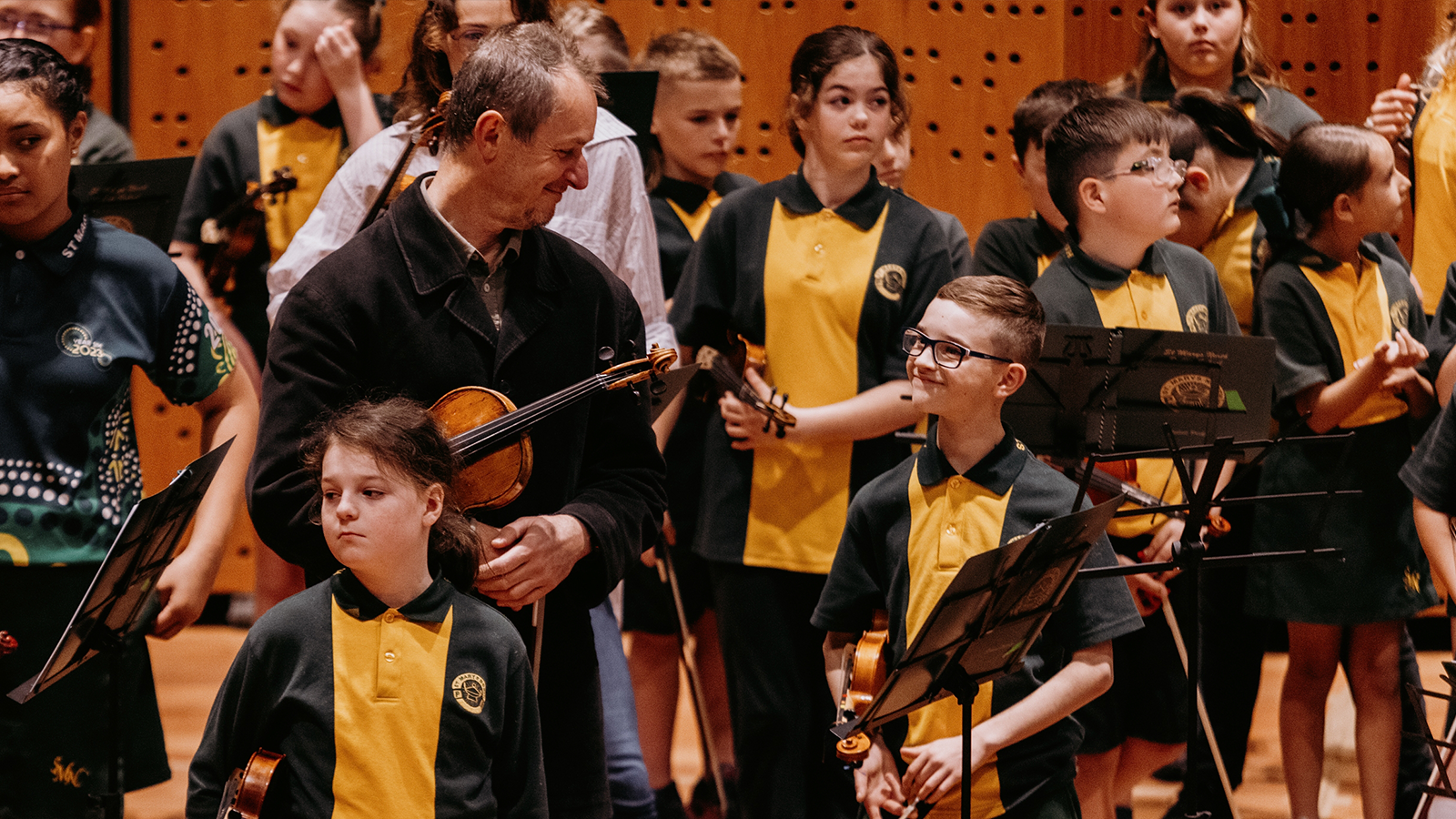 ACO Foundations Case Study 1: Lachlan's Story
How one small boy adopted Richard Tognetti as his superhero.
Lachlan is a student currently in Year Six and was in the very first pilot cohort of ACO Foundations students. Lachlan is an energetic boy who bounds into school each morning with the knowledge that he is starting his day with his violin.
Many boys of this age might have a hero that is a superhero, like Spiderman. Lachlan's hero is Richard Tognetti, Artistic Director and Principal Violin of the ACO. When Richard visits the school, or the students get to perform alongside the ACO, Lachlan simply implodes with happiness. He plays with the same gusto and delight in his eyes as his musical hero and has said many times that he wants to be the next Richard Tognetti.
At a public performance with the ACO in early 2022, Lachlan felt inspired to turn to Richard Tognetti and proclaim "you guys are sounding really good. You sound like us now!". While this was a funny moment at the time, it points to a deeper impact that ACO Foundations has had on Lachlan. Here is a young student who has been able to see the possibility of a journey between himself and the likes of Richard Tognetti, with the knowledge that he is simply further back on that journey.
Read more: ACO Foundations pupils perform with Richard Tognetti
St Mary North Public School Principal, Lisa Parrello, says: "Now the students have seen things, a part of the world they didn't know existed. There's this group called the ACO playing music like we do in a really special way. They didn't know that you could go and enjoy watching people play instruments. Their world is so much bigger now."
Providing a student with this type of vision and purpose so early in their lives is incredibly important, and possibly even more important for a child who is living in challenging circumstances. The power of the ongoing interactions with ACO musicians lies in showing the young ACO Foundations students what they can be if they work and persist at something. The oft used adage of "you can't be what you can't see" is very apt in this situation. The role modelling that ACO musicians provide is invaluable to ACO Foundations students' self-image and self-belief.
This skill and belief can transfer to students applying themselves to their musical and classroom learning, to knowing that with effort and practice comes improvement, to sticking with problems when they can't see a solution, and for being open to new experiences and challenges. These traits are the basis for lifelong learning and success.
Read more stories in our ACO Foundations 2018-2022 Report