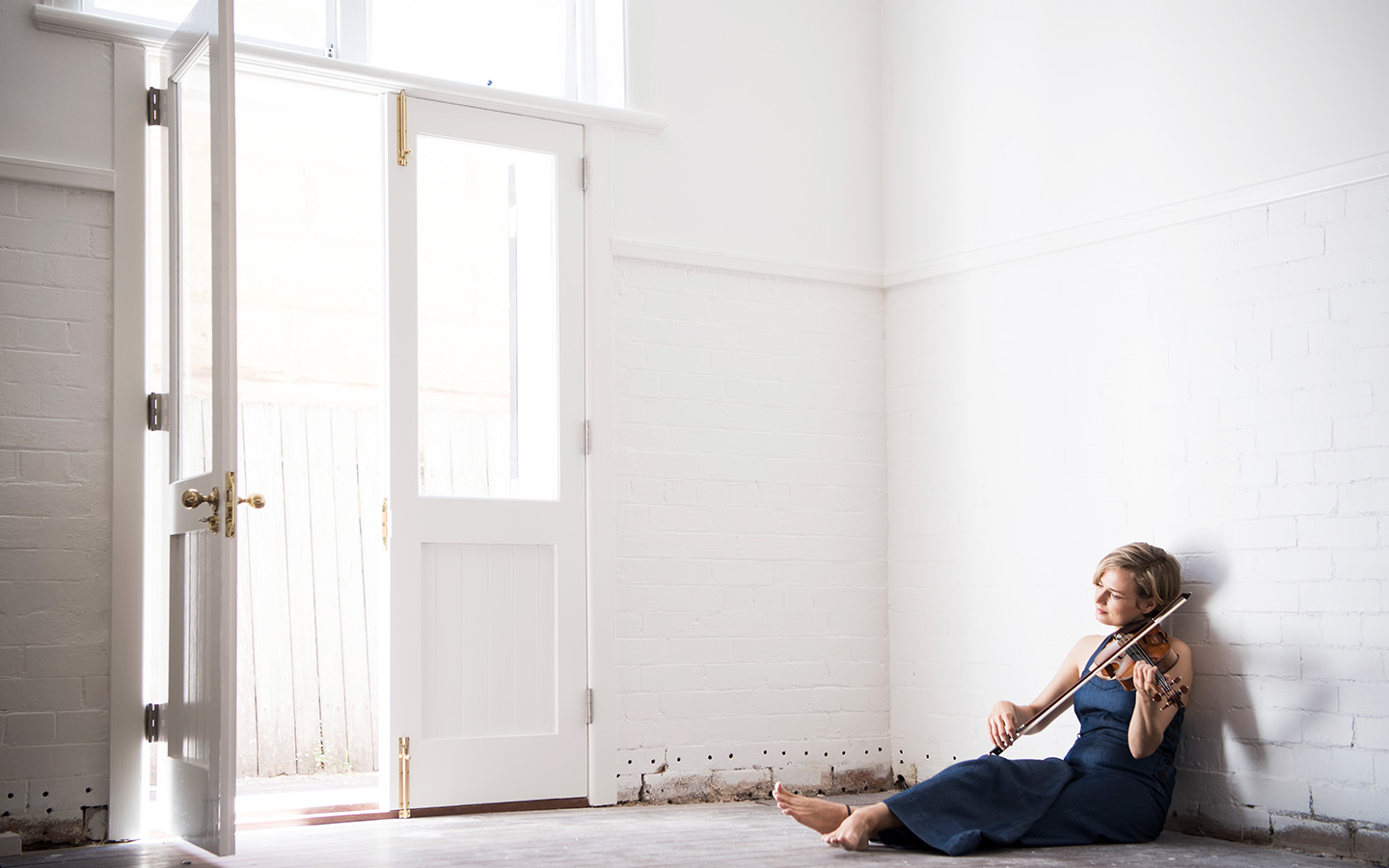 Diamond Clarity and Velvet Heat
Writer Kate Holden discusses the 1726 'Belgiorno' Stradivarius with Satu Vänskä.
The 1726 'Belgiorno' Stradivarius is having its public debut in the Nicole Car tour, as Principal Violin Satu Vänskä plays the ravishing Romance in F major by Beethoven.

In fact, audiences may have heard it before. When ACO Chairman Guido Belgiorno-Nettis and his wife, Michelle, began searching for a fine Italian instrument to honour the memory and heritage of his mother, the orchestra began trialling various candidates from international sellers, who entrusted the precious instruments for the musicians to get used to – and for blind testing. The 1726 violin, an especially fine example of a late Stradivarius, finally came on offer, and was quietly tried in every major Australian concert hall, from Angel Place and Hamer Hall, to smaller salons and ABC broadcasts. It passed.
"You don't feel worthy, of course," Vänskä says. "But you don't go straight to an instrument like that. If I'd had this instrument when I was 10 years old, it would have been an insult to the instrument. And I've worked very, very hard of course. You get better at what you do … and you also get more intimidated. But as you get older and accept more things, you learn to think, 'Hey, take it as a blessing, take it as a gift and try to do your best.'"
However much she accepts her fortune, though, the violin is a revelation. "It's beyond special. I just think that when you have an object that has survived for so many years, and so many decades, and the history that it has gone through, being able to use it as my tool is just an incredible privilege and an incredible gift to me as a player. I don't take it for granted. When you have a violin of this calibre, it's a bit like having all the words in the world that you might want to use. You can do anything."
As she grows used to the instrument's temperament, needs and capacity, Vänskä is both protective and captivated. Made when Antonio Stradivari was 82 years old, its range is sublime and its tone carries both diamond-precision clarity and an intimate velvet heat. There's only one limit, says Vänskä: "The limit of me." And then: "By the way, the violin has a personality, the violin tells very much what I do. It just has its own way of working, so there's no point in forcing what it's not; you have to embrace what it is."
With such a tool to work with, what does she dream of playing? Raised in Finland, Vänskä nominates the Sibelius Violin Concerto. "I've been playing it ever since my youth, so that would be something that the violin would really shine with."
Meanwhile, she never takes her eyes from her instrument. "In my hands it's not an object; it becomes an extension of my own body. Like the voice: singers can sing with their own voice and that's their instrument. The violin is my voice."