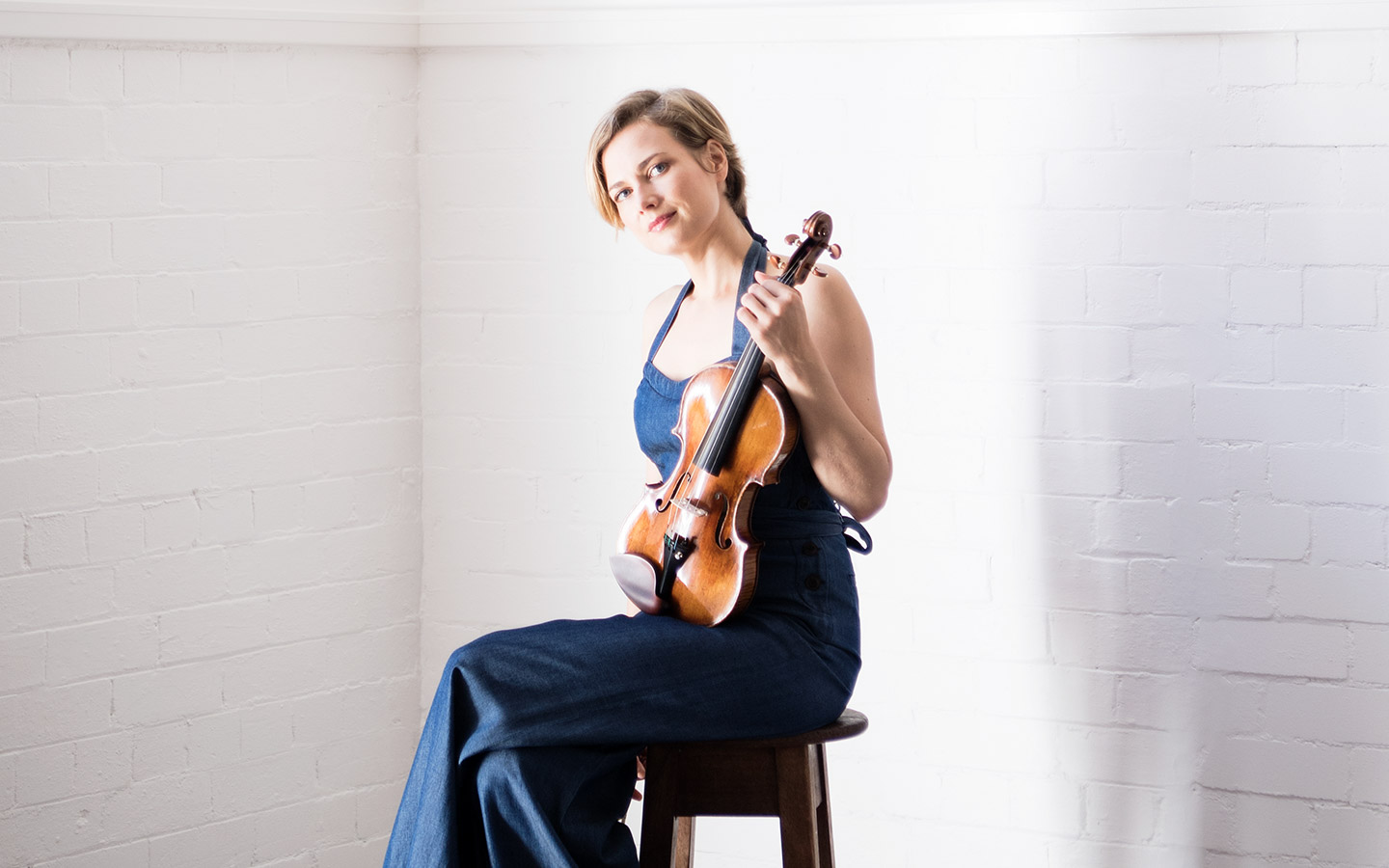 Between Old and New Worlds
In this concert program excerpt Principal Violin Satu Vänskä talks to music journalist Bernard Zuel about the vibrant program in the upcoming
Branford Marsalis
national tour. Satu, who will direct the concert and take centre stage for the Four Seasons of Buenos Aires, discusses the origins of Piazzolla's music and the crossover that inspired his Tango Neuvo style.
I have said that it's important to entertain people but what I mean is that going to a concert should not be a place where you just switch off your brain. We can give you something refreshing to think about and give you a different angle of ideas.
The first four Piazzolla pieces are semi-seriously known as The Four Seasons of Buenos Aires, though their connection to Vivaldi in their original form (before Desyatnikov's arrangement, which adds direct quotations) is tenuous at best and certainly not part of Piazzolla's original intentions. The clearly urban textures of the Argentinian piece may surprise modern audiences who, from a 21st-century distance, think of the Vivaldi as representing a rural idyll, a natural rhythm.
"Actually, if you think about it, the Vivaldi is urban," says Vänskä, who points out that tango is, as she puts it, urban flirting music connected to convivial evenings of wine and dance. She says The Four Seasons "is tied to the times, with autumn being harvest time for example, and also they would have big parties during the harvesting, so it's all about the people getting drunk after the harvest. [On] the music is written, 'This is a drunkard who is stumbling out of a party.' So it's very social at the same time."
Of course, Vivaldi was not writing from life spent in a little hamlet; he was for the time an urban dweller who was celebrating something vivid in his imagination, both old and current.
"That's what I'm thinking with the Piazzolla, too: what do I want to achieve with it?" Vänskä asks. "It's the Tango Nuevo, so Piazzolla's tango was not the strict old tango of Argentina, either. He made it his own version of that identity and [furthermore] this is an arrangement by a Russian for a string orchestra."
"I have been listening a lot to Piazzolla's own quintets and how he treats time and how he treats the textures, which were bandoneón, piano, the bass, violin and electric guitar. And I find it very, very fascinating working out how to achieve that sort of hybrid sound out of the strings so that the string orchestra can sound like a bandoneón at times. We do try to chase that essence of the quintet and the essence of the urban, of Buenos Aires, of tango."
The links between the Brazilian [composer Heitor Villa-Lobos] and the Argentinians [Piazzolla and composer Alberto Ginastera] are more than geographical, with all three composers blending their folk traditions with European compositional forms, finding themselves in-between old and new worlds in a way rather familiar for this Australian orchestra, and for Vänskä, a Finn, born in Japan and long resident here.
"I think we can relate to that. Australia is a 'between' place, too. Let's be honest," she says. "It's an immigrant country with a complicated past, and the immigrant part is very, very new, so you are geographically in a very different place to where your cultural heritage comes from. And I find it fascinating in this program, thinking that Ginastera studied in America with Aaron Copland, and Aaron Copland studied with Nadia Boulanger, who is an unsung heroine of the 20th-century really.
"When she heard Piazzolla do the tango, she said, 'This is your music, why aren't you doing this? This is the music you should be doing' rather than the 20th-century contemporary concert music he was studying. It's curious that she saw that in him, and that's where the Tango Nuevo started."
Crossover, before crossover became a thing.
"Composers had always done that but it really opened up in the early 20th-century, when composers like Ravel and Stravinsky started hearing jazz as all these African American bands started coming in to Europe," Vänskä says.
"And they were absolutely fascinated by it, so these European composers started using jazz in their own music. Then these composers in South America started using their own music as well as [a European] approach."
Just thinking about the way the already rich catalogue of music expanded over the past century excites Vänskä, who regularly flies the ACO coop for the more relaxed lines of the experimental ACO Underground.
"That's one of the real gifts of being a classical musician. We know this: we have such a huge amount of repertoire and knowledge of different eras." she says. "We can play so many different things, some which people are not expecting, so I think in a way it's a nice thing to have that sort of calling card of people being surprised.
"I have said that it's important to entertain people but what I mean is that going to a concert should not be a place where you just switch off your brain. We can give you something refreshing to think about and give you a different angle of ideas."