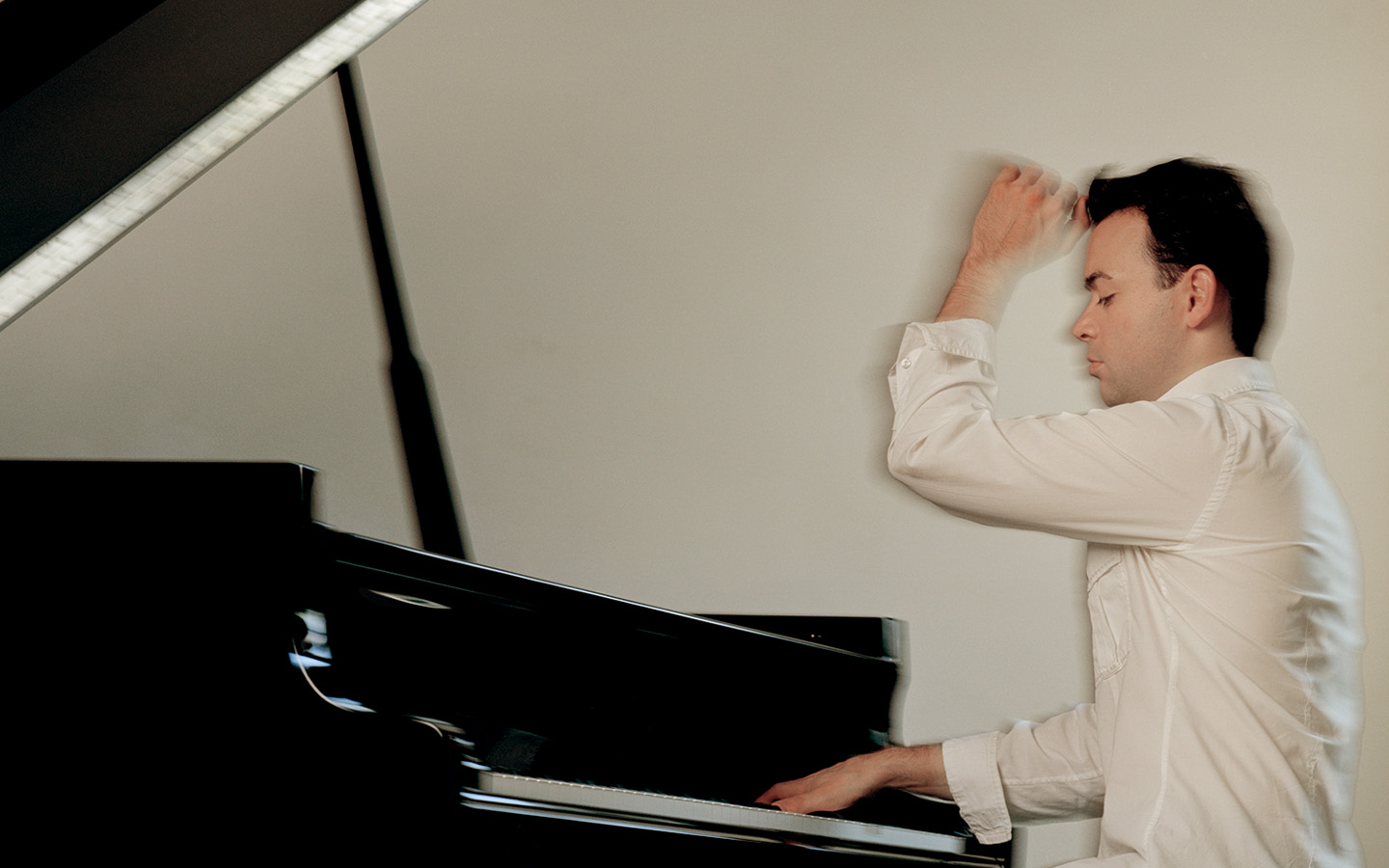 In conversation with Dejan Lazić
We sat down to chat with Dejan Lazić about returning to Australia, life inspired by the genius of Mozart, and his passions outside of music.
"Over the years I have come to know Richard and the other members of the Orchestra so well. It has really become a family, it feels like coming home."
Pianist Dejan Lazić is no stranger to moving around. Born in Croatia, Dejan moved to Salzburg, Austria when he was just 14 years old to pursue his passion of music. Unfazed by this significant relocation, it appeared the touring life of a musician would be well suited to the young pianist.
Dejan now resides in Amsterdam and, as a passionate movie buff, revels in the abundance of movie theatres throughout the city. But for Dejan, whose life is constantly spent travelling between different cities and countries, there's one place that always feels like home every time he returns: Australia.
Dejan and the Orchestra are currently touring 'Celebrating Mozart' - an uplifting program that celebrates Mozart's great symphonies and concertos. In between rehearsals we sat down with Dejan to get to know him a little better and uncover what Mozart really means to him.
What is your first memory of playing the piano?
My Mum was a piano teacher when I was growing up and I remember when I was around six or seven years old there were always students coming and going at our house for piano lessons. I was a bit envious of them - my Mum spent so much time with them! So I thought that I would start playing piano as well. Our lessons together were short lived - I guess she didn't think that it was the most healthy relationship for her to be my teacher and mother as well! So soon after she transferred me to one of her colleagues for lessons.
That was the first time I got in touch with the piano itself but music was always in our household. I come from a musical family stretching all the way back to my great-great-grandfather who was the concertmaster in Vienna for the orchestra during the time of the Austro-Hungarian Monarchy.
Coming from such an extensive family of musicians, did you always think that you would pursue music as a career?
Not always! Until the age of 12 I was determined to become a football player and music was just a passion I did on the side. My parents, both of them being musicians, understood the importance of teaching a youngster to love music without forcing me into it.

So I had a life that wasn't just music, but at some point in my teenage years I started to think about what I wanted to do for a long period of time in my life. Some of the greatest footballers have careers only until their mid-thirties and that's if they're lucky. After thinking about it more I decided to reverse my priorities to make music my main ambition and I continued to play football on the side for fun.
You discovered Mozart when you were just seven years old through the movie Amadeus. What struck you about his music the first time you heard it and how did it influence you?
Amadeus was one of the first movies I saw in the cinema and the Symphony No.25 that plays at the start of the film spoke to me. Mozart really is music for everyone - it's genial yet it can with resonate with a seven year old kid equally as it would to a knowledgeable professional. I continued to listen to his work and the entire spectrum of Mozart's music appealed to me. I began to perform his music whether it be solo, chamber or concerti and have been doing so ever since.
What was it like moving to Salzburg, the birthplace of Mozart, when you were a teenager?
I moved to Salzburg because my Hungarian piano teacher happened to be teaching there and so it was an incredible coincidence that I was to move to the city which was once home to my idol, Mozart. I stayed there for 10 years and everything was Mozart-focused. From commercial things like "Mozart chocolate" to historic sites like the houses he grew up in and of course the music, you could listen to ten concerts a day there and all of them would feature music by Mozart.
In the upcoming tour you'll be premiering your own arrangement of Mozart's Piano Sonata K.333. When did you first begin writing your own arrangements of Mozart's music, and how did this lead into writing your own original compositions?
I started composing as a hobby when I was around 10 or 11 years old. I was completely inspired by the Amadeus movie - I played two instruments, the clarinet and piano, and composed, just like Mozart did. When I was writing even at this young age there was always a red line of 'Mozart' in my mind. Many years later I would end up writing an original concerto titled 'Mozart and Salieri' which was a symphonic poem based on Alexander Pushkin's play of the same title.

The arrangement that we are playing on this tour is very new, and it's such a special and unique case where we have a piano sonata movement with a massive cadenza. There's so many rich layers that can be found within Mozart's music.
You are an old friend of Richard Tognetti's. What's it like to return to Australia this year and perform with the ACO?
There are so many memories and feelings of nostalgia. Since I heard the ACO for the first time back in 1990 it was always one of my favourite orchestras in the world. Over the years I have come to know Richard and the other members of the Orchestra so well. It has really become a family, it feels like coming home.
Given you have such a busy and demanding career, how do you unwind when you're offstage?
Movies. There is no movie I haven't seen. In Amsterdam where I live there are so many types of theatre where you can experience movies in different ways. I love film as an art and there's amazing things coming out of European films and internationally as well. I also am very passionate about football and sports in general. As a pianist you spend a lot of time sitting so I love to be mobile and stay active.
'Celebrating Mozart' tours 5 - 17 September with stops in Wollongong, Canberra, Melbourne, Adelaide and Sydney.