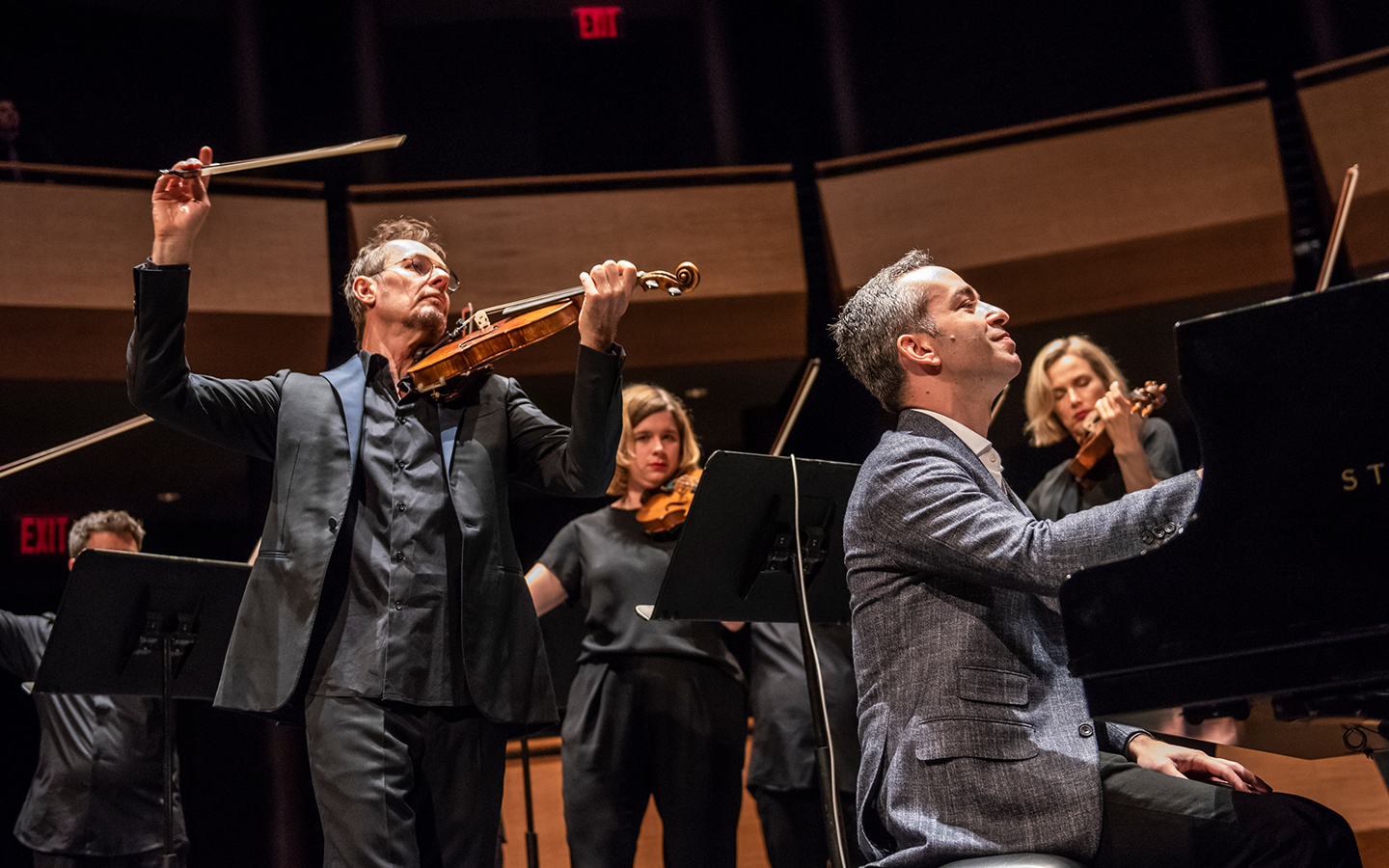 US Tour
31 Mar - 14 Apr 2019
The Australian Chamber Orchestra will return to the United States in 2019 for the first time in three years.
After receiving critical acclaim during our recent tours to Japan, the UK and Europe, we're excited to return to America for a two-week tour visiting major musical centres including New York, Boston and Stanford.
Read on for full details on each stop in the tour.
Stanford, bing concert hall
Sun 31 March 2019, 2:30pm
Our US tour kicks off in Stanford, where renowned pianist Paul Lewis joins Richard Tognetti and the Orchestra as soloist in Mozart's Piano Conceto No.12. This will be performed alongside Brahms's Sextet in G and 'Movements (for us and them)", a piece recently commissioned by the ACO from Stanford University alumni Samuel Adams.
PROGRAM
SAMUEL ADAMS Movements (for us and them)
MOZART Piano Concerto No.12
BRAHMS Sextet in G

ARTISTS
Richard Tognetti Director & Violin
Paul Lewis Piano
Australian Chamber Orchestra

folsom, harris center for arts
Mon 1 April 2019, 7:30pm
Richard Tognetti leads the Orchestra through ACO favourites in Folsom, with music by Bach and Beethoven presented alongside Mozart's Violin Concerto No.3.
PROGRAM
JS BACH The Art of Fugue: Contrapunctus I-IV
MOZART Violin Concerto No.3
BEETHOVEN String Quartet, Op.130
BEETHOVEN Grosse Fuge, Op.133

ARTISTS
Richard Tognetti Director & Violin
Australian Chamber Orchestra

COSTA MESA, SEGERSTROM CENTER FOR THE ARTS
Pianist Paul Lewis rejoins the Orchestra in Costa Mesa, once again bringing the music of Mozart, Brahms and Samuel Adams to a Californian audience.

PROGRAM
SAMUEL ADAMS Movements (for us and them)
MOZART Piano Concerto No.12
BRAHMS Sextet in G

ARTISTS
Richard Tognetti Director & Violin
Paul Lewis Piano
Australian Chamber Orchestra

blacksburg, moss arts center
Sun 7 April 2019, 4:00pm
Pianist Inon Barnatan joins us in Blacksburg, where we will perform our program of Brahms, Mozart and Samuel Adams at Virgina Tech's Moss Arts Center.

PROGRAM
SAMUEL ADAMS Movements (for us and them)
MOZART Piano Concerto No.12
BRAHMS Sextet in G

ARTISTS
Richard Tognetti Director & Violin
Inon Barnatan Piano
Australian Chamber Orchestra

New york, lincoln center
Tue 9 April 2019, 7:30pm
Our US tour arrives in New York, bringing our program of Bach, Beethoven and Mozart to the Lincoln Center's stunning Rose Theater.

PROGRAM
JS BACH The Art of Fugue: Contrapunctus I-IV
MOZART Piano Concerto No.12
BEETHOVEN String Quartet, Op.130
BEETHOVEN Grosse Fuge, Op.133

ARTISTS
Richard Tognetti Director & Violin
Inon Barnatan Piano
Australian Chamber Orchestra

Princeton university, richardson auditorium
Thu 11 April 2019, 8:00pm
We are re-joined by pianist Paul Lewis in Princeton for a concert in the intimate surrounds of Princeton University's Richardson Auditorium.

PROGRAM
SAMUEL ADAMS Movements (for us and them)
MOZART Piano Concerto No.12
BRAHMS Sextet in G

ARTISTS
Richard Tognetti Director & Violin
Paul Lewis Piano
Australian Chamber Orchestra

BOSTON, JORDAN HALL
Sat 13 April 2019, 8:00pm
The New Engand Conservatory welcome Paul Lewis, Richard Tognetti and the Orchestra to their Jordan Hall stage as part of their 2019 Celebrity series. The ensemble will perform music by Bach, Mozart and Beethoven.

PROGRAM
JS BACH The Art of Fugue: Contrapunctus I-IV
MOZART Piano Concerto No.12
BEETHOVEN String Quartet, Op.130
BEETHOVEN Grosse Fuge, Op.133

ARTISTS
Richard Tognetti Director & Violin
Paul Lewis Piano
Australian Chamber Orchestra

carmel, the palladium
Sun 14 April 2019, 7:30pm
Our US tour concludes in Carmel, where Inon Barnatan joins the Orchestra once more for a final concert at The Palladium at the Center for Performing Arts.

PROGRAM
JS BACH The Art of Fugue: Contrapunctus I-IV
MOZART Piano Concerto No.12
BEETHOVEN String Quartet, Op.130
BEETHOVEN Grosse Fuge, Op.133

ARTISTS
Richard Tognetti Director & Violin
Inon Barnatan Piano
Australian Chamber Orchestra