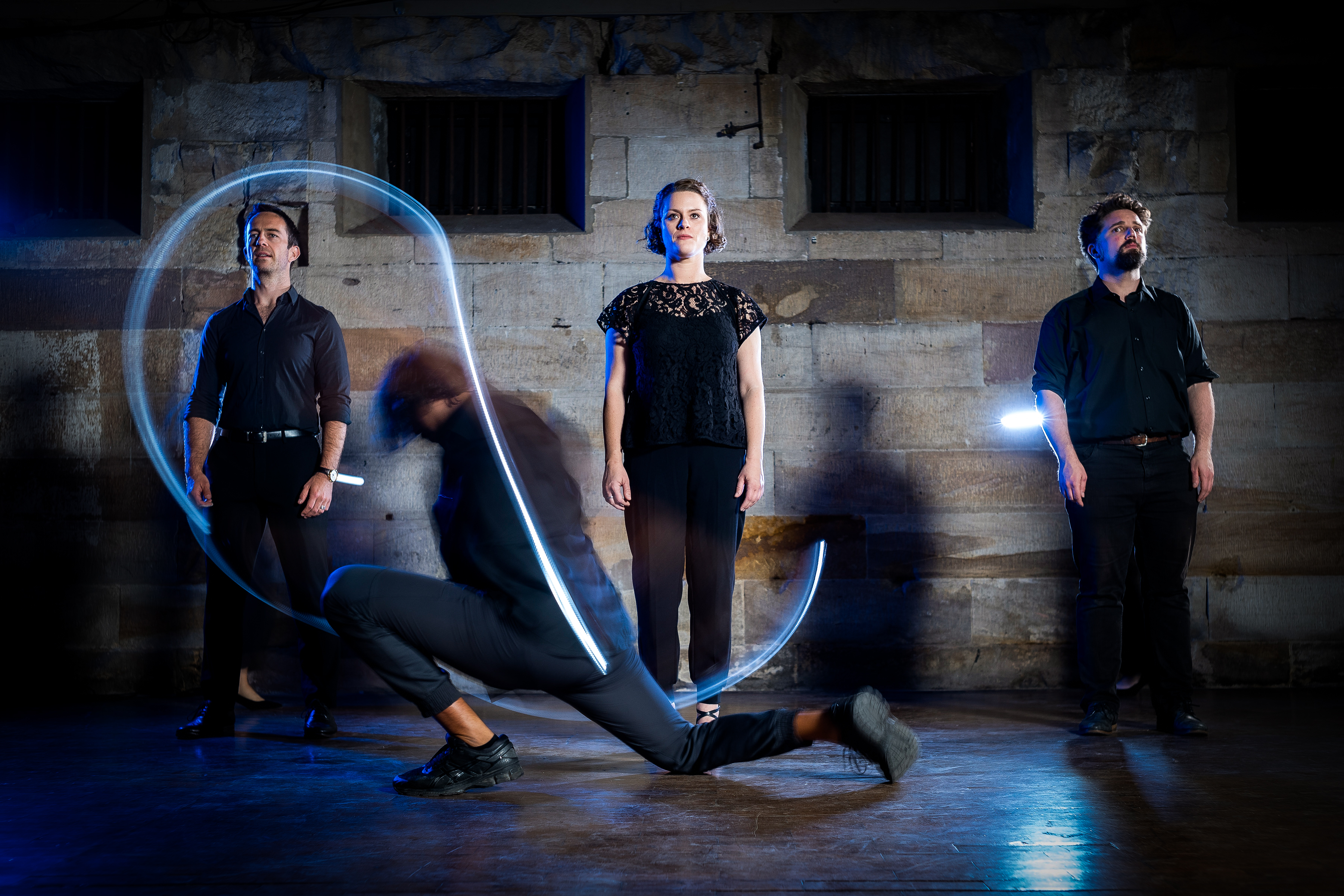 The Song Company: Arms of Love
The Song Company presents Arms of Love, featuring music by Buxtehude and Dan Williams with words of Behrouz Boochani, at Pier 2/3.
The Song Company: Arms of Love
27 August 2022
The Song Company, Australia's national professional vocal ensemble, presents their second MainStage project for 2022, Arms of Love.

Arms of Love combines its trademark exquisite singing with haunting dance choreography from Indigenous contemporary dance group Karul Projects' Thomas E.S. Kelly, performed by Neville Williams-Boney in a semi-staged, evocative rendering of two majestic musical masterpieces.

One of the marvels of the baroque period, Membra Jesu Nostri, by Dietrich Buxtehude is intertwined with a major new work, I pray the sea, by Australian composer Chris Williams, that draws on texts from award-winning author Behrouz Boochani and has been especially commissioned for The Song Company with the generous support of The Silo Collective.

Williams' flotilla of seven short fragments and one extended final movement is interspersed with Buxtehude's intimate 17th-century cycle of seven cantatas on the physical and spiritual aspects of the Crucifixion. Co-curated/directed by Robert Macfarlane, with choreography and dance by Thomas E.S. Kelly, against the background of an ongoing refugee crisis at home and abroad.

Throw away any expectations you may have about the old and the new – this project promises to be one of the most exciting and original fusion of chamber music and dance from Thomas E.S. Kelly and incredible vocal artists of The Song Company.

The Song Company's Artists, Amy Moore, Chloe Lankshear, Stephanie Dillon, Thomas Flint, and Robert Macfarlane are joined by a continuo made up of soprano saxophonist Hylton Mowday, Jenny Eriksson on electric viola da gamba, and Artistic Director Antony Pitts on a classic Rhodes keyboard.
Please note: this is not an Australian Chamber Orchestra event or performance. ACO Account Credit cannot be redeemed against non-ACO performances.
PROGRAM
Dietrich Buxtehude: Membra Jesu Nostri
Chris Williams: I pray the sea
Director: Robert Macfarlane
Choreographer: Thomas E.S. Kelly
ARTISTS
Amy Moore Principal Artist – Soprano
Chloe Lankshear Principal Artist – Soprano
Stephanie Dillon Principal Artist – Mezzo-soprano
Robert Macfarlane Guest Artist – Tenor & Director
Thomas Flint Principal Artist – Bass
Hylton Mowday Guest Artist – Saxophones
Jenny Eriksson Guest Artist – Electric Viola da gamba
Thomas E.S. Kelly Karul Projects – Choreographer
Neville WiIliams-Boney – Dancer
Antony Pitts Artistic Director – Rhodes & Conductor