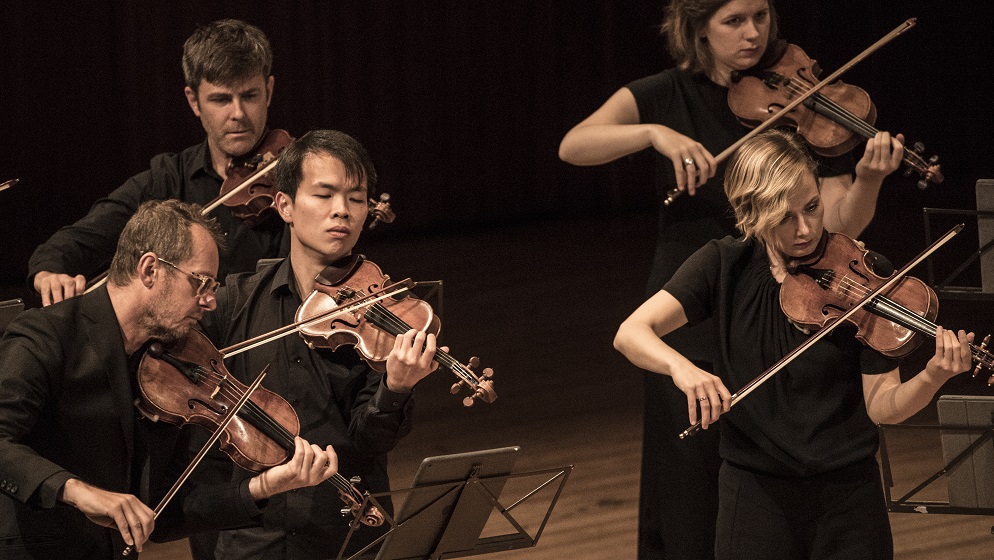 ACO Performances: COVID-19
Wedsday August 26, 2020
City Recital Hall performances, 5-11 September
It is with enormous delight that we announce the ACO's return to live performance at City Recital Hall for the first series of concerts since COVID-19 interrupted our lives six months ago.
Performances will run from 5-11 September and comprise Mendelssohn's beloved String Quartet in D major arranged for strings, and Schoenberg's masterpiece, Verklärte Nacht (Transfigured Night), which will bring this unique one-hour concert with no interval to an exquisite close.
We are working closely with City Recital Hall to follow the NSW Government COVID-19 health guidelines with the safety of our audience and staff top of mind. The requisite physical distancing measures within the hall means that seating will be limited to 400 patrons per concert, appropriately spaced throughout the hall which has a normal capacity of 1,238.
Please click here to read our COVID-19 Guidelines for these performances.
Friday April 3, 2020
A message from Richard Tognetti and Richard Evans
As we write this we anticipate that you, like all of us, are at home in a state of some shock as we confront the immense challenge of containing the virus which has had such devastating health and economic impacts on communities around the globe.
Within this context, we write to confirm five more of our national tours, Music to Heal, Mahler's Song of the Earth, The Four Seasons & Beyond, Intimate Mendelssohn & Bach and Baroque Brilliance are unable to go ahead. We feel strongly that this is the right course of action in order to prioritise the health and safety of our touring musicians and you, our audiences, and to follow government advice by proactively playing a role in curbing the destructive spread of COVID-19.
It is with very heavy hearts that we are cancelling these tours, especially in what was supposed to be a celebratory season commemorating Richard's 30th anniversary as Artistic Director. Instead, we find our very existence threatened as our primary revenue stream from ticket sales has in very recent weeks fallen off a cliff.
The COVID-19 crisis is crippling the arts sector, and we are acutely aware that you too are personally impacted. Many of you have already donated your Arvo Pärt & Shostakovich tickets back to the ACO - please accept our deepest gratitude in these difficult times. Despite the obvious challenges and isolation, the outpouring of love and support from you all has been inspiring and is keeping our musicians' and staff spirits high. We plan to return to the concert hall for our final tour of the year, Beethoven 250, where we will celebrate Richard's milestone year and Beethoven's 250th anniversary.
Until then, we remain determined to bring our music to you. This crisis is an opportunity to pull back the curtain and reveal a different side of the ACO. So, we are offering something that would be impossible amid our regular hectic touring schedule.
Please read on to see the intimate and inventive digital program we have been busy putting together. We hope you will consider contributing to our musicians working from their homes by donating your tickets back to the ACO, as we are in need of your help. If you're not in a position to do so then we of course understand, and you have the option of a credit or a refund.
Either way, we're looking forward to sharing our brave new digital world with you as we meet this unprecedented challenge together.
Warm wishes,
Richard Tognetti, Artistic Director
Richard Evans, Managing Director