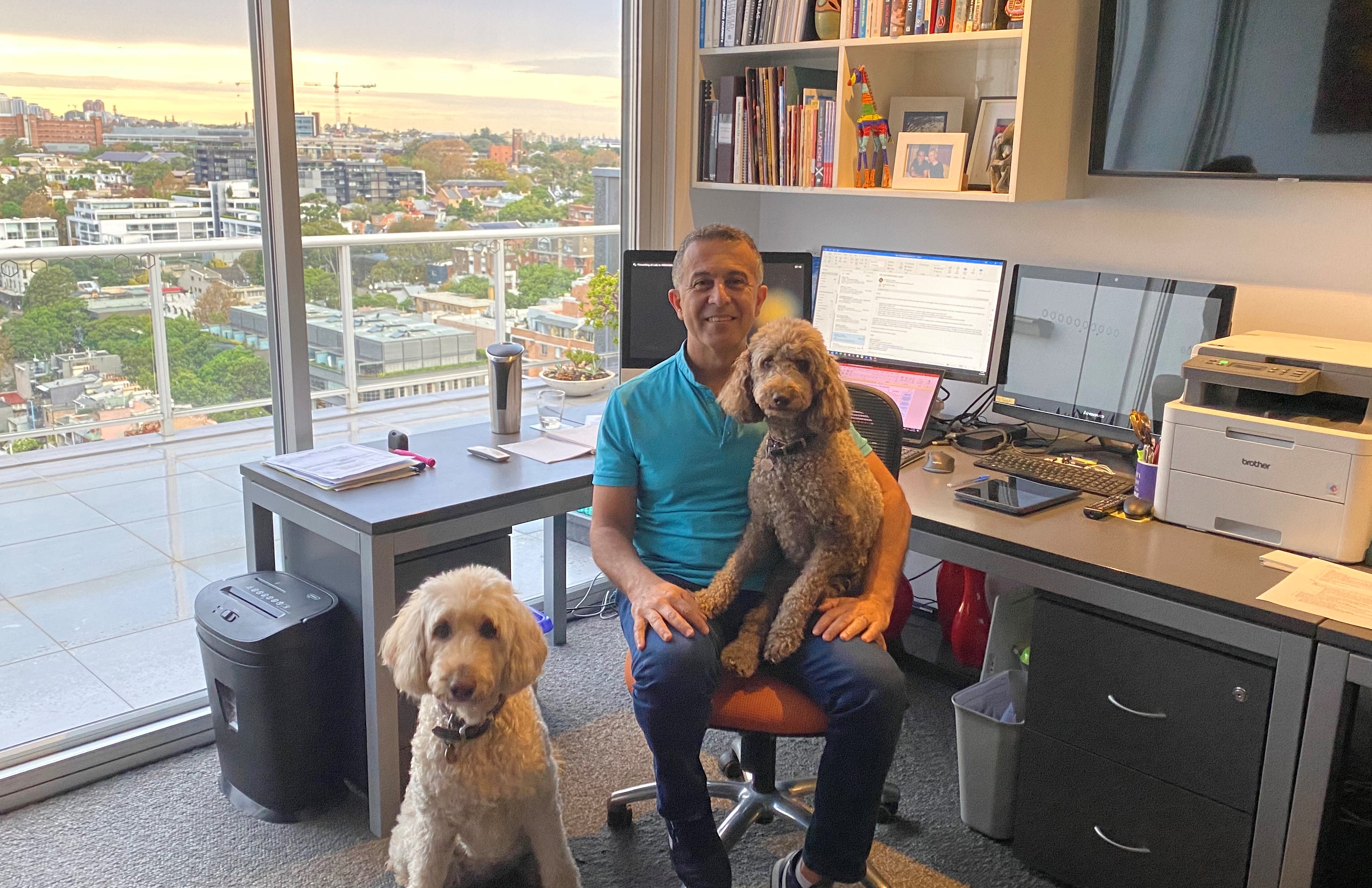 Spotlight on Telstra
We recently caught up with Michael Ebeid AM, Group Executive, Enterprise at Telstra, to discuss the relationship between technology and the arts, and the power of communication.
Michael, tell us about your connection with music and the arts.
I'm a big supporter of both the ACO and the Brandenburg Orchestra and have been attending their concerts for many years. I am also the executive sponsor of the Australian Ballet and have been a personal supporter for nearly two decades. I find ballet a beautiful artform which can be very inspiring.
What are you listening to at the moment? What books are on the nightstand?
I listen to a variety of playlists depending on my mood. I'm a big believer that music can influence your mood; lift you up when you need a lift, relax you when you need to relax and charge you up when required.
I read a wide range of books and currently have three on the go – Find Me by Andre Aciman, the author of Call Me By Your Name (which was a beautiful book and film); The Ride of a Lifetime by Robert Iger, the CEO of Walt Disney for 15 years, and Hit Refresh by Microsoft CEO Satya Nadella.
Telstra has a long history with the ACO, and has partnered with us since 2003. Why is the partnership important for Telstra?
We've been proud partners of the ACO for 17 years and counting. Telstra prides itself on being an inclusive company and a brand for everyone, so when it comes to our sponsorships, it's really important that we try to represent all of Australia's interests.
Music and the arts are fundamental to Australian culture and we love being able to share the world class performances of the ACO with our customers, often in some wonderful and unique settings.
COVID-19 has meant the performing arts have had to look at new ways to connect with their audience, including the ACO's own digital season of HomeCasts. Can you see benefits to this new diversification into digital channels?
As performing arts companies in Australia closed their doors in the face of the COVID-19 pandemic, artistic and management teams quickly created digital programs to take the place of live performances. As the saying goes, the show must go on!
These offerings have been the silver lining in a very challenging situation. By diversifying into digital channels, we are opening up these important cultural institutions by democratising access and promoting inclusion. If you live in the bush, you can still hear the world's greatest composers or see the world's greatest artworks.
We have heard so many stories of kids accessing these wonderful resources while home schooling – in many cases it would have been the first time many 'visited' Taronga Zoo or the Sydney Opera House while our wings have been clipped.
Telstra is also a longstanding supporter of the Australian Ballet, and you recently worked together on a virtual mentoring initiative. How did this exciting program come about?
With dance studios across the country closed due to COVID-19 restrictions, we wanted to do something to support young students who were no longer able to take part in their regular classes.
The program was modelled on the success of smaller-scale virtual programs we've run with The Australian Ballet in the past, where young dance students were paired with an artist from the Ballet for one-to-one lessons over video calling. Throughout the lessons, students learnt choreography from a famous ballet repertoire and were also able to chat with their mentors.
The program was very well received with hundreds of students across the country taking part, and equally we know the artists from The Australian Ballet valued the opportunity to connect with and inspire the next generation of dancers.
As an Australian business leader and advocate for technology, how can the arts embrace and harness the power of technology going forward?
Consumer research shows that 75% of Australians who have used digital channels during COVID (rather than the traditional physical services they would usually access) want to use them again in a post-pandemic world.
That means we'll see a lot of organisations running dual operations, physical and virtual, into the future. The ability to reach new audiences—and have a much greater impact on them—is really exciting.
Your career has taken you all over the world. Where do you like to go when you find time to take a holiday?
I like to split holidays into two parts: adventure and relaxation. I enjoy cruises as they provide the best of both worlds through discovering new ports and spending relaxing days at sea—all while avoiding airports and checking in and out of hotels. Clearly this year will be different, and I suspect I'll be adding a few km on the car for our next getaway.