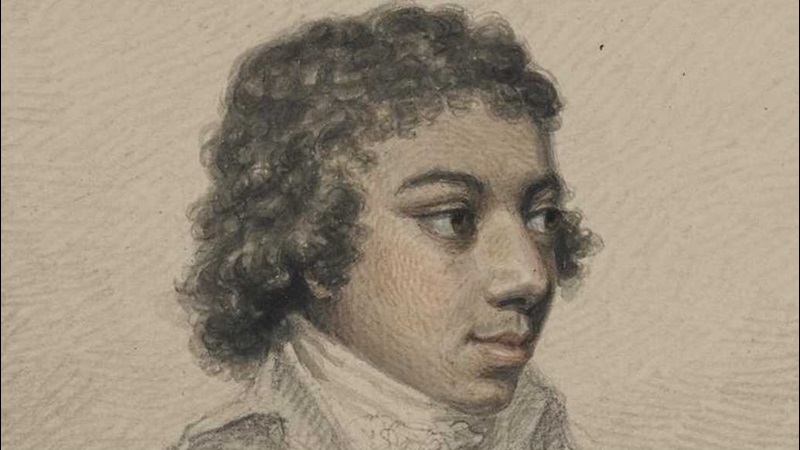 Music belongs to us all
Journalist and filmmaker Santilla Chingaipe on the history of Beethoven and George Bridgetower.
Below is an extract from the Beethoven & Bridgetower concert program.
I never encountered much classical music when I was growing up. My parents had a CD compilation of violin love songs that included Vivaldi's Four Seasons, which was played a fair bit in our household. By the time I entered high school – a public school highly regarded for its music program – I'd dabbled with playing a few instruments, but without the encouragement from my teachers or the expectation of a career in classical music, I always assumed it was not for people like me. As a Black person of African descent, I'd never seen anyone who looked like me playing classical music.
I grew fascinated about this world that seemed to exclude me. When Swedish poet Thomas Tranströmer won the Nobel prize for literature in 2011, I was drawn to his poems. One that stood out was "Allegro" which opens with:

After a black day, I play Haydn,
and feel a little warmth in my hands.

For years, I'd return to this poem after a difficult day. His description of the music piqued my curiosity:

The keys are ready.
Kind hammers fall.
The sound is spirited, green, and full of silence.
The sound says that freedom exists
and someone pays no taxes to Caesar.

Who was this Haydn? I wanted to experience the sound of freedom for myself. It would take a few more years – I was in my mid-20s – to muster up the courage to attend my first proper classical music performance. I found the arts precinct to be intimidating and only visited when the performances featured people of colour. As I made my way into the Melbourne Recital Centre to listen to a performance of Haydn's music, I was acutely aware I was the only Black person there. Thankfully, when the performance began the discomfort drifted away and I was lost in the music.
These days I'm an enthusiast and can't imagine my life without classical music. But although this music belongs to everyone, the classical music industry still feels exclusive – from the venues, to the programming to the performers on stage. Very little acknowledgement is made of the contribution non-white composers and musicians have made to the genre.
One musician who left an indelible mark but isn't widely known is George Polgreen Bridgetower – a mixed-race violinist and composer, who was born to a white mother and Black father in Poland in 1778.
The name Bridgetower comes from his father, who was born in or near Bridgetown, Barbados. His father was likely born a slave, as slavery was still legal in British territories until it was abolished in 1834. Nevertheless, he found his way to Europe and it was there that he worked as a servant to Prince Nikolaus Esterhazy, a Hungarian aristocrat whose musical court was directed by Joseph Haydn.
As a boy, he lived in Esterhazy's palace, and reportedly was taught by Haydn, who was also one of Beethoven's teachers. His connection to Beethoven would become significant in later years, but as a boy he became violin prodigy. He gave his first public performance at the age of seven and went on to play professionally in England with the Royal Philharmonic Society Orchestra, advertised as "The son of the African Prince".
By the time Bridgetower was 24 he'd made his way to Vienna, Austria, where he met 32-year-old Beethoven and struck up a friendship after discovering that they had similar life experiences. It was a bromance in the truest sense – they were kindred spirits in both music and in life.
But the "bromance" was short-lived. In 1803, the pair decided to stage a concert which would include the premiere of an unfinished sonata by Beethoven, which he dedicated to Bridgetower. The concert was reportedly well received, but was followed by an argument between the pair, who never spoke again. Beethoven swiftly withdrew his dedication and later published the complete sonata in 1805 and dedicated it to the French violinist, Rodolphe Kreutzer. It has since been known as the Kreutzer Sonata, even though Kreutzer had nothing to do with it. According to experts, this was a shame, as there's more Bridgetower in the music than anyone really credits: his big-body excitable personality is written all over the music.
Double bassist Chi-chi Nwanoku OBE is the Founder and Artistic & Executive Director of Chineke!, the first professional orchestra in Europe to be made up of majority Black, Asian and ethnically diverse musicians. Speaking from her home in London via video call, she disputes the alleged falling out between Beethoven and Bridgetower.
"Beethoven was always rededicating his music as a way of keeping money coming in; a kind of recycling, by schmoozing wealthy benefactors and famous people who could open doors for him and help to fund and furnish his future … by giving them a dedication because it was likely they didn't know the work had already been previously dedicated" she says. Nwanoku says that, according to the version of events by Beethoven-Haus in Germany, Beethoven had been planning to move to Paris and sent the sonata ahead to Kreutzer, the leading solo violinist in Paris at the time. "He sent Sonata No.9 (the Bridgetower Sonata) suggesting he'd written it especially for Kreutzer, as a way of paving his way and getting in with the right people before moving to Paris. He ended up did not moving there."
Whatever the truth, injustice would continue for Bridgetower: he lived out the rest of his days in poverty. Thinking about the tragic end of the life of a talented musician makes me wonder if we'd know about him if he were born white. Chi-chi Nwanoku had a career as a principal double bassist for various international orchestras for 35 years. "I never, ever came across anyone else of colour, or my kind of African origin," she says. And according to Nwanoku, things haven't improved. "In the classical music industry, we have a real problem with diversity. Year after year, we see the same people becoming professional musicians from the same backgrounds and cultures."
The fact that this musical genius is so little known highlights how structural racism perpetuates itself. I'm reminded of the legacy of the transatlantic slave trade – of which racism is by-product of this system that fuelled economic growth in Europe and the Americas. For racism to be successful, fictionalised narratives were created about Black people and racial hierarchies were established to keep Black people out of institutions and positions of power. And while slavery and the slave trade itself were later abolished, the racist narratives and stereotypes continue today.
Despite being denied opportunities, some Black people made it into these institutions and, like Bridgetower, went on to have great success. In an interview with the Smithsonian magazine, University of Michigan historian and musicologist Dr Kira Thurman says there is a long history of Black musicians in Europe "performing and composing and concertising". "They were doing amazing things. But oftentimes their stories are not told, or they have sort of been left to the wayside, because they don't fit our narrative of classical music and talent."
This is perhaps why many people – including Black classical musicians like Chi-chi Nwanoku – weren't initially aware of Bridgetower. She tells me that she discovered Bridgetower late in her career, and believes her relationship with classical music would have been very different had she learned about him when she was young. "I experienced 35 years of being othered, even though I was playing with top orchestras in a principal position. Plus I had to be exceptional to be allowed to do this," she says.
Renaming the Kreutzer Sonata for its rightful dedicatee– as the ACO is doing in this concert – seems like the right decision. This reparative justice of sorts means that more people will begin to discover the work of George Polgreen Bridgetower. Chi-chi Nwanoku, who's championed the re-dedication of the sonata around the world, says she hopes it encourages audiences to learn more about the violinist. "They will have another way to look at this sonata. It would stimulate a curiosity; it will raise their opinion of what Black people are capable of, because the great Beethoven wrote a sonata for this man."
Following my video call with Chi-chi Nwanoku, she sends me a performance of the "Bridgetower" Sonata, performed by two Chineke! musicians. It's a sight to behold – violinist, Randall Goosby and pianist, Zhu Wang. As they perform this timeless piece, I can't help but imagine the 1803 concert – starring a Black classical musician. Centuries later, that same piece of music being performed by a Black violinist gives me chills and reminds me that classical music belongs to everybody.
Beethoven & Bridgetower tours Newcastle and Sydney from 18-28 March. Click here for tickets.
Beethoven & Bridgetower premieres on ACO StudioCasts, available to view worldwide, at 8pm AEDT Wednesday 3 November. Click here to subscribe.