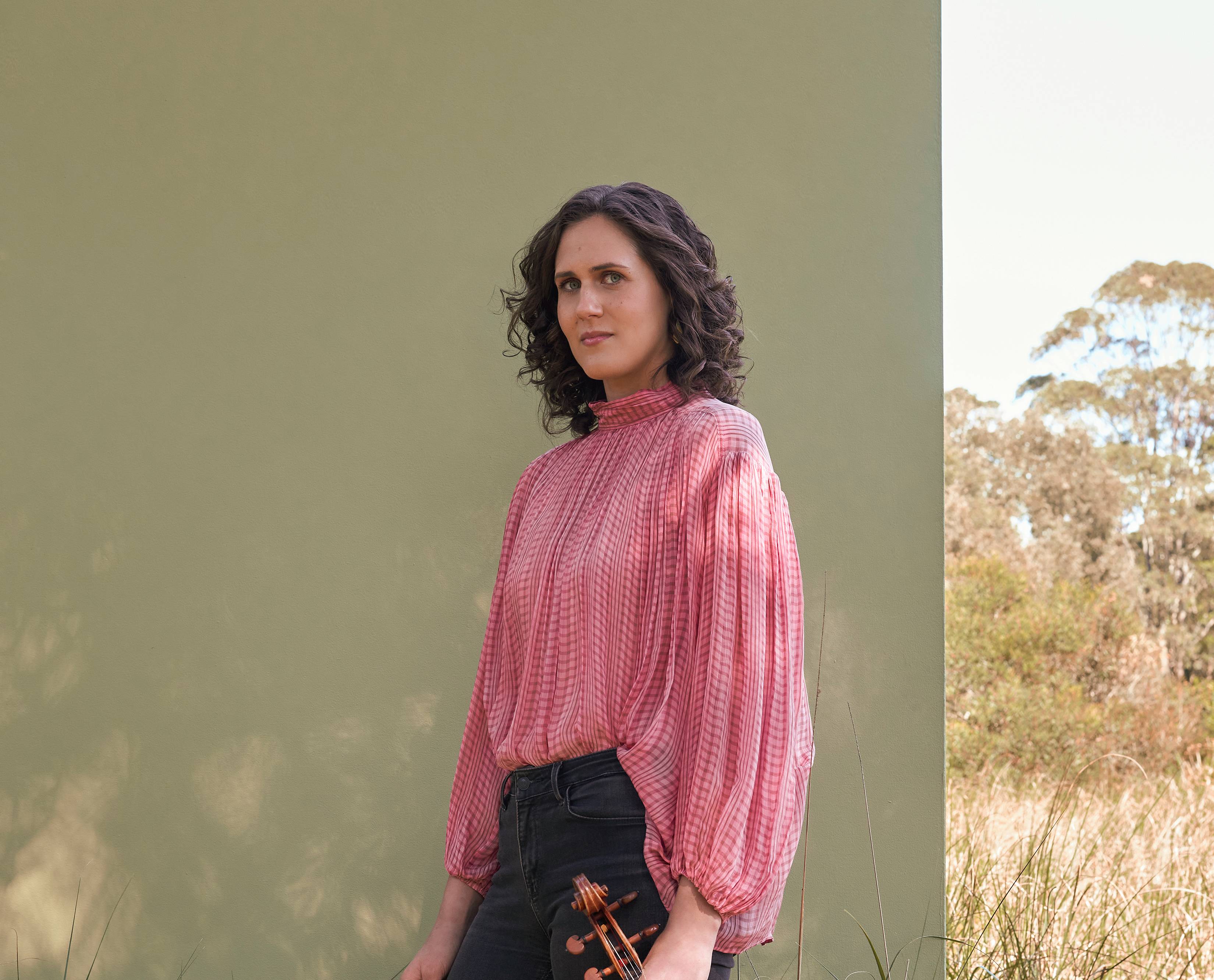 Interview with Principal Viola Stefanie Farrands
Ahead of the release of her new HomeCast on Thursday 28 October 8PM AEDT, we sat down with Principal Viola Stefanie Farrands to discuss Tasmania, her love of chamber music, and why joining the ACO has been a lifelong dream.
Can you tell us about the music you're performing in your HomeCast?
Being separated from my colleagues in the ACO during lockdown meant I (unfortunately) only had myself to play chamber music with! I thought I wouldn't inflict the world with strange and bizarre solo viola repertoire during a time when people need comfort, simplicity and inspiration. Mind you, personally I get a lot of inspiration from strange and bizarre solo viola repertoire….! Haha! My HomeCast consists of two works that segue into each other. Nana is a traditional Spanish lullaby which forms part of a set of contrasting folksongs arranged by Manuel De Falla. It reflects the vulnerable and fragile side of human nature, and something I think we all felt during these difficult times. I then segue into Recercada Segunda, a gloriously uplifting piece by Diego Ortiz which filled me with a sense of hope and brightness.
I only had myself to work with, which was difficult! But it meant I could also get creative and arrange these pieces for two violas (Stef 1 and Stef 2!), plus even add a bit of Stef 3 on percussion (channelling my inner Julian Thompson percussion vibes!).
The two pieces are extremely contrasting, but by keeping a similar form and arranging them with similar textures (using a pizzicato part and an arco part) it meant there was also cohesion throughout the HomeCast. You'll see some footage of me playing in nature too! It helped me tell a personal story of my connection to Tasmania and why I ended up there during the lockdown. These pieces gave me inspiration and motivation during a time I needed it most, so I hope it also brings enjoyment to people listening!
This HomeCast was filmed in Hobart, can you tell us about your connection with this city?
I recorded this HomeCast in Hobart during the Sydney lockdown. My partner is Principal Bass Trombone with the TSO, so a very precious part of my life is on this beautiful island. It's been a very stressful time being separated by endless border closures through this pandemic. After five weeks of lockdown in Sydney I got an exemption to go to Hobart. Following two weeks of Hotel Quarantine there, I was able to be with my partner, until I could come back to Sydney to finally be able to play together with the ACO again.
Artistically it was a huge struggle being unable to perform, so developing the idea for this HomeCast gave me a creative outlet and the chance to be challenged and think outside the box a bit. Before joining the ACO I was Principal Viola with the TSO myself, so I'm lucky to have had the chance to share an important part of my life with everyone through this HomeCast.
Can you tell us about your story with the ACO?
Growing up in Australia meant I was lucky to have the ACO on my home turf. They taught me to dream from very early on. When I was 19, I went through the Orchestra's Emerging Artist program which opened my eyes into the world of chamber music.
After years overseas stuffing as many experiences as I could into my pockets, I came back to Australia. Who would have thought that now I'm actually living the dream!
There is an undeniable connection between the players of the ACO that creates such a unique working environment. I love being pushed and challenged beyond my capabilities. The incredible thing about music is that there is no end goal and there are no limits. I feel the ACO players carry this philosophy with them when they rehearse and perform. It's a dangerous place to stop learning and to stop asking questions in our industry. The determination to keep discovering and growing makes the ACO who they are, and it's an environment that quenches my thirst to be the best musician I can be. Plus, what's better than chamber music anyway?!
What are you most looking forward to doing now we are out of lockdown in Sydney?
Finally being able to play chamber music again. I've missed it so much. Ensemble playing is one of the highest forms of human communication. I felt like I'd lost my voice during the lockdown. So much of being a musician involves learning, conversing, reacting and growing as an individual from other people. You just don't get that sitting in a room by yourself!
Personally, I hope we've all learnt something from these difficult times. I know I'm holding tighter than ever to all the things that I cherish most in my life! And one day soon we'll be able to put our fiddles on our backs and travel to far away places to share music with everyone again.

ACO HomeCasts are presented by Telstra.