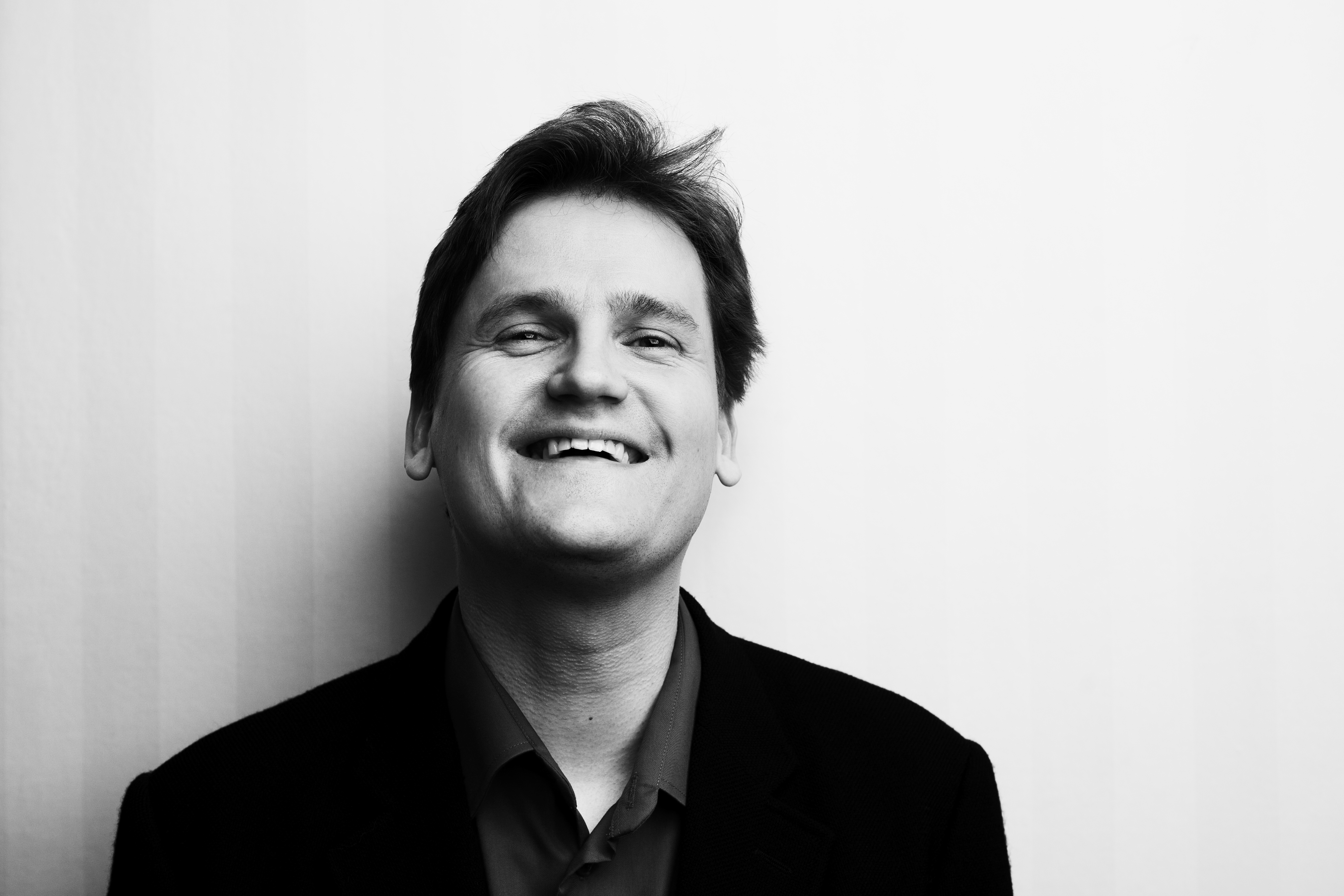 Olli Mustonen: for the love of music
At 55, Finnish pianist and composer Olli Mustonen remains as passionate about musicmaking as when he first discovered its pleasures, writes Paola Totaro.
Olli Mustonen's laugh is infectious. It swells and fills the room, even at long distance.
The great Finnish pianist and composer is at his lakeside home in the woodlands of southern Finland and I'm in noisy London, yet his presence is palpable. Within minutes, his passion for the piano, composing, travel, nature, family – a love for life in all its nuances – makes me forget he isn't in the room with me.
Mustonen is an artist at his peak. He's acclaimed for his talents as a piano virtuoso, composer and conductor and is able to bring all three together in his performances. He has played and recorded with the world's great orchestras, from the London Symphony to the New York, Berlin and Chicago philharmonics and the Royal Concertgebouw in Amsterdam. At home in Finland, he is music director of the Turku Philharmonic Orchestra.
We are chatting because he is preparing to tour with the Australian Chamber Orchestra. As he says with excitement, it's long overdue because of "Cov… well you know, we don't want to talk about that".
Mustonen is an artist at his peak. He's acclaimed for his talents as a piano virtuoso, composer and conductor and is able to bring all three together in his performances.
"I love Australia! And of course, an important part of that love is my relationship with the ACO," he says. "I did my first tour in the 1990s and I've also worked a lot with the Melbourne Symphony and the Sydney Symphony … but it all started with the ACO, they're like dear friends, so spending all this time together, travelling, playing this wonderful program will be a joy. I was counting, just this morning, and worked out that this is my tenth trip to Australia. The funny thing is that my house where I live in Finland – the lake is very much the shape of Australia. It's very strange!"
Mustonen's Oz-shaped lake is just 35 minutes' drive north of Helsinki airport – perfect for when he's touring. He says, with glee, that the house is surrounded by nature and his closest neighbour is a good five minutes away by car. "It is real wilderness, there are bears, wolves, and it's a fantastic contrast because so much of my work is in big cities – which are also wonderful – but it is always so great to come back here where the most important sounds are the wind, rain, trees."
Finns, he adds, probably have an affinity with Australians and Canadians because, even if they live in a big city, wild places are never too far away. "The connection with nature means somehow we have the idea that we are part of something that is bigger than us, a part of the universe," he tells me. "That connection – I think it's really a typical way of thinking for us Finns and Australians too?"
Mustonen's curriculum vitae and discography show not only that he has performed with the greatest musical ensembles of our times but that he has been doing so from a very young age. He learned the harpsichord first, aged five, then moved to piano and composition almost immediately.
He is 55 now. A Google search reveals a man who looks 20 years younger but, unusually for the 21st century, a search about his life reveals a plethora of reviews, recordings and professional material but very little about the man himself. However, a small gem – for this interviewer, at least – popped up on the website of his older sister, Elina Mustonen. One of the Nordic region's most distinguished harpsichordists herself, in midlife Elina Mustonen trained with the prestigious Royal Academy of Dramatic Art (RADA) in London and now splits her time between concert halls and theatres, performing a variety of work from modern Finnish drama to Shakespeare.
"Elina was bitten by the theatre bug in childhood as her little brother [Olli] can attest having been forced to perform as a circus dog," she writes on her actor's profile, giving me a good gut laugh. Two harpsichordists in one family seems extraordinary, and when I ask Mustonen junior, he agrees. "It is interesting, I haven't met anybody who started with harpsichord and moved to piano, it is usually the other way around," he says. "But my parents were great enthusiasts of early music and no, harpsichords were not common in Finland in the 1960s.
"My father is a mathematician, a professor of statistics, and was a pioneer with computers in Finland. He is also an amateur violinist, and my mother is very, very musical, so music was a very important part of their life before my sister and I were born. They heard a recording, liked the sound and bought a little spinet first, then a larger harpsichord."
Both children took harpsichord lessons until their parents decided that one harpsichord player in the family was enough and bought a piano. He was seven when he started to play the piano but says that one of the most important events of his musical life happened earlier, at the age of five.
"My sister had explained that when you have this black dot between these two lines on paper, it means this key on the harpsichord and then, when you press it, you hear this sound, 'ping'. So I sort of knew the logic, but as I followed my father and sister playing, I remember also thinking, 'Oh I am never going to be able to read music'," he says. "It was either my first or second formal harpsichord lesson when the things my sister had explained to me became like a three-dimensional picture in my head, and I remember running out of the room to my parents and sister shouting 'now I can read music!'."
That evening Mustonen devoured and played everything that was brought and placed in front of him. Sight-reading, he says, remains a great pleasure. "The funny thing is that I also feel that since then, I have learned absolutely nothing more about reading music … that it was somehow this kind of revelation that struck me like lightning, but it wasn't like discovering something new – rather, it was a natural rediscovery of something I had forgotten and found again," he says pensively. "It was unbelievable, like somehow being given a key to this treasure trove of Western classical music, because then I could take any classical score and read it, hear it in my head, play it – and that process has not changed at all in the next 50 years."
What intrigues him to this day about sight-reading is the process itself, which is as analytical as much as mechanical, requiring his brain to search for patterns that then allow an instinctive prediction of flow. "Let's say the music goes yadiditty daditty dadditty ditti di do dam," he sings to me merrily across the phone line. "And that, by the way, is Beethoven's first piano concerto. What I sang to you just now is maybe 40 notes, but you don't have to read all those 40 notes – you realise there is this pattern – di di da do – and it just moves downward."
Sight-reading, he says, does not hinge on reading every note but on this fast scan to find the pattern and transform what might be "four plus four plus four plus four to five times four". "I realise now that sort of process one does very quickly and it's all very subconscious, of course."
Finns probably have an affinity with Australians and Canadians because, even if they live in a big city, wild places are never too far away.

Olli Mustonen
Composing – which he says is as important and necessary to him as performing – involves a similar dialogue between intellect and instinct. This too, he suggests, involves three stages. The first lies in the idea or inspiration of origin, which might be nature or a poem or perhaps emerges from "fiddling around and playing on the piano". The second is more conscious and requires construction, "like building a house", around the inspiration or idea, while the third and final stage – the most intuitive – is to see if it all works.
"It's similar for all creative processes, isn't it?" he says. "However cleverly you have built the house, you need to look at it and see if it works. Because if it doesn't sound right, it is not right – that is the third level, a kind of control and checking back that makes you return to the building stage to take something away or perhaps to add something to make it right."
When I ask Mustonen about the process of interpretation when he plays – that is, how he expresses a piece of music in his own way – he harks back to the three stages of composing. "Again they are things that can come very subconsciously to your mind, like maybe this tempo should be like this or maybe I should take a little time over here," he says. "But it's a very conscious thing as well, analytical, because if you are playing Beethoven and it is something you don't know but you know other pieces by Beethoven, then that of course influences you. It's a dialogue between the two."
During the past decade and more, Mustonen says he has found growing compositional inspiration in ancient Finnish cultural and language traditions. I wonder if this has become more important to him since his work touring takes him away from home so much.
"It's true that with age I have become more and more conscious of its value and importance in my life – but also the realisation that there was, until 100 years ago, this wonderful tradition of poet singers in Karelia, the most remote, eastern part of Finland – much of it lost to Stalin and the Soviet Union in World War II," he says. "My grandmother came from Karelia, I have roots there, and oh, I could talk to you about this for hours!"
He says his composition, Jehkin Iivana, was inspired by the Kalevala, the epic 19th-century poetic work taken from Finnish mythology and the rich oral traditions of the poet-singers of Karelia. It was also shaped by the challenge of writing for guitar, an instrument that Mustonen doesn't play – the guitar's physical limitations led to an enriched understanding of Beethoven's ability to leverage an instrument's constraints to his creative advantage.
Mustonen originally wrote this work as a sonata for solo guitar, rewrote it as a piano sonata and now it also exists as a work for symphony orchestra. In recital in Australia, Mustonen will play lots of Beethoven, culminating with his last Sonata No.32 in C minor, Op.111 ("ah, an unbelievable experience to play this piece").
Beethoven is the composer he says he feels closest to, in a deeply personal way: "Of all the great composers, I have somehow always found his music to … hmm, how do I say this? That somehow his music is closest to his personality. It is so full of humanity, of kindness, it has all the elements of life in it, lots of joy, a lot of humour," he says. "I always feel that Beethoven is not just a composer, that he is a human being close to me and somebody I love very much as a person, because my whole life I have studied his music, played his music, and he is such an important part of my life."
Beethoven is the composer he says he feels closest to, in a deeply personal way: "It is so full of humanity, of kindness, it has all the elements of life in it, lots of joy, a lot of humour," he says.

Olli Mustonen
Mustonen will also play Schubert's Trout Quintet – "Zen somehow, always magical" – and Milhaud's La création du monde, which he loves for its unexpected transition from the seriousness of the Prelude to the humour and playfulness of the Fugue. "I always think that while the prelude is monumental, the creation of the mountains, the oceans, the stars and volcanoes, the fugue is jazz and just fun," he says. "I think of the creation of the funny animals in the world, the monkeys, the chameleons, all the fun creatures. I never tire of playing this."
And, of course, Mustonen will perform his own Piano Quintet, written in 2015 and played around the world many times since. This consists of three dramatic and impassioned movements inspired by a historical novel set during the last months of the Byzantine Empire in Constantinople.
Sibelius, he says, once said he couldn't choose a favourite among his compositions because it would be akin to choosing between children. This is an attitude Mustonen feels great affinity with. "Just as parents don't own their children, I don't own my works: I have a lot to do with their birth and their upbringing but then they become adults and they travel around the world and do things that parents might feel proud of … and sometimes they do things parents don't approve of," he says.
"In any case, I feel my Piano Quintet is my child who now lives his own life, and, in some performances, I don't even know how it will be, but I'm very happy to spend this time with my child!"
As our chat draws to a close, Mustonen tells me that he wants to explain the significance to him of the number "1770". "Oh, I have to tell you, it's such a great story and such a strange coincidence," he says. "When I was a child, a Christmas present had my name OLLI in capital letters on it and I read it upside down and immediately saw it was 1770. Even then, I knew this was the birth year of Beethoven.
"But then, more coincidence, because my compositions would be published by Schott in Mainz, a very old German company who were also Beethoven's publishers, including his Ninth Symphony. And guess what? They were also founded in 1770. I mean, isn't it lovely and funny to have a name that becomes a number but then for it to be the birth year of Beethoven? … Yes, it feels like some kind of fate."
And together, we laugh again.
Olli Mustonen joins musicians from the ACO for Schubert's Trout, touring to Newcastle, Melbourne, Sydney, Brisbane and Wollongong, 15-28 September. Click here to get tickets.
Don't miss Olli's solo recital at Pier 2/3 in Sydney, Friday 23 September, 7.30pm. Click here to get tickets.