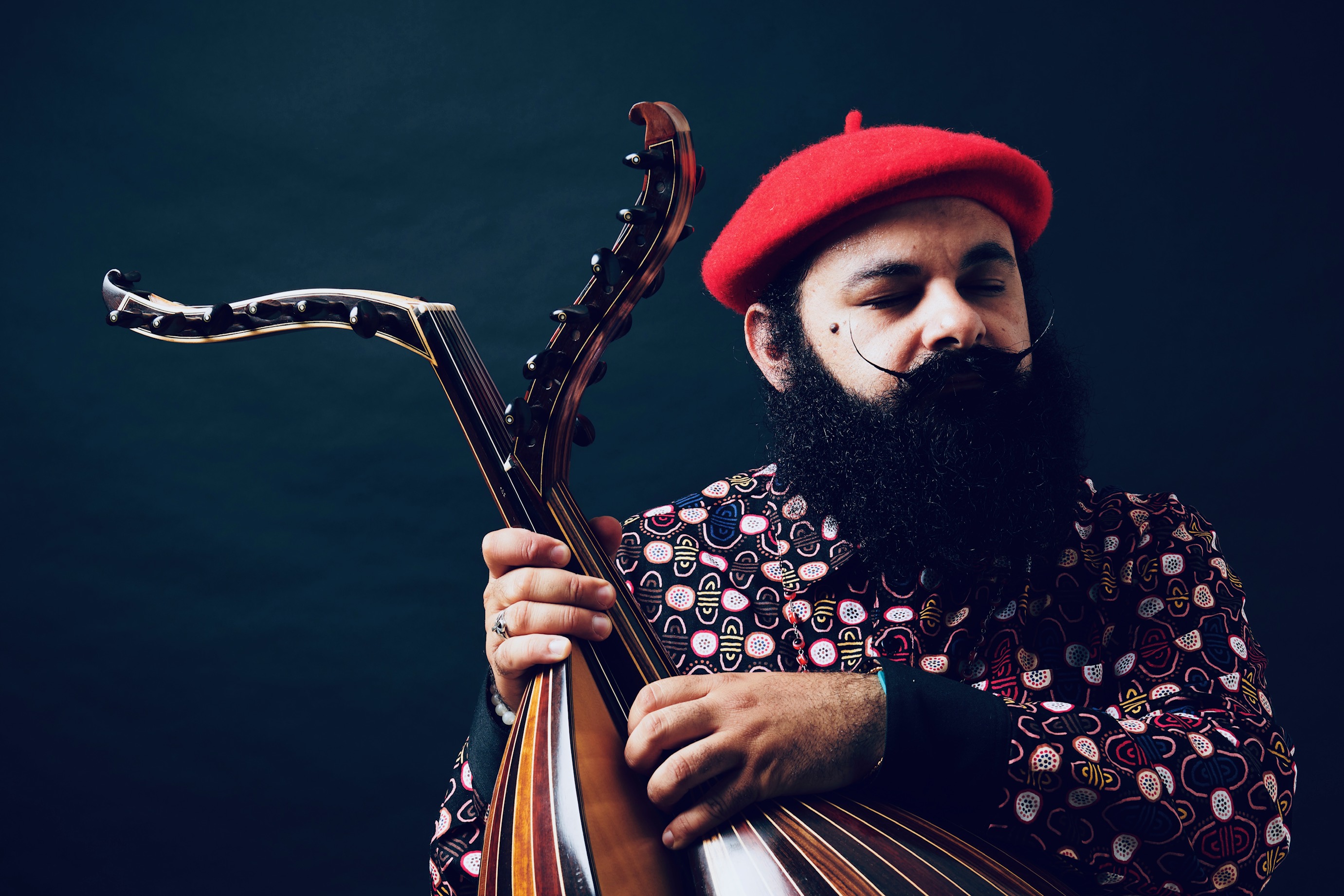 The Colours of Passion
Despite his cheerful demeanour, the music of oud master Joseph Tawadros stems from a deep inner sense of lament. Written by Yassmin Abdel-Magied Yassmin Abdel-Magied is a Sudanese diaspora writer, broadcaster and award-winning social advocate.
Joseph Tawadros is a character to behold. His moustache arrives first, edges twirled and upturned, quivering with cheekiness that feels Egyptian and Australian in equal measure. We meet in an airy London cafe, near the BBC studios where he will later play.
The seven-time ARIA Award winner is fashionably late, dressed head-to-toe in bright colours, teasing the waiter. He places his oud in the third space at our table, the ancient instrument an everpresent witness to our conversation.
Born in Egypt in 1983, Tawadros moved from Shobra – the "Redfern of Egypt" – to Sydney's Redfern at the age of two. His childhood home overflowed with music, from his parents' singing, to "a big cassette tape collection" cultivated by a diligent mother. His family loved Egypt, but Tawadros was especially nostalgic for a nation only found in the cinema, fashion and music it left behind. Even the choice of oud as his instrument was inspired by a film on Sayed Darwish, the father of popular Egyptian music.
"I was so living in a different time period," the virtuoso says of his younger self, a middle child of five who sold flowers and worked as a paperboy to save up for Cairo flights. "I was in love with the romance. Even now, when I put on a fez and I twirl my moustache, I feel like I'm living in a different time."
Tawadros is referring to Egypt before the 1952 revolution that brought an end to the rule of King Faruk and the constitutional monarchy. From Mohammed Abdel Wahab and Abdel Halim Hafez to the national icon Oum Kalthoum, this was an era of legends whose cultural impact transcended the decay of the Ottoman empire and decades of British rule. Tawadros returns to these artists again and again, regular as a heartbeat.
"I always wish that I could go back in a time machine and compose a song for Oum Kalthoum," he says wistfully. Her presence is a recurring motif in his life as in his repertoire, although not always without controversy. "I get trolled," he says, laughing, "because my brother and I are jokers." Tawadros often collaborates with his younger brother James, a percussionist who plays the riq'. "We like playing music while dancing, joking around. People will say what are you doing, it's sacred. It's not! It was the popular music of the day! It's not Islamic, it's not Coptic, it's not religious chant.
If you're getting offended about a love song being played in the bathroom, mate – you need a good hard look at yourself!" Some may mistake Tawadros's colourful outfits, collection of fezs and bombastic personality as narrative performance, a costume donned to play a part. These assumptions miss deeper, richer currents.
"I don't want to fool my audience," he says emphatically. "I don't put on a uniform. What I wear on stage I wear every day." Of his jokes: "If the music suffered, I'd shut up. I've always lived by 'take the music seriously, not yourself'." Tawadros pauses, hinting at a sincerity usually reserved for the stage. "Maybe I am more serious about the music than I present," he says. "This instrument is magical. I have access to the magic, and I think everybody deserves access. Everybody deserves a piece of the magic."
For Tawadros, authenticity lies not in doing or playing what audiences might expect from a classically-trained oud player, but in sharing what he has with the world. "I am the East and the West," he says. "I'm very proud of my heritage, how it can resonate with other people. I use the knowledge that I have, from my culture, and forward it to others. It's not about forgetting or pushing anything. My interest is in creating music with a beautiful sentiment that everyone can resonate with."
Belying his cheerful demeanour, his music more often than not evokes pain and shattering sorrow. Tawadros admits while he "loves the idea of love and romance", much of his music is about "healing". Permission to Evaporate, an aching piece being performed with the Australian Chamber Orchestra, is about losing his parents.
"People have loss, so they can relate to that."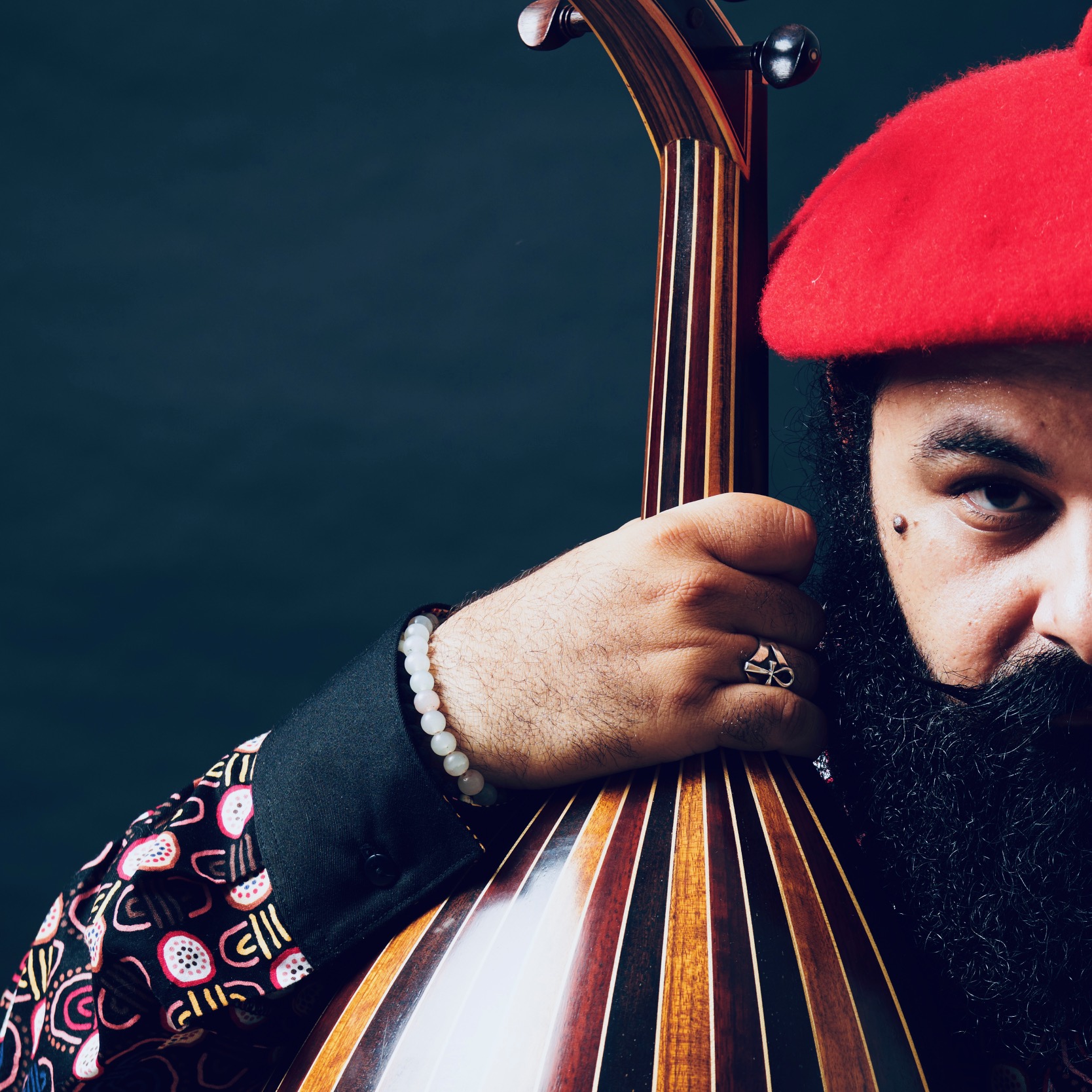 For Tawadros, playing the oud is a distillation of his essence, of influences that transcend time and geography. On stage his brows furrow, head nodding in tempo, his entire body parleying with the round-bellied lute. You cannot help but lean forward in your seat, yearning to be subsumed by this precious exchange, the frenzied energy of the solo's ascension drawing you in, moth to searing desert flame.
"Music is romance, it's nostalgia, it's melancholy, it's connection with another human being," Tawadros says. "My music is me in my genuine form." On stage, this feels undeniable – a truth plucked out, pizzicato.
The ethic of connection and beauty form the warp and weft of Tawadros's oeuvre. Recently, Tawadros teamed up with Yidaki (didgeridoo) master William Barton on History has a Heartbeat, weaving two ancient instruments together for a sonically singular experience. From symphony orchestras in Europe to Grammy-winning
jazz musicians such as Christian McBride, Tawadros's body of work reflects an insatiable appetite and capacity for collaboration, drawn from a desire to include.
"I think life in general is about inclusion, right? That's the main thing we struggle with," he says. "If you're not included in things, you're not having a good time." Is a good time important? "I love the musicians that I play with! You get your players, you make them shine, everyone shines."
When asked who has included him, he immediately names the ACO's Richard Tognetti. "Richard has vision. He has his finger on the pulse, he's not afraid to put something out there, and he's not afraid of criticism," Tawadros says.
The two have worked together since the beginnings of Tawadros's career. "I've played with the ACO for 20 years. Richard has arranged many of my pieces and has really given me a platform. He gets it. We've had a very successful journey together."
As we part, Tawadros kindly invites me to another concert he is performing in London, before he returns to Australia for The Four Seasons. I ask how he remains so prolific. Tawadros is typically self-deprecating. "I'm running away from something, aren't I?" he says, slipping on sunglasses tinted in red and grey ombre. "It's
either that or therapy!"
The Four Seasons tours to Canberra, Brisbane, Sydney, Melbourne, Adelaide, Perth and Wollongong, 11 – 27 March. Click here to buy your tickets now.