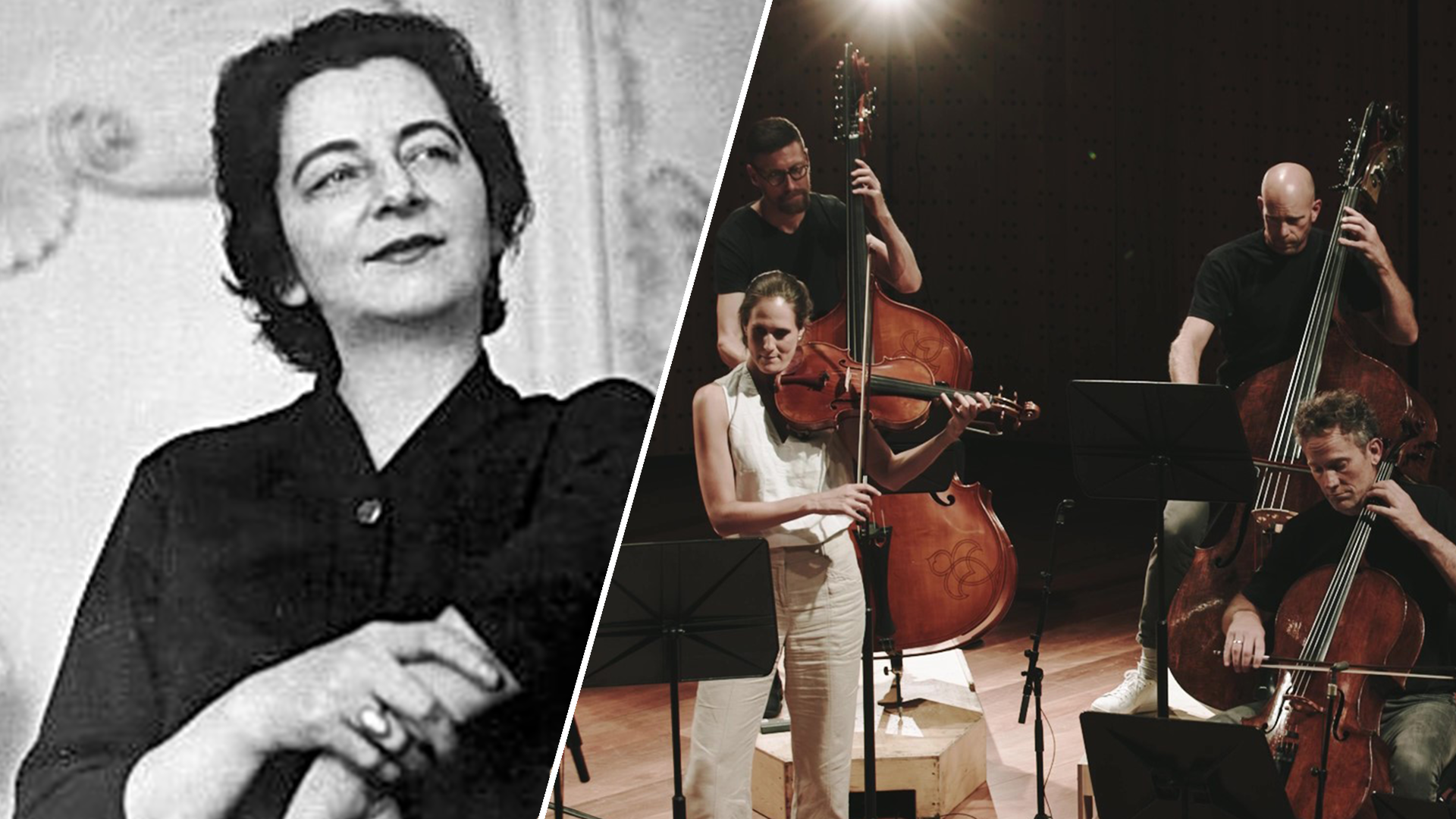 Discover the life and work of Grażyna Bacewicz
This International Women's Day, we take a moment with the music and mind one of Poland's greatest composers.
It's Wednesday 8 March, International Women's Day, and we've just paused on the Wikipedia entry for acclaimed polish composer Grażyna Bacewicz (1909-1969) where it calls her "the second Polish female composer to have achieved national and international recognition (the first being Maria Szymanowska in the early 19th century)."
Apart from the phrase being amusingly precise, it's striking that it took until the 20th Century for the country that produced composers as famous as Frédéric Chopin and Karol Symanowski to produce only its "second woman composer who was internationally known."
We loved bringing you Bacewicz's Concerto for String Orchestra during our first national tour of 2023, guest-directed by violin virtuoso Ilya Gringolts. And we've loved learning more about this inspiring composer.
A force Bacewicz really was. Her fellow Polish composer, Witold Lutosławski described her as "distinguished" and "one of the foremost women composers of all time." Let's find out a little more about Bacewicz's life and works.
Violinist, pianist and composer
Bacewicz studied the violin, piano and composition at Warsaw University. She had come from a musical family where her father taught her early lessons on the instruments. She was an in-demand concert violinist for most of her career, including in a stint as principal violinist with the Polish Radio Orchestra. And, a brilliant pianist, she gave the premiere performance of her own 1953 Piano Sonata No. 2.
Paris connection
Like many of the 20th Century's best-known and most highly regarded composers, Bacewicz studied composition with the composer hitmaker Nadia Boulanger at the École Normale de Musique in Paris. Bacewicz's studies were funded by a generous scholarship given to her by Polish composer Ignacy Jan Paderewski. Alongside composition, she studied the violin with the legendary Carl Flesch, whose Scale System method remains a staple for violinists today.
Music as destiny
Bacewicz's brilliance extended beyond music, into literature (she penned various bodies of writing, including two unpublished novels and other anthologies) and also philosophy, something she studied at the University of Warsaw briefly in 1928/9, before focusing solely on music.
"I am an adherent of the theory of determinism," Bacewicz once wrote in a letter to Polish violinist and founder of publishing company PWM Editions, Tadeusz Ochlewsk.
"I don't believe in the human free will. Every life has been planned down to minutest detail. Just as we can imagine the past as something real, so, if we had a third eye, we would be able to see all our life ahead of us."
"For me the work of composing is like sculpting a stone, not like transmitting the sounds of imagination or inspiration. The majority of contemporary composers work as systematically as bureaucrats... Discipline, strict discipline in composition is essential for me."

Grażyna Bacewicz
Compositional style
Bacewicz wrote over 200 works, and is known for her neo-classical style - that is, one that harked back to the forms, harmonies and melodic styles of the Classical era. She described caring "mainly about form" in her music, highlighting her focus on creating works with established "rules of construction." That didn't mean she was averse to experimentation, though:

"The diversification of today's music and the tempo of its growth is inspiring," she said. "This is not only experimentation or an endeavor to find new forms as some are saying. In contemporary music there are some genuine and great composers. The so-called avant-gardists, no doubt, influence mainstream composers who find it attractive."
She wasn't afraid to pick up these experimental threads.
"At times, a more traditional composer crosses over to the avant-garde. I disagree with those who maintain that once a composer develops her own style, she should stick to it. I find such an opinion totally alien; it impedes further development and growth.
"Every composition completed today, will belong to the past tomorrow. A progressive composer should not repeat herself. A composer should not only deepen her creation and improve upon it, but should also expand its scope. I believe that in my music, even though I do not consider myself an innovator, a certain trend of progression is discernible."
I

ntegrity, honesty and compassion
In 1954, Bacewicz was involved in a serious car crash which gave her broken ribs, a broken pelvis and injuries to her head and face. A year later she had withdrawn from performing, but was still composing prolifically, as well as writing novels and short stories.
On 17 January 1969, Bacewicz died suddenly and unexpectedly.
Composer Witold Lutoslawski wrote that Grażyna Bacewicz's "premature departure has been an irreconcilable loss." He described her as having "integrity, honesty, compassion, and [a] willingness to share and sacrifice for others," and said:
"The intensity of her activities was so great that she managed, in a cruelly-shortened life, to give birth to such treasures that any composer of her stature with a considerably longer life span could only envy."
Indeed. We're thankful for the sublime works Bacewicz was able to leave us with after her short lifetime.