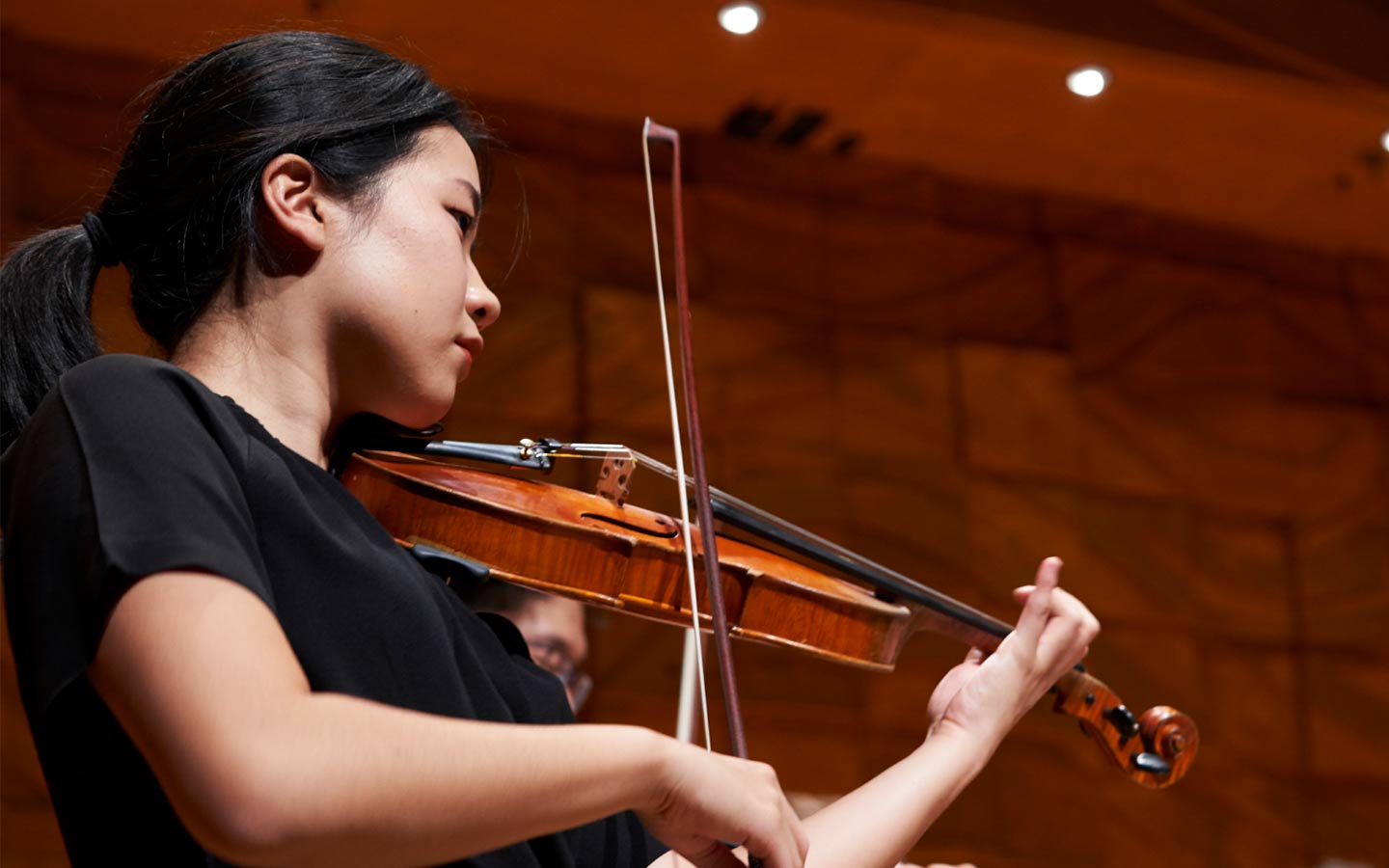 Experiences of an Emerging Artist
From a bright-eyed primary school student to an emerging professional violinist, Mana Ohashi has been involved with the ACO's multiple
Learning & Engagement programs
programs every step of the way in her musical journey. Still beaming from the recent success of
'Mozart, Haydn & More'
tour with ACO Collective, Mana sat down with us to chat about her current experiences in the Emerging Artist Program and what she is most looking forward to this year.
Tell us a bit about your background and how you came to apply for the ACO Emerging Artist Program?
I must have been seven or eight when I took part in my first ACO education program. The next time was ACO Academy in early high school and then several years later in my final year of studies at ANAM, I had the incredible opportunity to tour one of my favourite pieces of chamber music Brahms' 2nd string sextet, on a national tour with the ACO and fellow ANAM colleagues. So it's safe to say that my development as a musician has been heavily intertwined with the generosity of the ACO approach to musicians' education! With each of these experiences, my love for chamber music and the chamber orchestra setting has only escalated and I have been able to realise my goals as a musician more and more.
As I neared the end of my studies at ANAM and was further contemplating these goals there was really no opportunity that was more appealing to me than the chance to be mentored throughout the year by ACO musicians, to tour exciting repertoire regionally and perform under the direction of incredible musicians and humans such as Pekka Kuusisto. My year as an Emerging Artist has only just started but I can't believe how much it has inspired me already.

Of your experience in the Emerging Artist Program so far what has been the biggest surprise and the biggest challenge?
Never before had I performed a concert program palindromically and so the 'Mozart, Haydn & More' program took me by surprise! From the beginning of the tour we were challenged to explore a concept. Pekka had curated the program such that the concert would begin and close with the most introspective and beautiful Tuning Meditation, performed with the audience.
While we were challenged to quickly switch mindsets for swift transitions into seemingly unrelated works, it was exciting to also realise we were challenging conventions in our classical music culture. We were able to share a journey of introspection and calm leading up to feelings of elation and excitement, followed by a chance to then reflect once more.

What would you describe as the personal highlight of this most recent tour?
Among many amazing aspects of this tour, being able to play alongside Pekka was my absolute highlight. His vibrant and energetic soul brought all of our mutual love for what we do to the foreground. It was the joy of playing together as a collective for beautiful audiences that allowed each concert to sparkle in a unique way- it felt very good for the soul.

Why is regional touring important to you personally?
I feel really strongly about the importance of touring regionally. I believe that it means so much more than just expanding exposure or stimulating the arts in places that are beyond major cities. For me, it comes down to a simple thing- music exists to be shared and so it only makes sense to ensure that everyone can be involved. I feel that it is our responsibility as those on stage to make our music as accessible and barrier-free as possible, so that audience members across all areas of the country can feel included in sharing special and enriching musical experiences.
My recent experience of performing in Hamilton, Mount Gambier, Bendigo and Wangaratta, and speaking with audience members after the shows left me feeling very grateful and satisfied.

What's coming up next in the Program that you are most excited for?
It's a while away but I'm already very excited for October when Helena Rathbone will be leading ACO Collective on the Serenades for Strings tour in New South Wales and Queensland. It's every string players' delight to be able to play these lush string orchestra works and on top of that I am so looking forward to hearing the amazing arrangements of repertoire written originally for string quartet or for solo violin and orchestra. The incredible pieces by Elgar, Beethoven, Mendelssohn and Australian composer Paul Stanhope, offer so many opportunities to explore colours and will no doubt be extremely fun and rewarding to perform and share.
Applications are closing soon. Visit the Emerging Artists page for full details on how to apply.