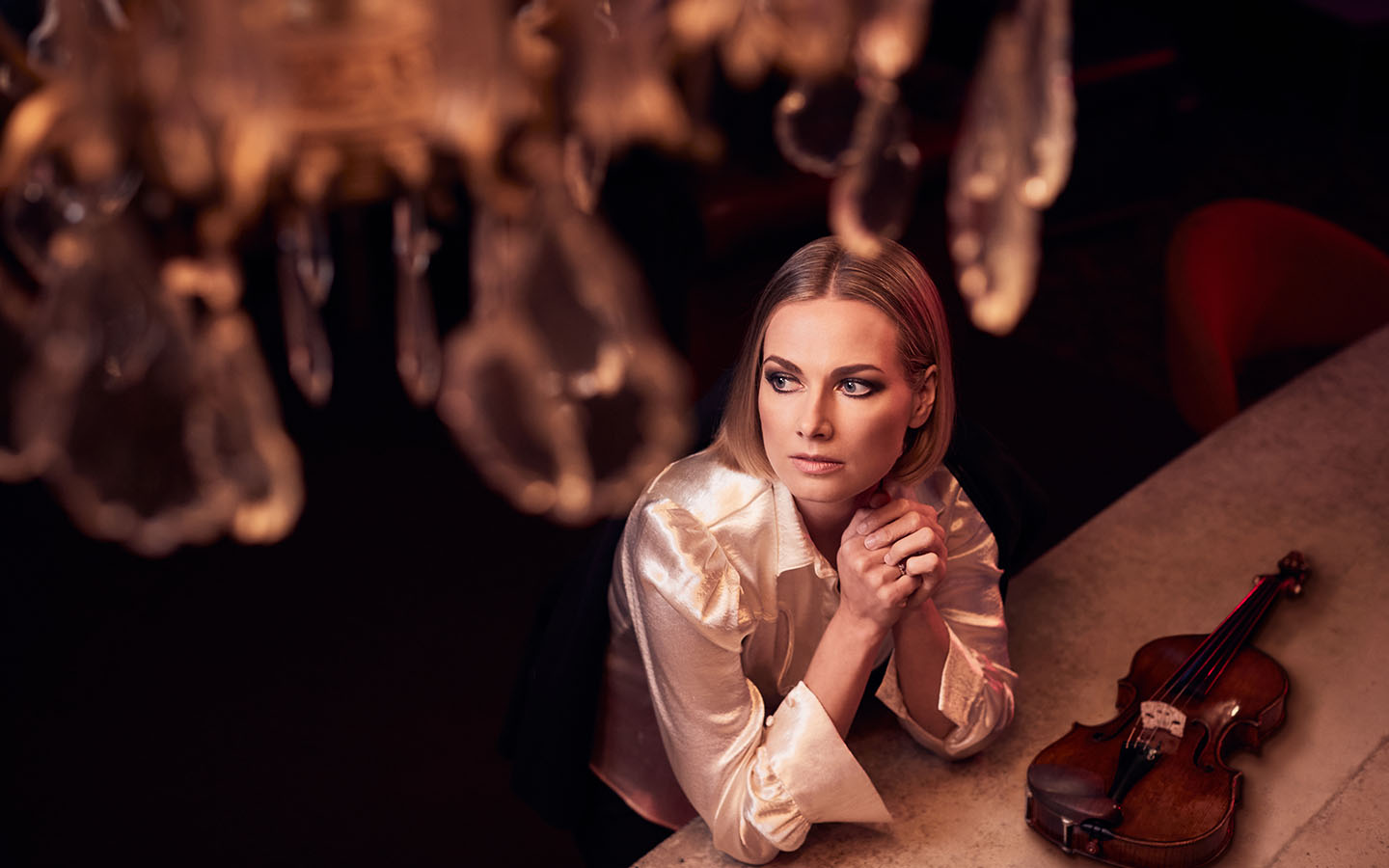 Satu Vänskä on the return of ACO Underground
"The music is placed at the forefront as a living, breathing entity, beautiful at one end and shocking at the other."
What's ACO Underground? It's the ACO, but darker, sweatier, moodier, more intimate.
Satu Vänskä
conceived ACO Underground in 2012 as a way of breaking down barriers around classical music – and re-injecting some much-needed anarchy into the experience. What followed was an electrifying series of shows, moving effortlessly between classical and contemporary, in small venues with sticky carpet, brought to life by a shifting 'band' of electro-acoustic musicians. In 2020, the focus of ACO Underground has evolved to focus on original compositions by Richard Tognetti, fronted by Satu. "What we play has been shaped into something that we can very much call our own," she says.
Why is Underground so important to the ACO?
The ACO itself started as a rebellious group against the big, established orchestras, and ACO Underground is an avenue where we continue to experiment with that rebellion. It's an opportunity for us to keep pushing our boundaries – playing music that we couldn't necessarily play in a concert hall, and in a style that we couldn't play in a concert hall either.
I also believe it's important for us to take music out of the concert hall as it can be a very daunting experience for newcomers to attend a 'classical' concert for the first time. Instead of walking into a formal concert expecting to hear a 50-minute symphony, audiences can enjoy a beer in a more laid-back setting, while listening to music that speaks to their musical curiosity and sense of adventure.
Tell us about this year's 'band'.
Underground is a hybrid group of musicians playing both acoustic and electronic instruments, who share a fascination with musical and artistic experimentation. We have my ACO colleagues, Richard on violin, Liz on viola, Julian on cello and Maxime on double bass, as well as bass guitarist Brian Ritchie from The Violent Femmes and multi-instrumentalist Joseph Nizeti, who works closely with Richard in the studio and on major projects, on electronics, keyboard and electric guitar. This year we are very fortunate to have the world-renowned guitarist Slava Grigoryan playing with us for the first time, and Evan Mannell, who is a compelling musician who worked with us on The Reef, on percussion.
When was the first time you sang for other people?
Following Music Surfica, Richard was writing new music for The Glide and needed vocals to place on one of the recordings. He asked me to sing for it and afterwards said, "Oh, that sounds pretty good – let's do something else." From there came ACO Underground in 2012, then skip a few years and suddenly I'm singing in Mountain and Weimar Cabaret at the Barbican Centre in London. I giggle at myself because I'm meant to be a violinist, but it's quite exhilarating and I enjoy using a different part of my creative brain and physicality.
What do you get from singing that you don't get from playing the violin?
I'm always surprised by the way people respond to voice, and how much more personal this response is. The violin is arguably the instrument that is closest to the female human voice, in terms of tone and register, however I've found that singing resonates with people in an entirely different way. I enjoy sharing that connection with audiences and hope that it breaks down barriers of how they think of me and my ACO colleagues as musicians.
This year's ACO Underground features the music of Morton Feldman, Bach, Bryce Dessner, Nick Drake, and Nine Inch Nails, alongside original compositions by Richard Tognetti. What are the recurring motifs in this very diverse selection?
There is a sense of modern minimalism and atmospherica. We're not the Paul Simons or Bob Dylans in the style of song-writing that is verbal storytelling: Richard's music is evocative in style, where the storytelling happens in musical terms. Words are repeated over and over, and the beauty lies in the hypnotism this evokes.
Nick Drake's songs have always felt very natural for me to sing. Nine Inch Nail's Something I Can Never Have was initially arranged by Richard for a crazy project called Nothing at the Maribor Festival in Slovenia, and a year or two later he asked me to sing it. We've been doing it ever since. It's a really powerful song, and I love how it expresses beauty through darkness.
What was the first music you were obsessive about?
When I was a child, I was transfixed with Vivaldi and Paganini. It was only as I got older that I started connecting with more contemporary music - the Grunge era was a big one for me, particularly Nirvana, as well as 90s electronic music like Massive Attack and Orbital. I've always liked The Doors, and I'll never stop: they're a real musician's band, with that combination of Jim Morrison's voice and all those incredible players around him. I listen to jazz: Blossom Dearie, Bill Evans. I love the rawness of Amy Winehouse, and I'm always impressed with Dolly Parton.
Tell me about Richard's original compositions in this tour.
Some of them have existed in various forms since The Reef, some are from Mountain, others have never been performed. They're songs that he's been working on and tweaking for a long time (as we have our day job, there's not as much time to spend writing as we'd like to). However Richard loves writing and is a treasure-trove of creative energy. It's interesting because he writes with a particular musical language that you wouldn't necessarily expect from a so-called classical violinist and composer.
Is it hard to let go of the exactitude demanded by a concert performance when you go into Underground mode?
No, because it's impossible to have the same accuracy here. It's not hard, it's a relief. Classical concerts today are very different from what they used to be. For example, we know that Beethoven's performances of his symphonies were far from perfect, and people's behaviour in the audience wasn't perfect either. The concert experience has been sanctified in today's world, and of course while there's a time and a place for that, we always want it to feel like the music is alive and dancing, regardless of where it's being performed.
ACO Underground exemplifies this feeling – the music is placed at the forefront as a living, breathing entity, beautiful at one end and shocking at the other.
New Music
We're pleased to debut two exclusive new tracks written by Richard Tognetti and performed by Satu Vänskä ahead of ACO Underground's return. Listen to 'Hypnosis' and 'The Other Way' by clicking here.
ACO Underground tours to Sydney, Melbourne and Launceston this March.