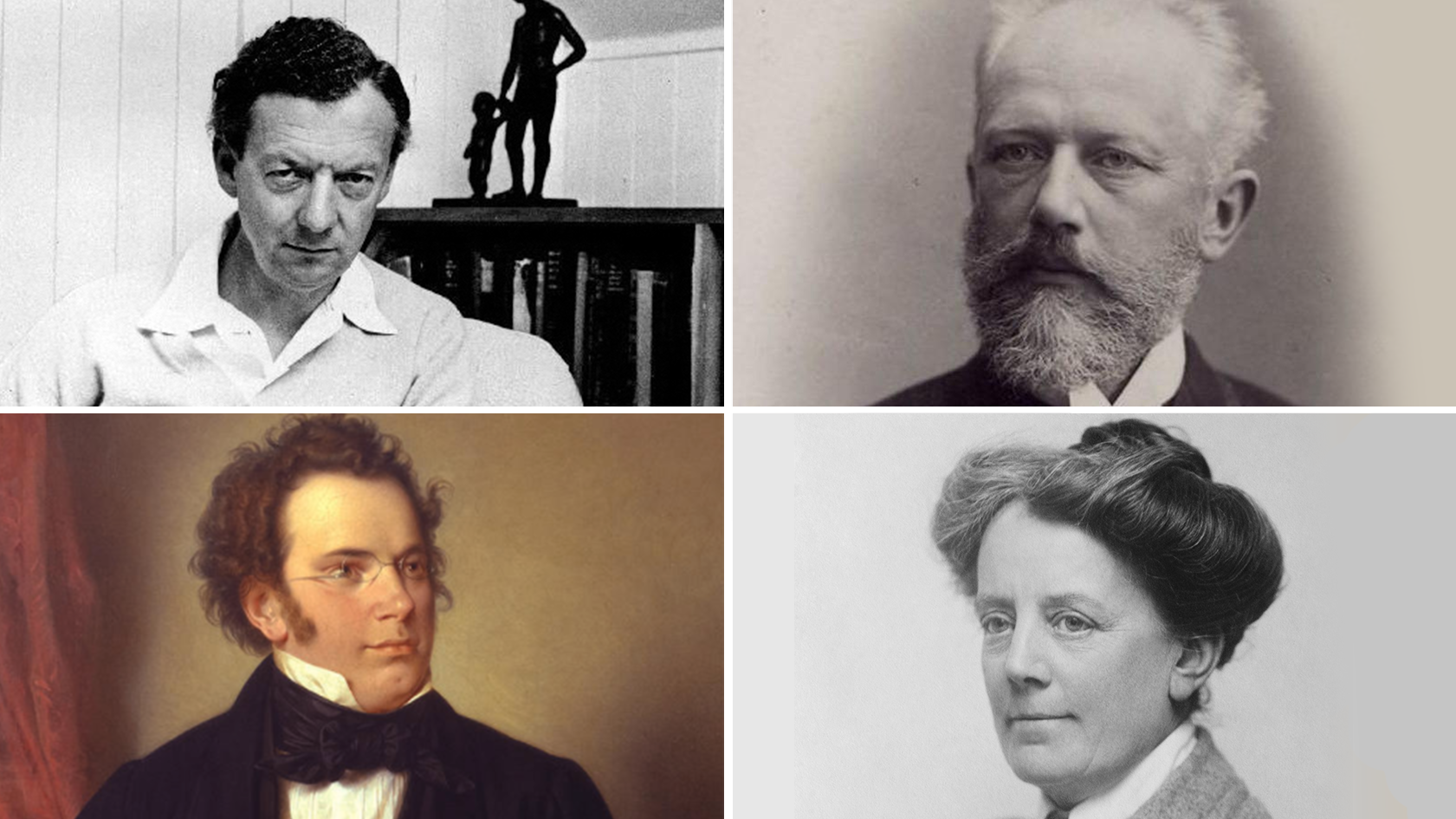 Celebrating LGBTQ+ Composers
To celebrate Mardi Gras and Sydney World Pride, we share some of the finest music written by queer composers - from Franz Schubert to Wendy Carlos.
As Mardi Gras and Sydney World Pride licks off in Australia, we're having a listen to recordings by the ACO and other artists of some of the greatest LGBTQ+ composers in music history.
From Romantic composer Franz Schubert, to electronics pioneer Wendy Carlos, some composers of the greatest music available to us happen to be LGBTQ+. Hear a selection of their works below.
In the playlist
John Cage
John Cage, the famous composer of 4'33, had relationships with both men and women.
Francis Poulenc
20th-century French composer Francis Poulenc was one of the first openly gay composers, something that did not stop him upholding his religious faith.
Ethel Smyth
Composer and suffragette Dame Ether Smyth is rumoured to have met and fallen in love with novelist Virginia Woolf, who at the time described it as "like being caught by a giant crab".
Aaron Copland
American composer Copland was a private man, but his letters have revealed a relationship between him and the visual artist Prentiss Taylor.
Samuel Barber
Two-time Pulitzer Prize-winning composer Samuel Barber's life partner was the Italian composer Gian Carlo Menotti.
Nico Muhly
Living US composer Nico Muhly has spoken openly about his same-sex relationships, including in The New York Times.
Benjamin Britten
English composer Benjamin Britten's life partner was the tenor Peter Pears. In 1948, Britten founded the Aldeburgh Festival in Suffolk with Pears and librettist Eric Crozier.
Deborah Cheetham
Deborah Cheetham is a Yorta Yorta woman, soprano, composer and artistic director of Short Black Opera. A leader and pioneer in the Australian arts landscape, World Pride recognised Deborah as one of its 12 Rainbow Champions in 2023.
Franz Schubert
Some music historians, including Maynard Solomon who attracted some controversy for the theory, believe the lyrics in Romantic composer Schubert's lieder suggest he was attracted to men.
Arcangelo Corelli
In part due to his strong association with gay clergyman Cardinal Pietro Ottoboni, it has been speculated that Baroque composer Corelli was gay.
Wendy Carlos
Electronics pioneer Wendy Carlos, whose Switched-on Bach will feature in our national concert tour A Clockwork Orange and Beyond, is a trans composer who had gender confirmation surgery in 1972.
Frédéric Chopin
It's been claimed that Chopin had relationships with the opposite sex, but turning to his letters historians have found him writing about his same-sex attraction in letters to other men.
Leonard Bernstein
In spite of being married to actor Felicia Cohn Montealegre, US composer and conductor Leonard Bernstein was openly gay.
Jennifer Higdon
Living US composer Jennifer Higdon's partner is Cheryl Lawson. The two met back when they were in highschool.
George Frideric Handel
Baroque composer Handel moved in circles where same-sex attraction was out in the open and very much accepted. Historians have also found clues about Handel's sexuality in his vocal music.
Pyotr Ilyich Tchaikovsky
Tchaikovsky was gay at a time when it was illegal in Russia, so entered into to a marriage to Antonina Miliukova, which turned out to be a disaster.
Thomas Adès
English composer Thomas Adès entered a civil partnership with his partner Israeli film-maker Tal Rosner in 2006.