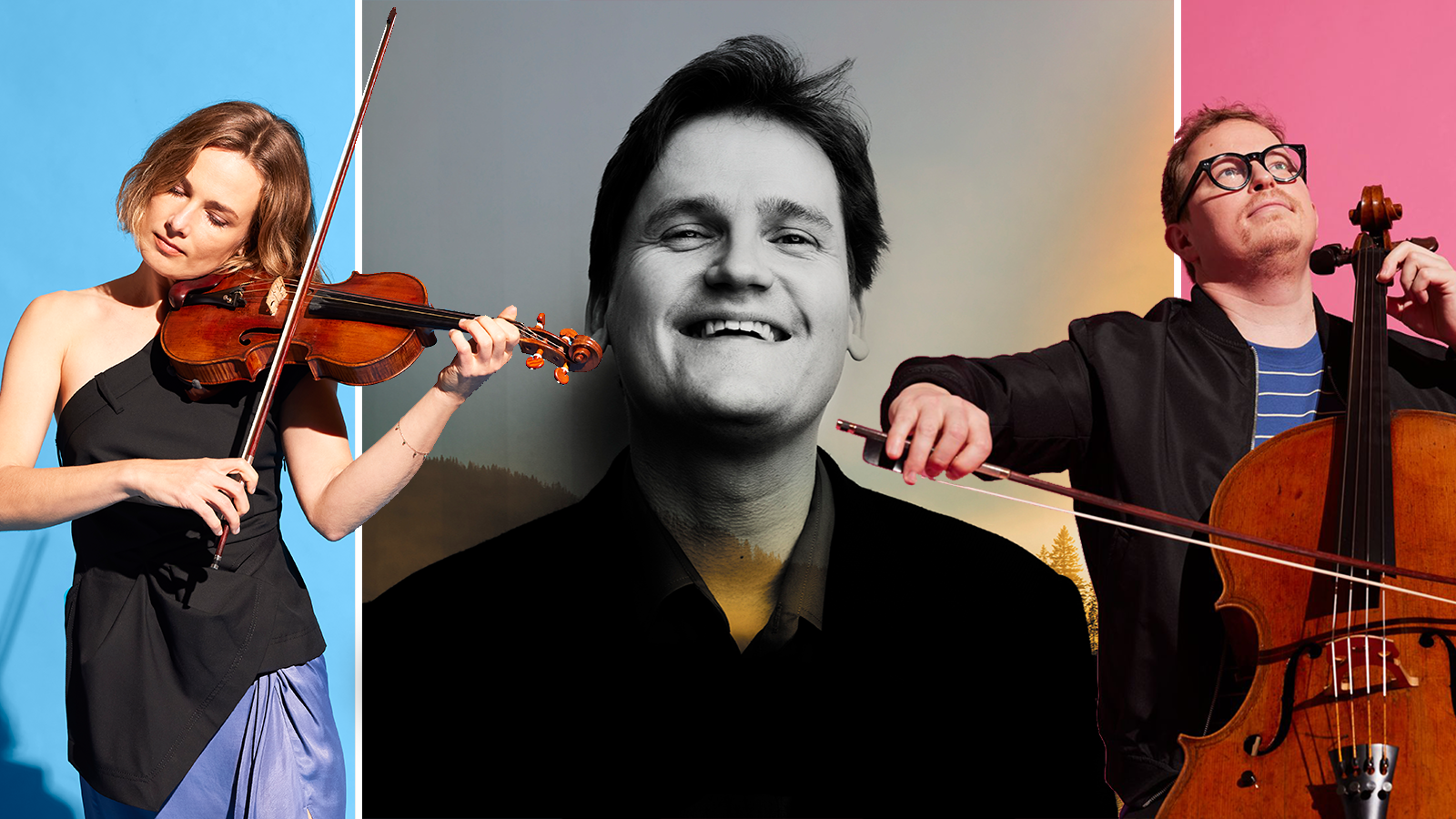 Performing with Olli Mustonen
ACO Principal Violin Satu Vänskä and ACO Principal Cello Timo-Veikko 'Tipi' Valve share joyful memories from years of performing with fellow Finnish musician, Olli Mustonen.
"Many moons ago, Olli came to Australia to perform Mozart's Piano Concerto No. 11 with the ACO. I will never forget how in the first rehearsal we all burst into a jovial chuckle upon his entry as soloist after the tutti," Satu Vänskä, ACO Principal Violin remembers fondly.
"There aren't many musicians in this world who have the ability to transmit so much joy with a mere few notes."
Olli Mustonen is a Finnish pianist, composer and conductor, praised for his brilliant technique and startling musical originality. He has been a regular ACO collaborator throughout his career, and will be back on our shores this month to perform in our Schubert's Trout National Concert Tour, and a special recital at our new Pier 2/3 home in Sydney.
Born in Helsinki, Mustonen received his first piano lessons at the age of five and started composing at the age of six. He regularly performs with orchestras including the London Symphony Orchestra, the Royal Concertgebouw, the New York Philharmonic, the Chicago Symphony Orchestra, and the Berlin Philharmonic, and has worked closely with conductors including Daniel Barenboim, Pierre Boulez and Christoph Eschenbach.
He is Music Director of the Turku Philharmonic Orchestra in Finland and in 2019 was awarded the Hindemith Prize of the City of Hanay, awarded to outstanding contemporary composers.
"There never seems to be an empty or meaningless moment when you are around Olli," fellow Finnish musician, ACO Principal Cello Timo-Veikko 'Tipi' Valve says.
He, like Satu, knew Olli before he was on an ACO stage with him: "Before I had the privilege to share the stage with him, I remember his playful character from dinner parties at my sister's house or some other similar social event back home in Finland."
"I'm glad the Australian audiences can have yet another memory of Olli, his music, and his infectious way of communicating through his playing."
Olli Mustonen is as warm about his collaboration with the ACO as ACO Musicians are about his performances with us:
"The Australian Chamber Orchestra is a phenomenon that is truly unique in today's music world," he says. "Our collaboration has always been one of the ultimate highlights, one of the important leitmotifs of my musical life."
So what is that special magic that makes the Olli-ACO collaboration so special?
"I have a feeling that we speak the same language, and that we are capable of inspiring each other in a way that is exceptionally uplifting and thought-provoking," Mustonen reflects.
"The energy," Tipi adds. "Olli is willing to give so much in music and ACO has the ability to give back."
Schubert's Trout tours to Newcastle, Melbourne, Sydney, Brisbane and Wollongong, 15-28 September. Click here to book tickets in your nearest city.
Don't miss Olli Mustonen's solo recital at Pier 2/3 in Sydney, Friday 23 September, 7.30pm. Click here to get tickets.